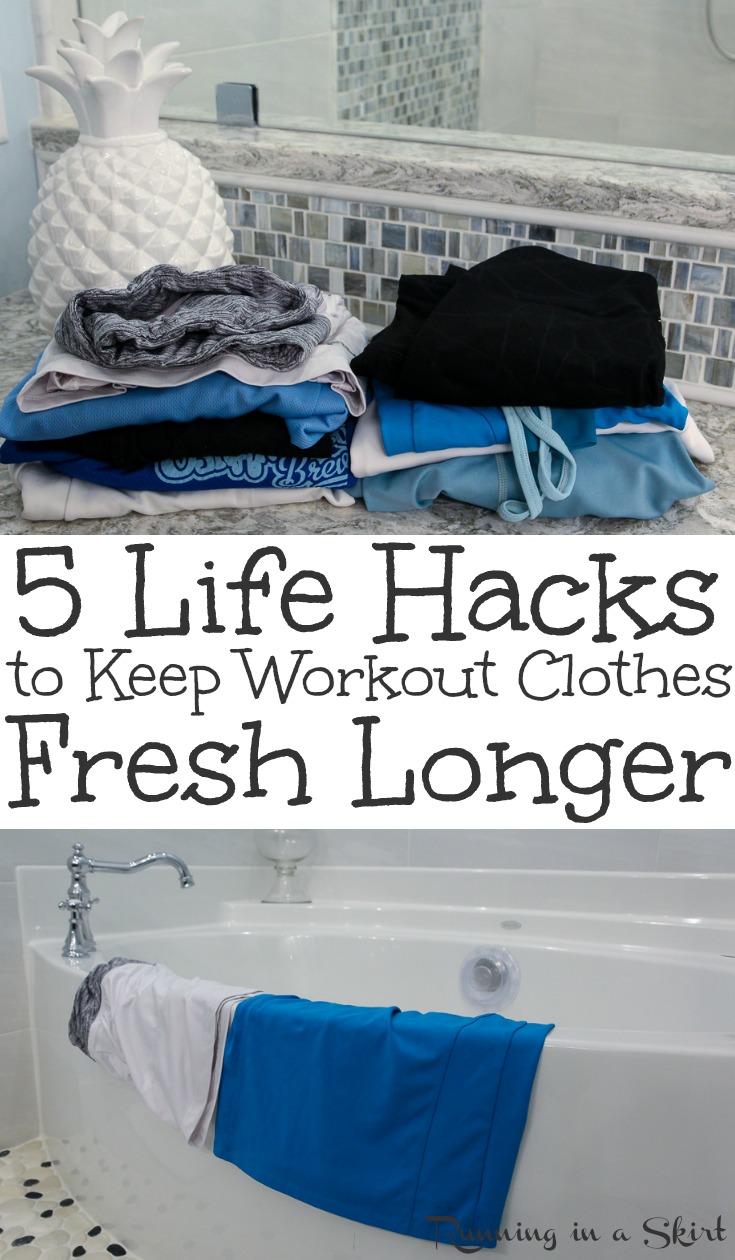 Curious how to wash workout clothes? These 5 life hacks will help you keep your fitness gear fresh longer no matter how sweaty you get.
This is a sponsored conversation written by me on behalf of all. The opinions and text are all my own.
Hi everyone!
Please tell me I'm not the only one to ever wash workout gear only to have it STILL stink? It's the worst! Before I figured out how to wash workout clothes the right way I ruined more than one piece of expensive gear washing it the wrong way. And we all know how expensive good workout gear can be... so that's the last thing you want to do!
While I'm not working out as much as I used to, I'm still going through plenty of my running clothes (the ones that still fit-lol) with my slow jogs every few days. That means the stinky fitness gear can pile up quick! Add the Hub's clothes in the mix and we've got a lot of laundry with just workout clothes. Through the years, there's been a lot of trial and error to figure out the best way to keep my gear fresh and I thought I'd pass on the knowledge to you guys!
How to Wash Workout Clothes to Keep them Fresh Longer
Dry Before Putting Them in Hamper
This first life hack is critical. Don't ever drop your super sweaty clothes right into the hamper. Lie them out to dry first. I hate messing up my pretty bathroom (I still owe you guys a bathroom tour!) with clothes like this but it's the best place for me to dry mine before I drop them in the hamper.
They need to air out! Luckily they are designed to dry quickly so they don't have to stay there for long.
Wash Inside Out
After letting your clothes dry, turn them inside out! The bacteria that causes the gear to stink collects on the inside of the clothes, so turning them inside out before washing allows the water and detergent to have more contact with the actual source of the smells.
It also keeps the outside of your clothes that everyone sees looking better for longer.
Use all® Odor Lifter
When it comes to washing stinky workout clothes the kind of detergent you use matters! all® Odor Lifter is the perfect choice for all of your fitness fabric. It's specially designed to be tough on stains and odors to leave your clothes clean and fresh while still being gentle to delicate technical fabrics.
all® Odor Lifter fights tough odors easily using in-wash pre-treaters with active stainlifters for great stain removal. It's a combo that works even on your clothes from that 10-miler in 90% humidity.
all® also makes the same line in mighty pacs® 4-in-1 if that's more your laundry style. The mighty pacs® provide four levels of clean in one easy pac; tackle odors, fight tough
stains, whitens, and brightens. It even has an in-wash pre-treaters making it so much easier to take care of stinky workout gear.
Both of these laundry detergents are safe to use in any washing machine and at any water temperature. If you have been wondering how to wash workout clothes... this detergent is the perfect place to start!
Don't Use Fabric Softener
I'm a sucker for fabric softener. I use it on everything EXCEPT workout clothes. Fabric softener doesn't work well with stretchy and moisture-wicking fabrics. It leaves behind a coating that makes it difficult for water and detergent to fully penetrate the fibers. Skip it with loads that contain your favorite fitness gear.
Air Dry
The last step is to air dry your workout clothes. Putting them in the dryer is tempting... I know. BUT there is something about technical fabrics that using heat actually makes them smell MORE and it kind of locks in the stink making it harder to get out in the future.
The fabrics tend to be quick-drying so it will not take long to dry on a rack. Plus they'll last a lot longer if they're not exposed to the heat and agitation of the dryer. It's a win-win!
all® Odor Lifter & all® mighty pacs® 4-in-1
Hopefully, these 5 life hacks will have your workout gear staying fresh for years and solve that long-standing problem of how to wash workout clothes! Remember to try all® next time you shop. It's the perfect detergent to tackle the smelliest of your workout gear.
I like that their odor lifter technology comes in both liquid and pacs from making it a great choice no matter how you like to do your laundry.
Like these life hacks? Find them later by pinning this...
Your turn!
Any tips you'd like to add?
This is a sponsored conversation written by me on behalf of all. The opinions and text are all mine.