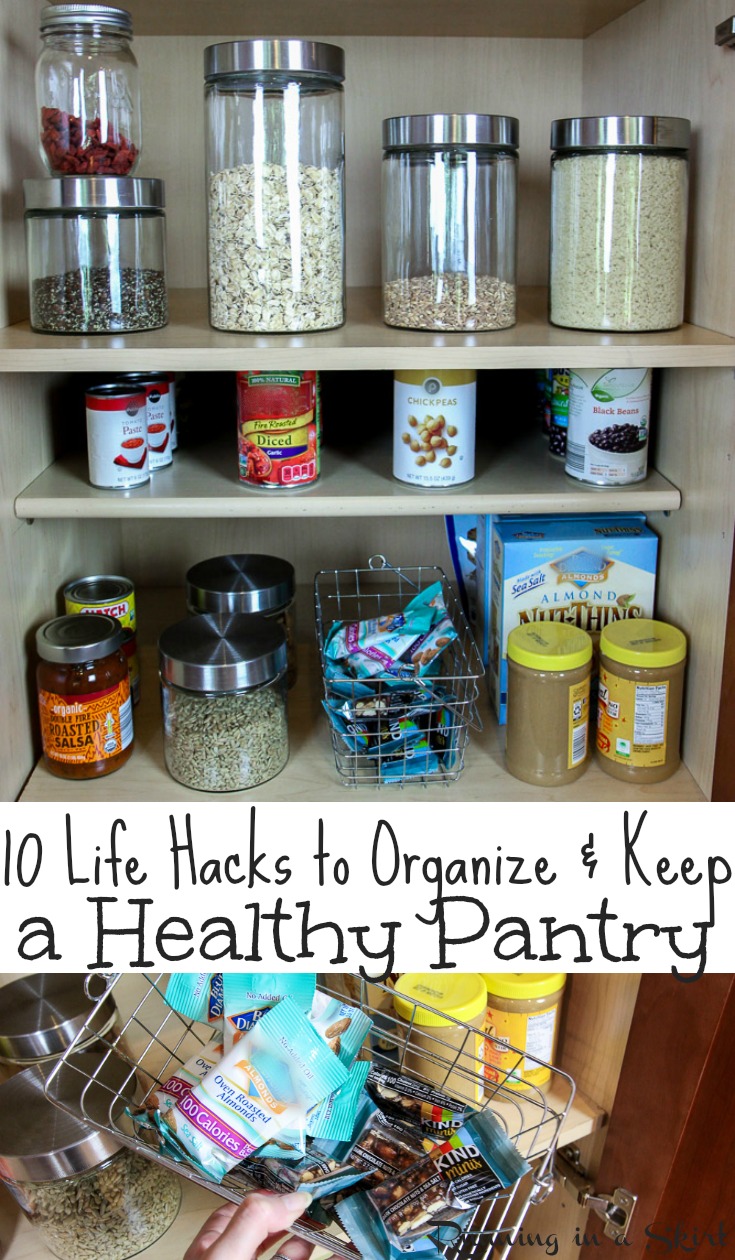 Wondering how to build a healthy pantry? These 10 Life Hacks will help you organize and keep a healthy pantry so you'll always have good choices to eat!
I'd like to thank my friends at Orkin Pest Control for sponsoring this post. Sign up HERE and get $50 off your first service by using the code Orkin50. Thank you for considering supporting companies who support Running in a Skirt. As always, all opinions are my own.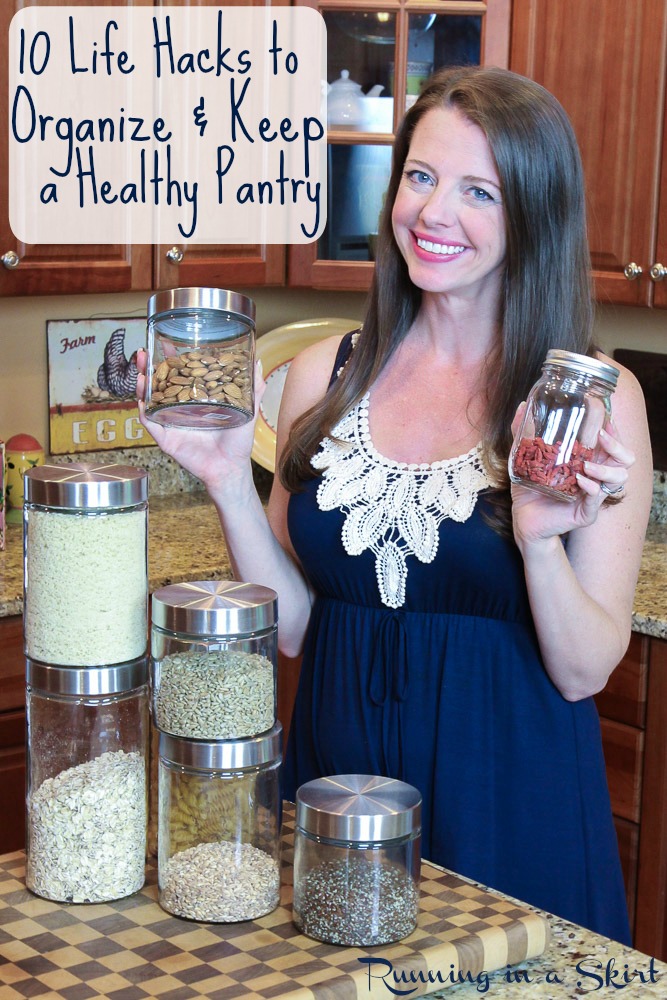 Happy Friday everyone!
My nesting instinct is intense right now. I've decided my basement needs new carpet and paint, my closets need reorganizing and all my rugs need to go to the cleaners. And for some reason, all of that stuff needs to get done before I can work on the nursery... go figure. I know it will be a long time before I have time to get stuff like this done, so I'd rather get it done now. Please tell me I'm not the only one who did anything like this?
One part of the house I've always been good at keeping up with is the pantry. I pride myself on keeping a well-stocked pantry that usually has whatever I need to make a healthy meal... from oats, grains, nuts and pasta... I have it all. I truly believe that keeping your pantry and fridge stocked with healthy choices is the best way to set yourself up for healthy eating success.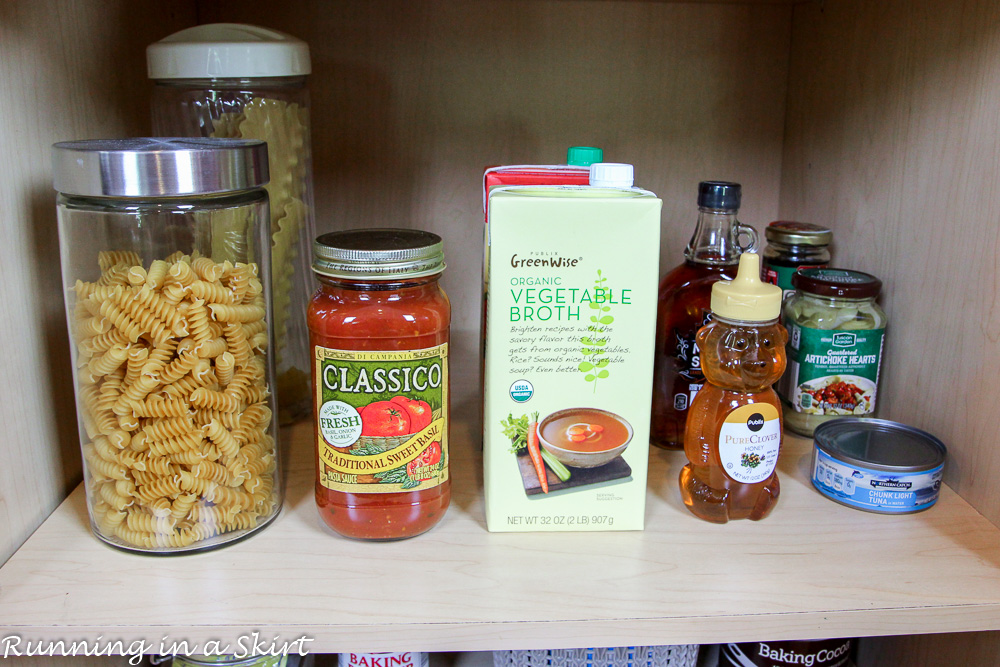 While my pantry is well stocked it has gotten a little stuffed recently and was in desperate need of an organization overhaul. No matter how hard you try to keep up every once in a while it's time to pull it all out to check dates and make room for new! I decided to share my process with y'all so you could get a little inspiration on how to build a healthy pantry too. Babies or not a fresh start is sometimes what everyone needs.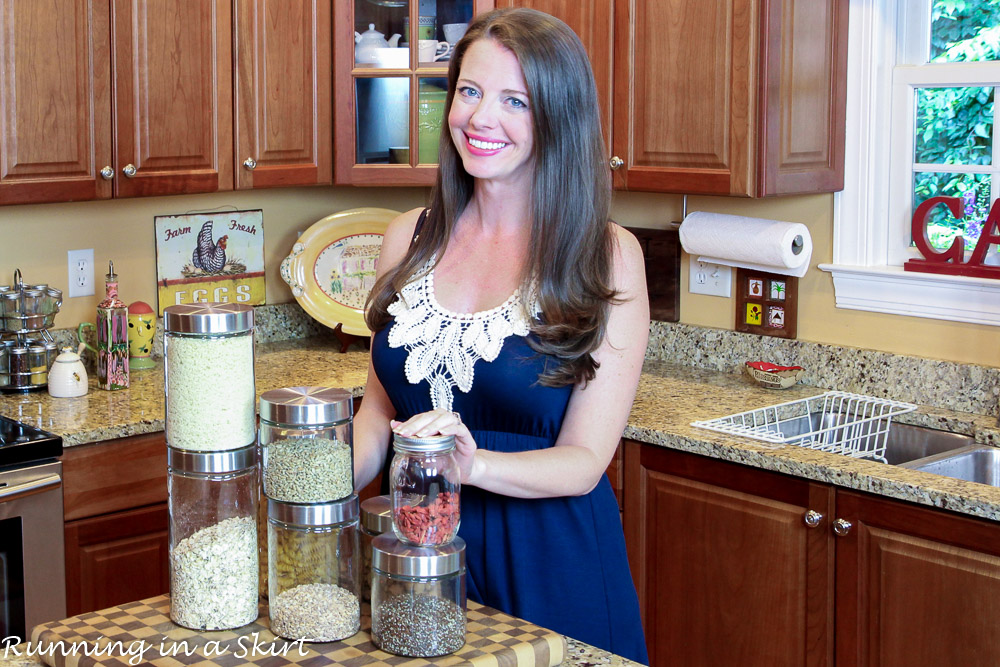 I'm also including some of my favorite tips from Orkin Pest Control about how to help keep your fancy new healthy pantry and kitchen bug-free. Pests venture inside looking for food sources and the kitchen is their goldmine! No matter how organized your pantry looks... if you get bugs it's no longer healthy at all!
How to Build a Healthy Pantry
Pull it ALL OUT & Toss
If your pantry is feeling stuffed or disorganized the first step is to pull it all out. Next check dates on packages and start tossing. Even if something isn't expired... is it a good choice? Are you actually going to eat it? Be brutal and only keep what is good for you and/or what you want to eat. If you have any food that is not expired but you don't want to keep it, donate it to a local food pantry. If it's past its expiration date... just toss it.
Starting fresh means you can wipe down your shelves and have a nice and clean pantry. You can check for any problems including bugs, which is always nice! The cleaner your pantry the less inviting it is to ants, flies, and cockroaches. Doesn't that feel GOOD!?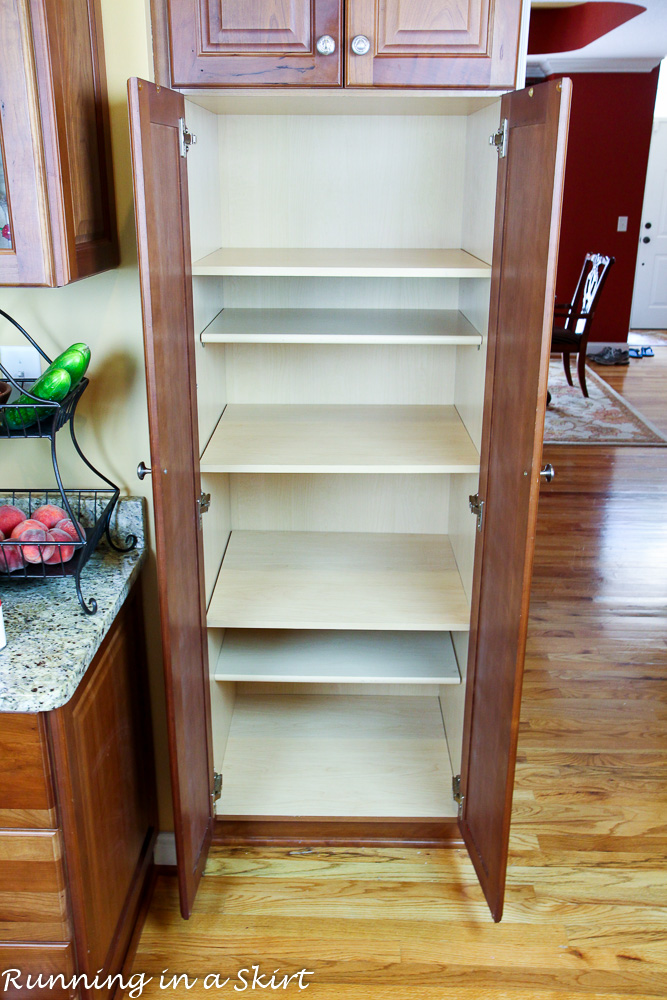 Stock with Basics
Next, take inventory of what you have. Do you have what you need to make your favorite recipes? How to build a healthy pantry starts with putting quality food choices in it. Here are some of my pantry staples....
Quinoa and Farro
Oats
Protein Pasta
Low Sugar Jarred Pasta Sauce
Nuts and Seeds
Peanut Butter
Canned Beans
Canned Tomatoes
Canned Tuna
Salsa
Almond Crackers
Vegetable Broth
Flour
Coconut Sugar
Honey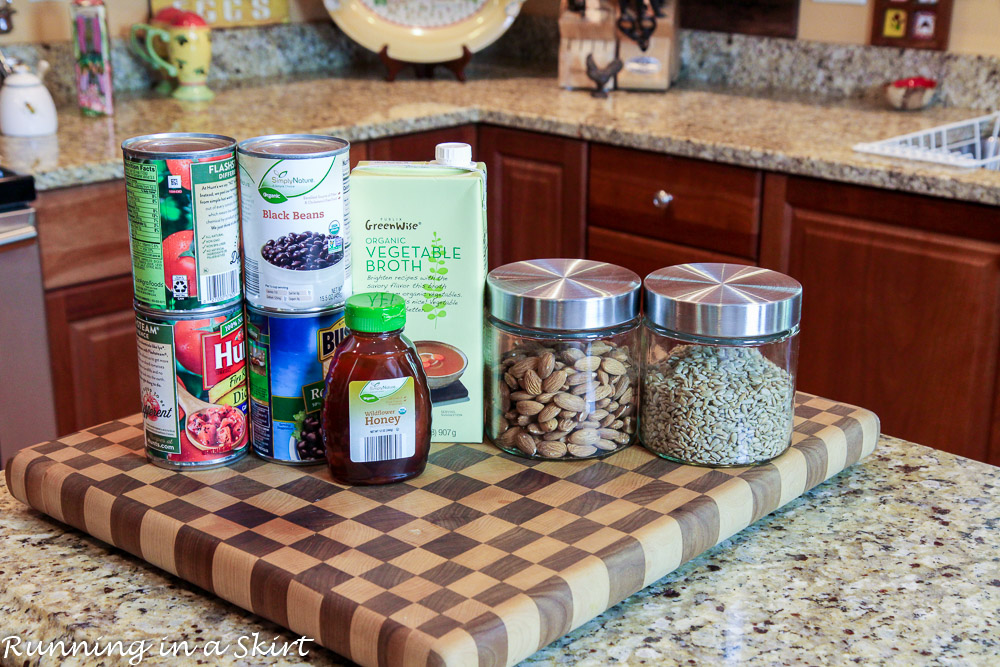 Everyone's pantry will be different depending on what type of food they enjoy so tailor this step to your own tastes. Don't feel bad for keeping your favorite treats either... I always keep the ingredients to make my Black Bean Brownies on hand. Just keep a lot more good choices than bad and be realistic about what you'd actually like to be eating. If you need to go to the store and stock up... do that now.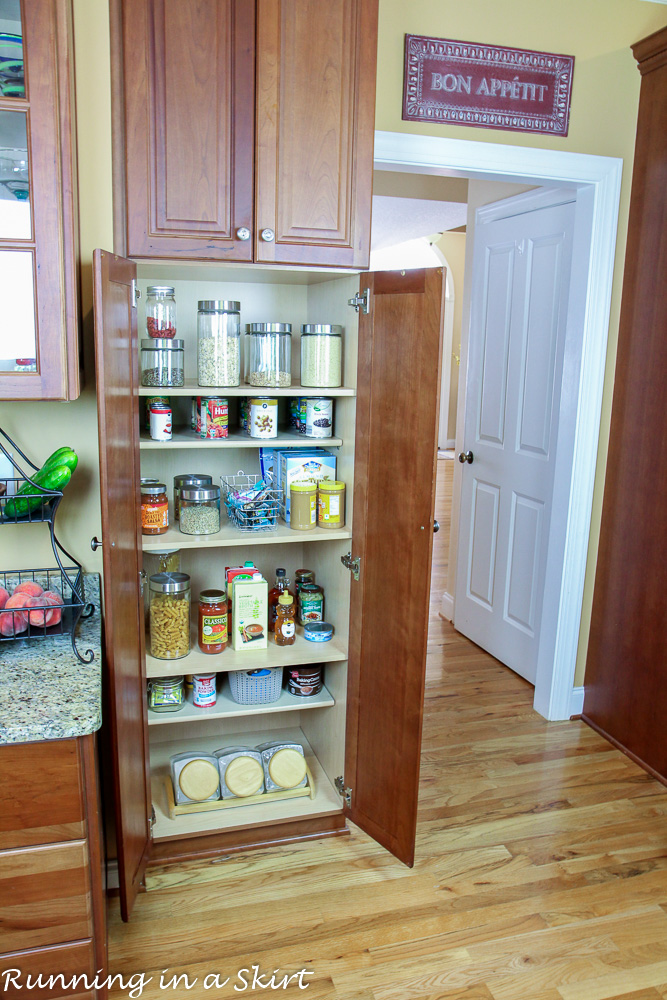 Airtight Containers
If you haven't already, now is also a great time to invest in some airtight containers.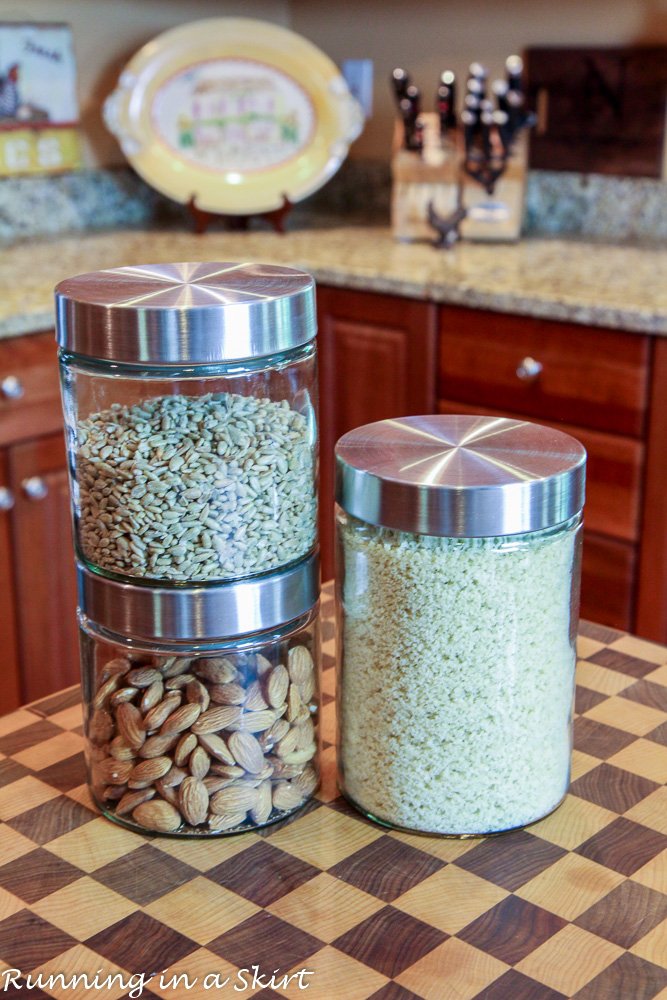 After you've opened food, seal it in an airtight container. Keeping food in boxes can allow bugs to get in your food. Pantry pests can get inside packaged products after they are opened, which they use as a breeding site and food source. Crackers, cereal, nuts, pasta, and even flour and dried baking products are susceptible.
Clear Containers
Do yourself a favor and buy CLEAR containers. This is one of my best how to build a healthy pantry hacks. It makes it so much easier to find what you need. I love picking different types of glass containers with silver tops... that way they all blend and I can add later if I need to. These types of containers also make it easy for you to purchase food from the bulk aisle, which can save you a lot of money!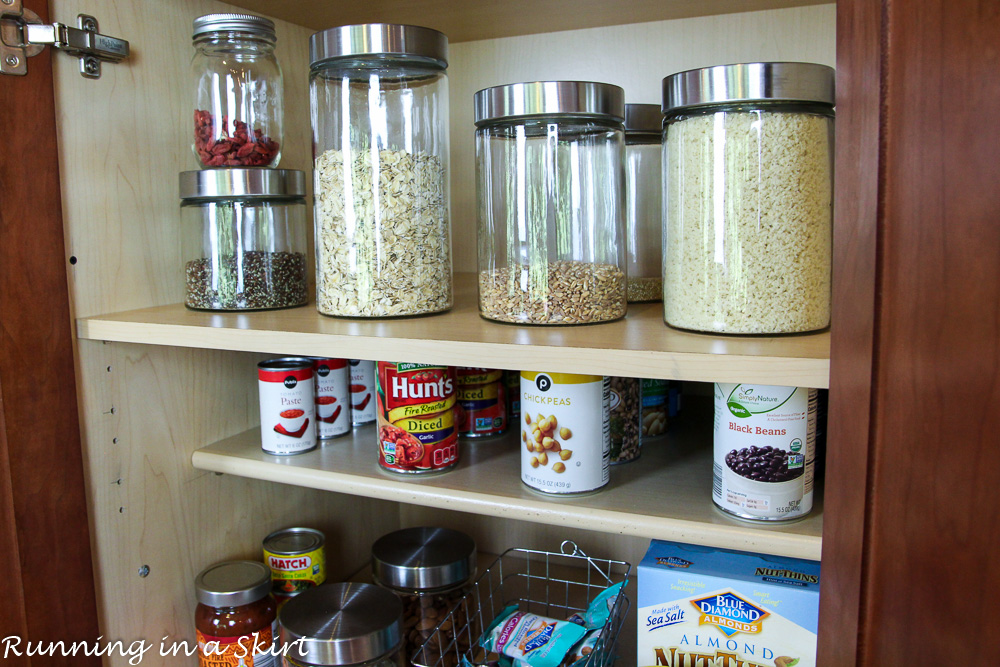 Remove Cardboard
Pests like to use paper and cardboard boxes for harborage. Recycle junk mail immediately and don't leave those Amazon boxes hanging around. Plus it makes your pretty glass jars in your new pantry even more practical.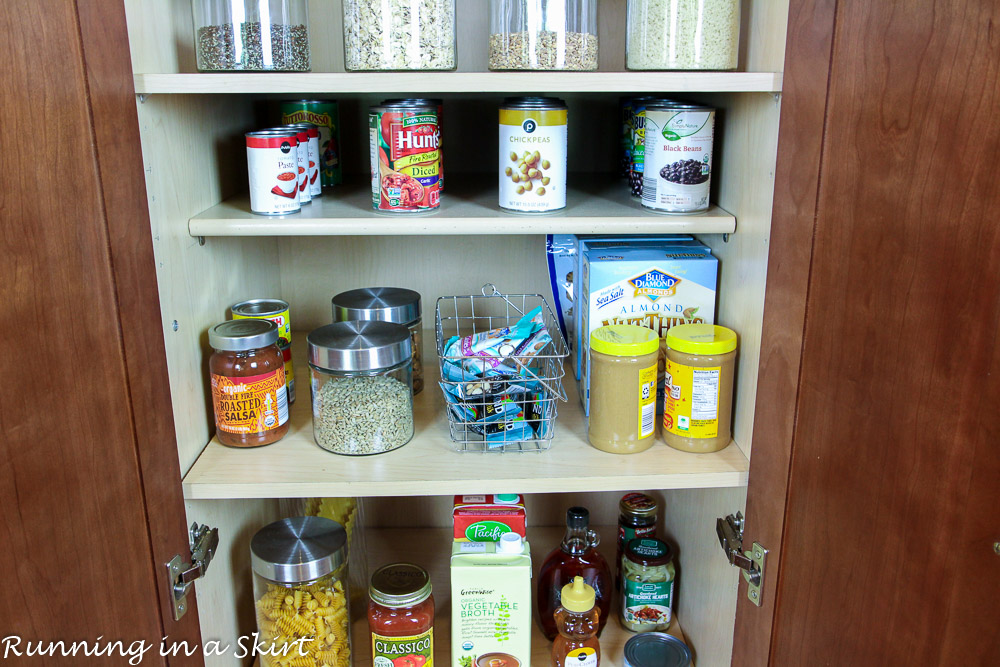 Keep Similar Items Together
When you are deciding how to put the food BACK in the pantry group all your similar together. Your food will be easier to find if you store them in groups. Think grains, breakfast items, cans and snacks.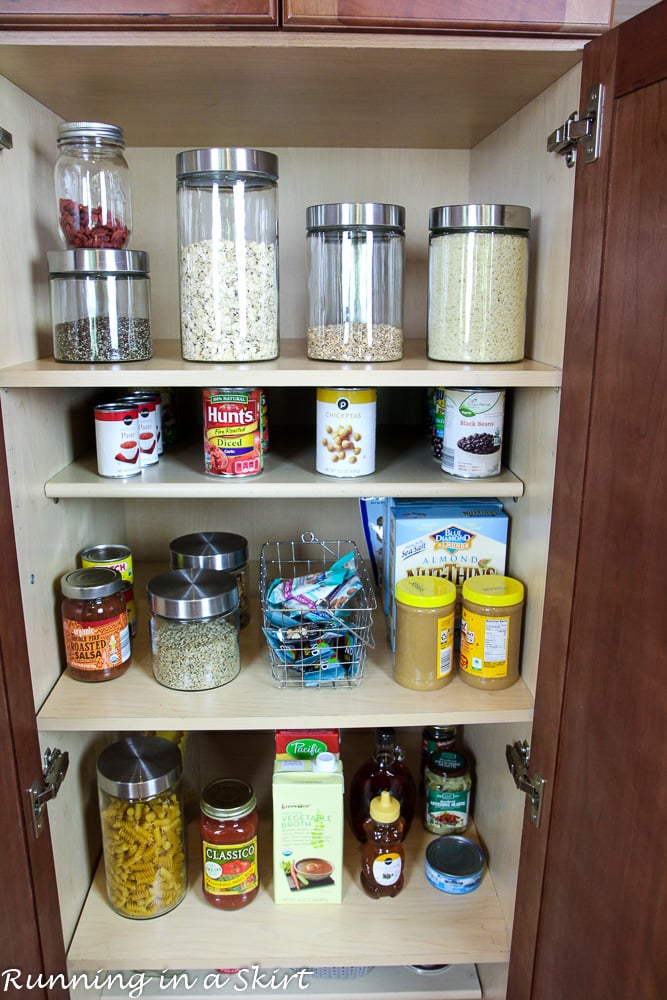 Also consider using baskets for snacks or packaged items that can be pulled out of a box, especially if it's something you will be grabbing for often.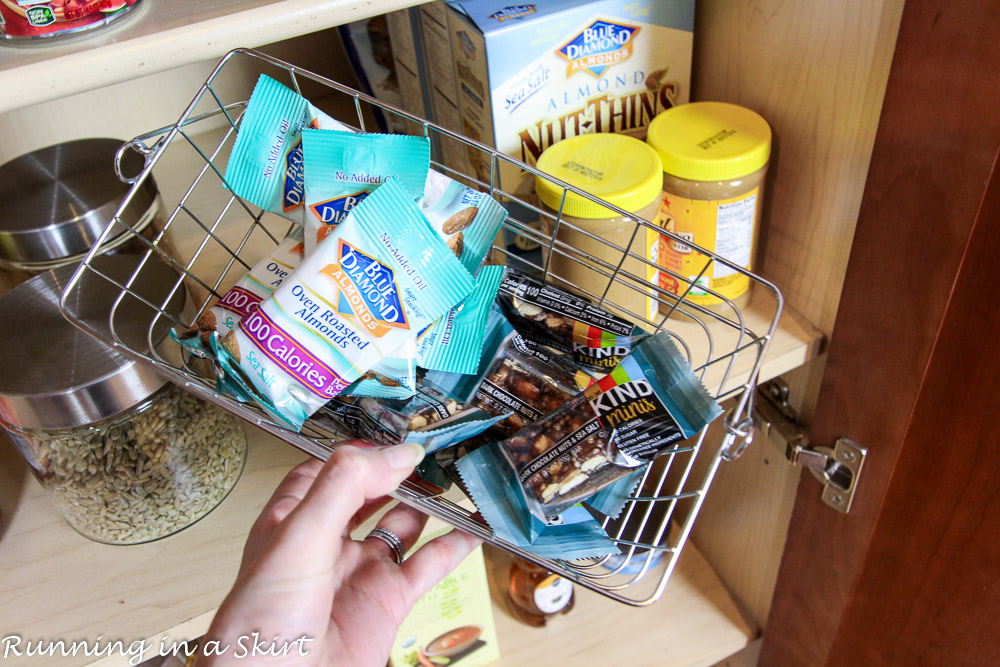 Take your time putting your food back in your pantry, and make sure the organization system works for you and your family.
Wash Veggies
This life hack is not just for the pantry... but it can help with those awful fruit flies that can get stuck in the kitchen and pantry.
Make sure you wash fruits and veggies as soon as you get home from the store to keep from bringing bugs into the house with you. Also, all the fruits and vegetables you store in the pantry or fridge should be stored inside sealed bins as much as possible. This can help keep bugs out of your healthy kitchen and pantry.
Keep it Tidy & Bug Free
You are already one step ahead with a clean and healthy pantry... but also clean crumbs and spills all around the kitchen immediately. After cooking wash down surfaces with cleaner or soap and water. Don't leave dirty dishes out overnight.
Bugs can spread food contamination in your pantry and on your counters. Ants and cockroaches carry bacteria on their bodies, which spreads when they crawl in pantries and across counters. EWWWWW!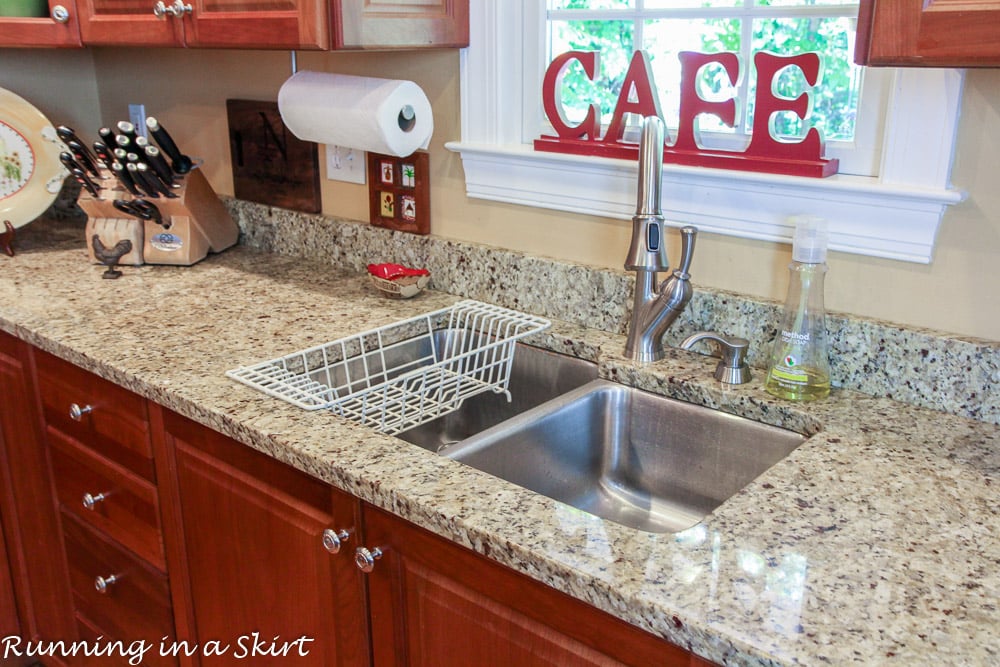 Pests are also attracted to the foods and odors coming from trash cans. Keep them out by covering all trash cans with tightly sealed lids, emptying them at least daily – but even more in the summer – and lining them immediately. Also, wash down trash cans regularly to help prevent any lingering food debris and odors
How to Handle Pantry & Kitchen Pests
Even after doing everything right to keep a healthy pest free pantry, kitchen and house, you still might have problems! Do-it-yourself pest control almost always challenges the average homeowner and more often than not leads to frustration and failure... which isn't healthy at all.
If you have a pest problem or want to protect your home from future invaders, it's best to seek expert advice and service from a licensed pest management professional. I'm a fan or Orkin Pest Control. Their highly-trained specialists will inspect your home from top to bottom and design a custom solution to fit your home's unique needs. If you are going to take the time to build a beautiful healthy pantry, it's worth the extra effort to help make sure it stays pest free!
Rework the Space
Finally, don't be afraid to constantly rework your space depending on your needs.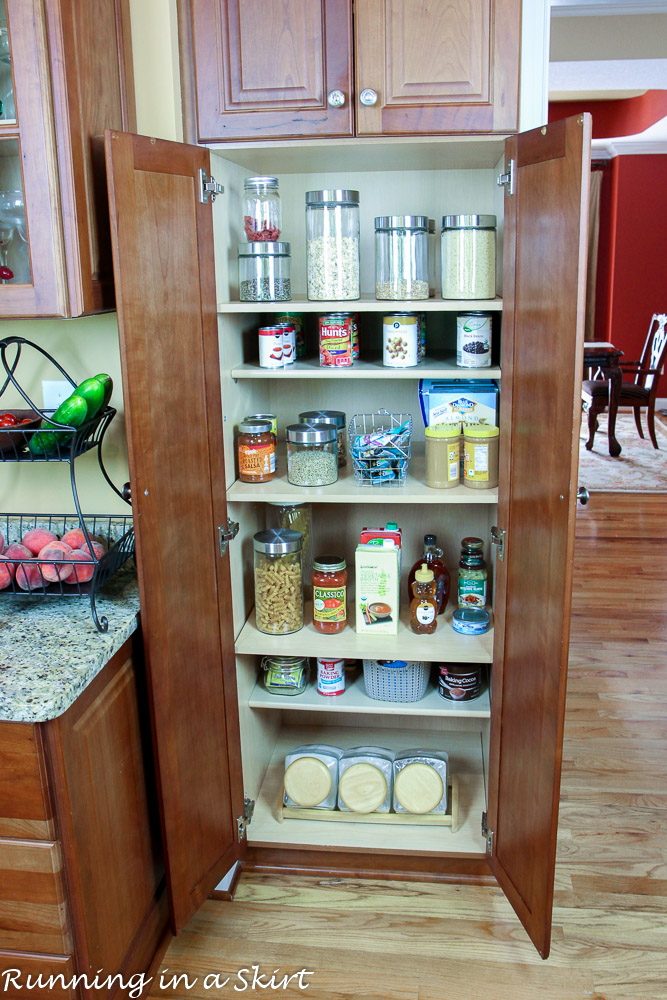 Replace what you use regularly and if you buy something new make an actual spot for it, don't just shove it in there. If you keep up with your pantry you will have much better luck keeping up with your healthy goals. Reworking your pantry like I did also allows you to clean it all out and check for bugs.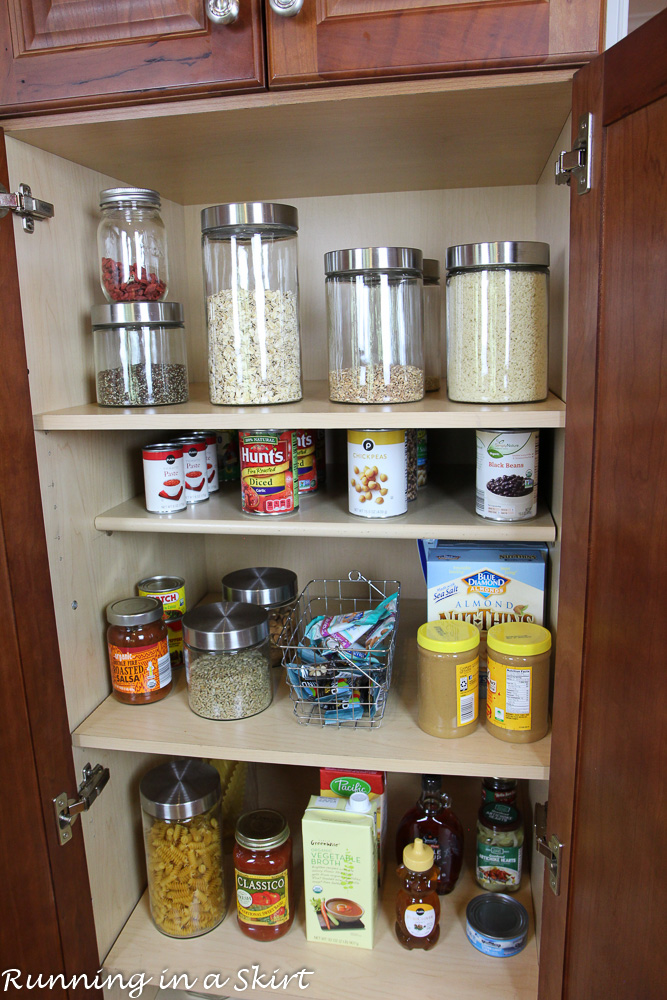 $50 Off Orkin Pest Control
If you have a pest problem anywhere in your house call my friends at Orkin Pest Control. They can help you stay healthy by helping to keep those nasty bugs out. They are offering $50 off your initial pest control service when you sign up HERE and use the code Orkin50!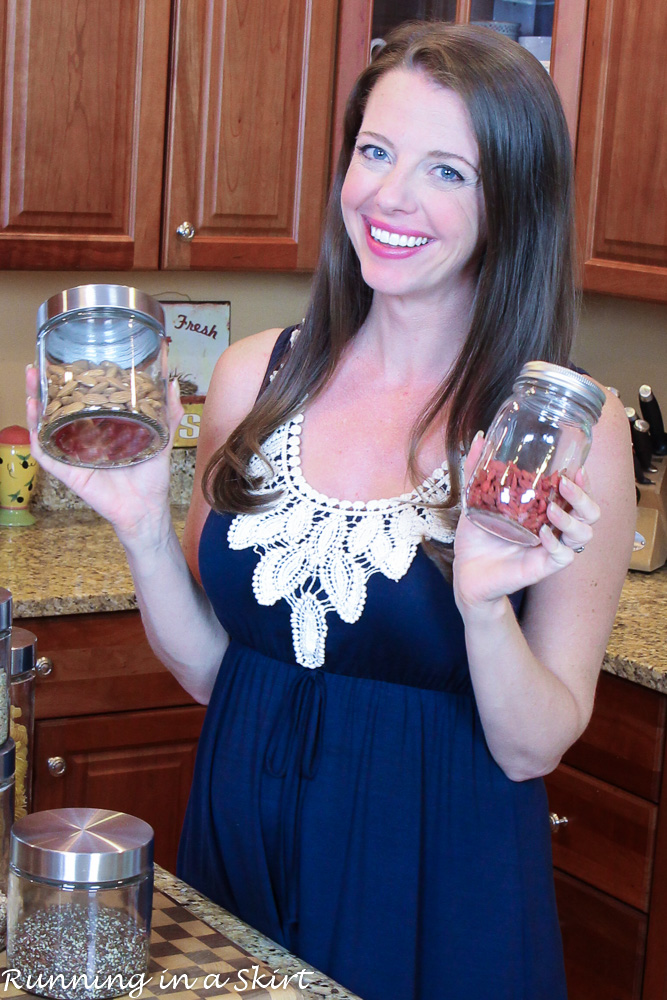 Like this post about How to Build a Healthy Pantry? Find it later by pinning this!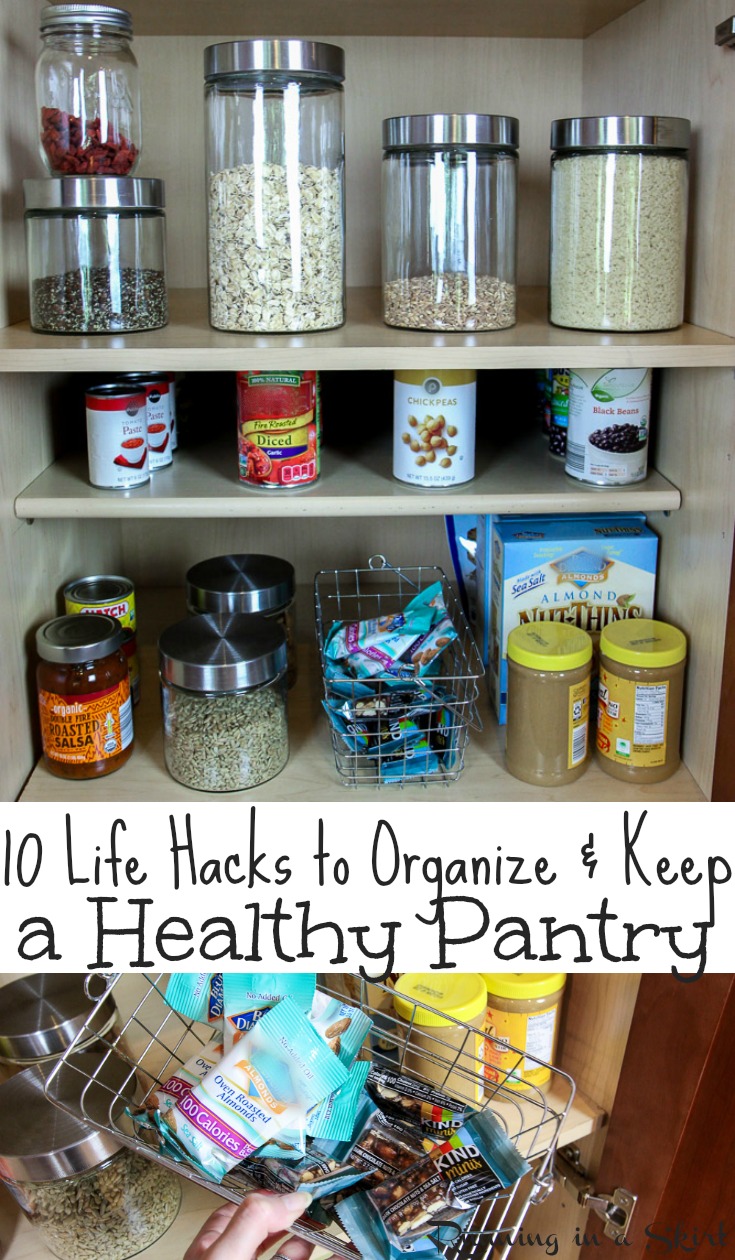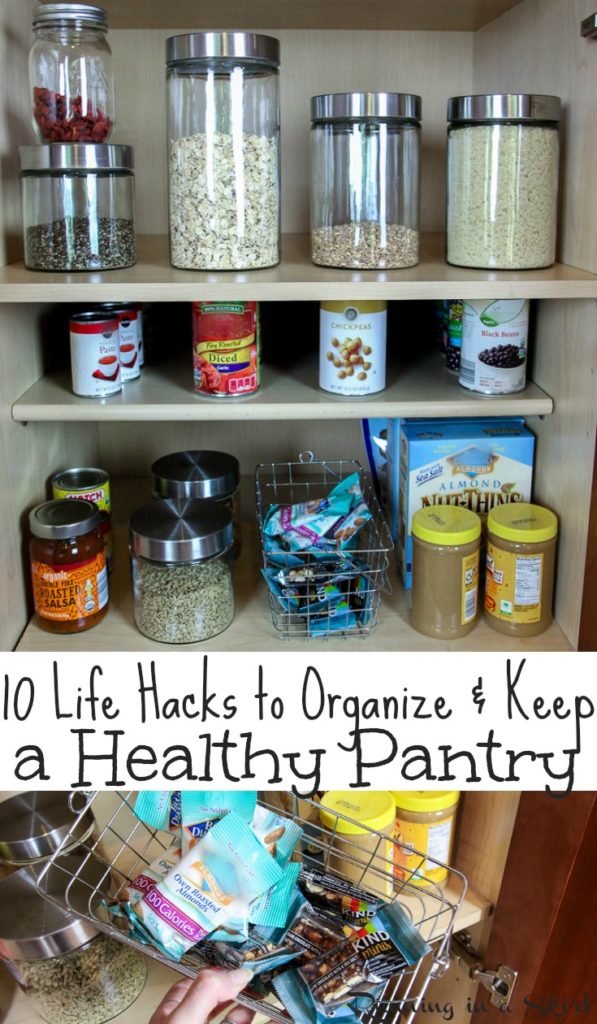 I'm heading to Deep Creek tomorrow to spend the week with the Hubs family! I'll be sharing updates via Instagram. 🙂
Your turn!
What's in your healthy pantry?