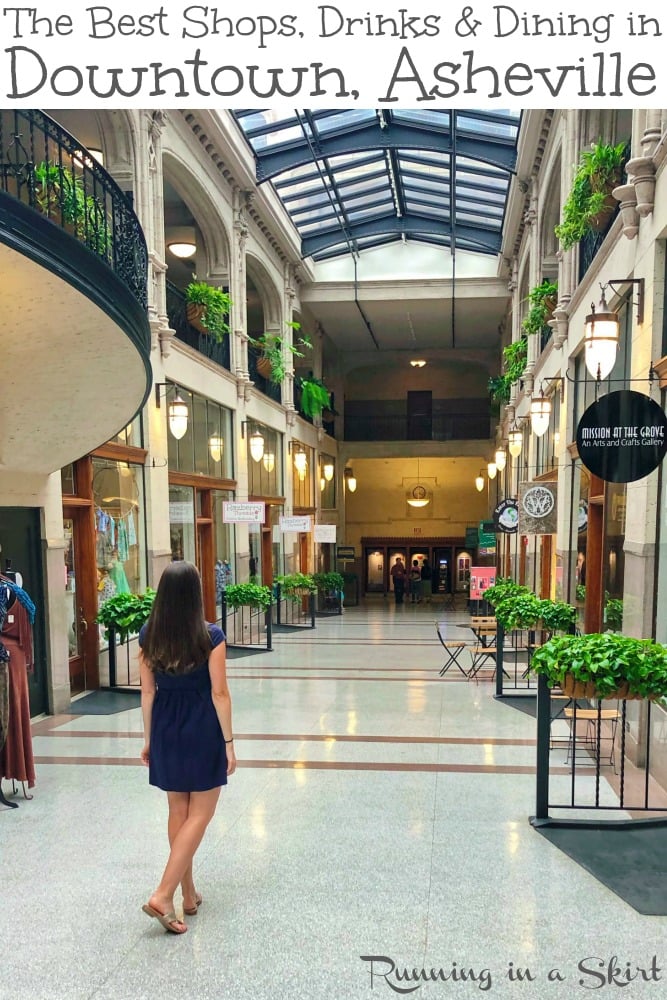 Looking for something fun to do in downtown Asheville? Go back to the Grove Arcade and look around! Today I'm sharing the best Grove Arcade shops, restaurants, and interesting history... which includes something for everyone.
I'd like to thank the Grove Arcade for sponsoring this post about their gorgeous shopping center in downtown Asheville. As always, all opinions are my own. Thank you for considering supporting companies who support Running in a Skirt.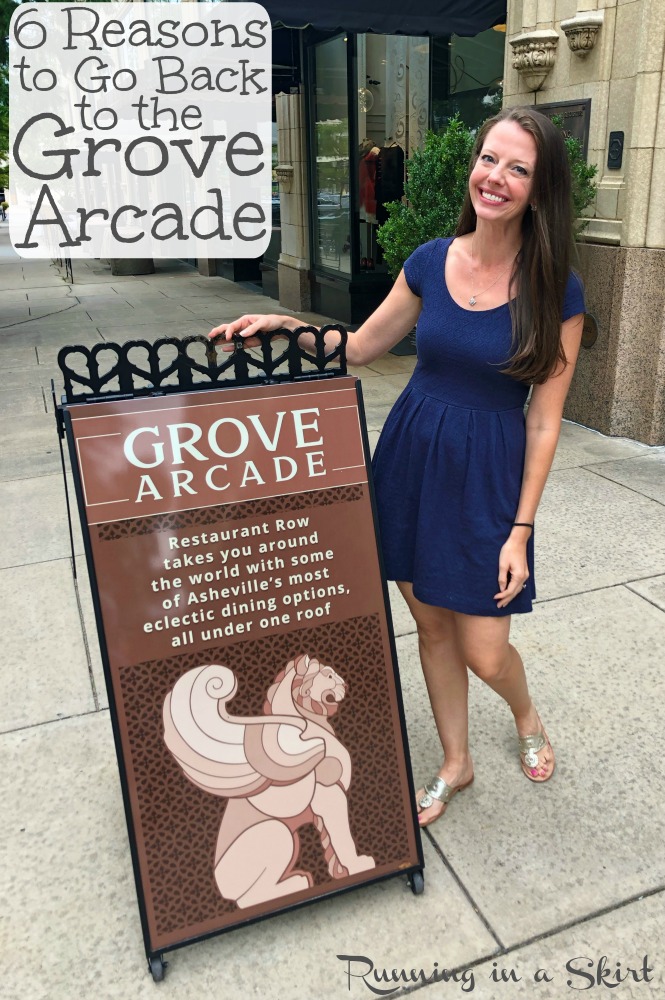 Hi guys!
I'm doing something a bit different today... sharing a travel style post for my beloved hometown Asheville! Many of you live here and can use this as a guide or if you aren't local be sure to pin this post to use when you finally take that trip here... which you should totally do :-).
The Grove Arcade is an absolutely gorgeous historic shopping and dining center in the heart of downtown Asheville.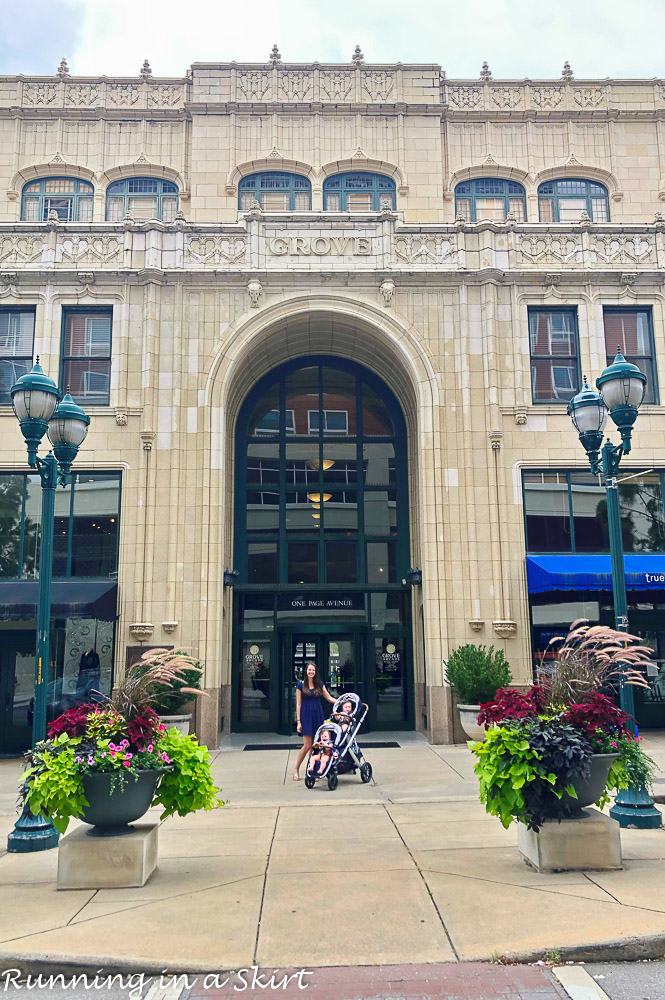 The building was actually conceived by Edwin Wiley Grove... the same guy who is responsible for the Grove Park Inn. By building the Grove Arcade, he hoped to shine a light on downtown and on the city he had grown to love. It opened in 1929 after nine years of construction.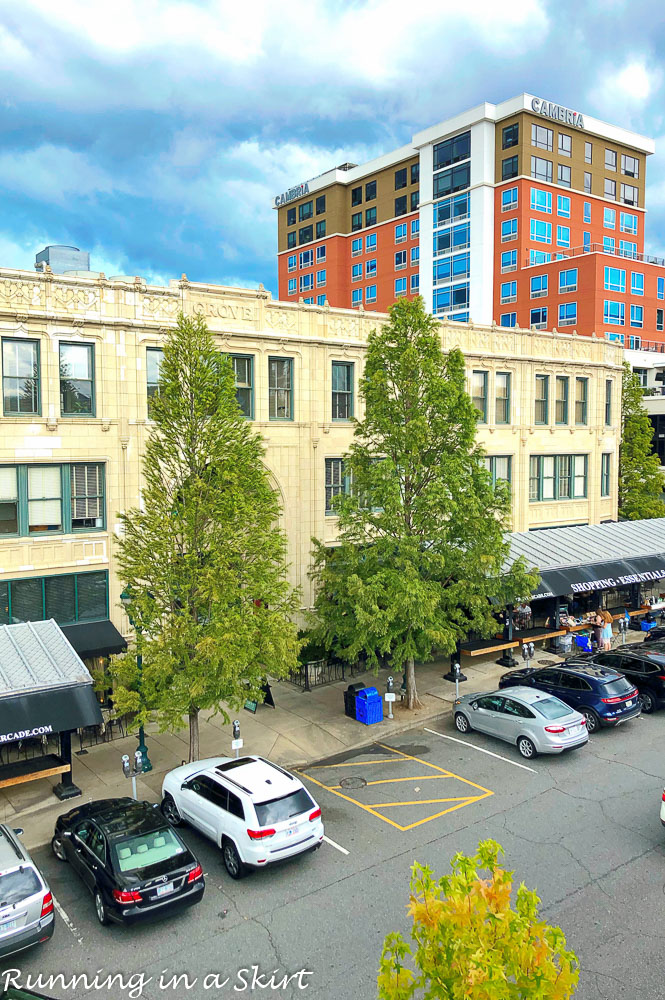 It was the center of commercial and civic life in Asheville until 1942 when the US government took over the building to help with the war effort. After that, it became government offices for decades until a movement started to revitalize downtown including bringing the Grove Arcade back to its original purpose. In 2002 it reopened and now houses eclectic shops, restaurants, markets, and luxury apartments.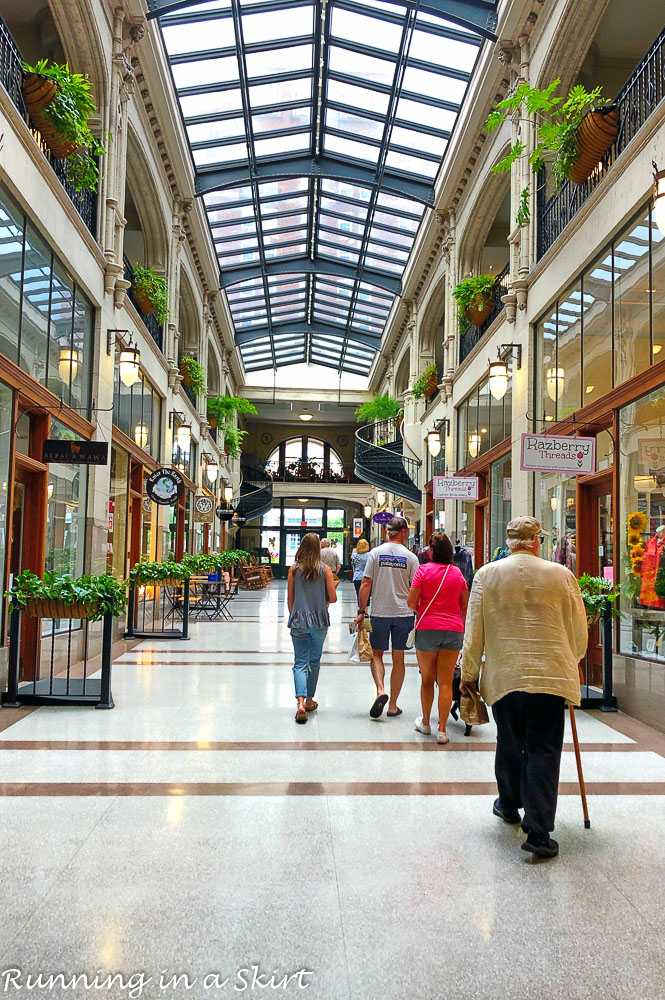 You guys have probably seen it before BUT today I want to share with you all the reasons you should go back and enjoy it all over again. Last week I took the family to for an afternoon of shopping, fun, and food, and we had a blast.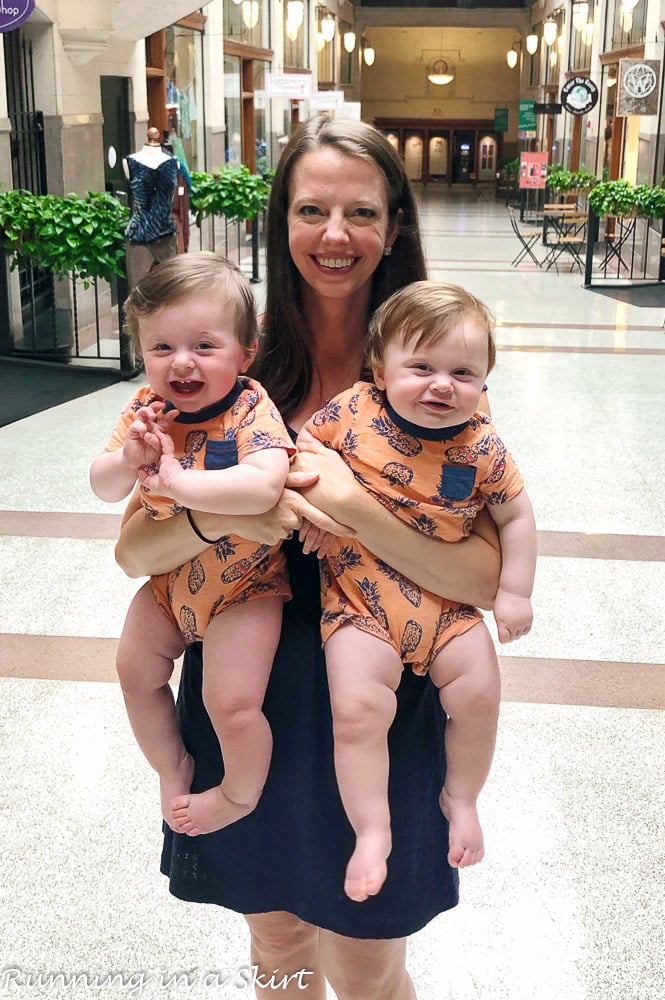 Fun fact... Did you know that in addition to kids, dogs are also welcome in the Grove Arcade?
6 Reasons to Go Back to the Grove Arcade: The Best Grove Arcade Shops & Restaurants
Gorgeous Architecture
I've been in the Grove Arcade dozens of times but I'm not sure I ever looked up and took it all in. It is stunning. The arcade is filled with Palladian-style architecture and ornate Gothic ornamentation that is worth the time to look and linger.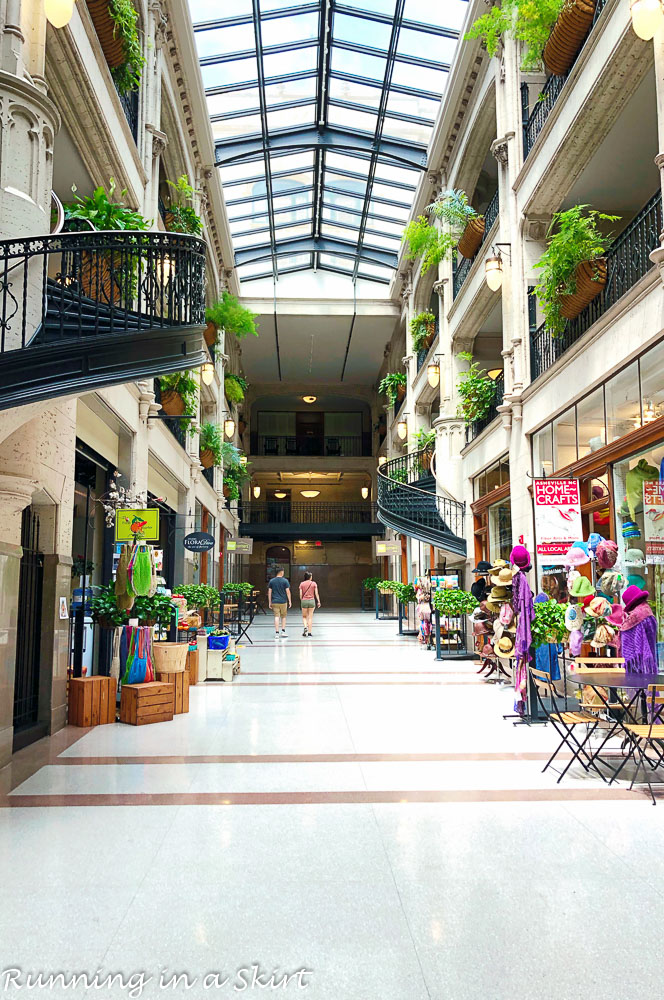 Have you ever taken the time to take in these gorgeous spiral staircases!
What about the glass ceiling that brings in lovely natural light?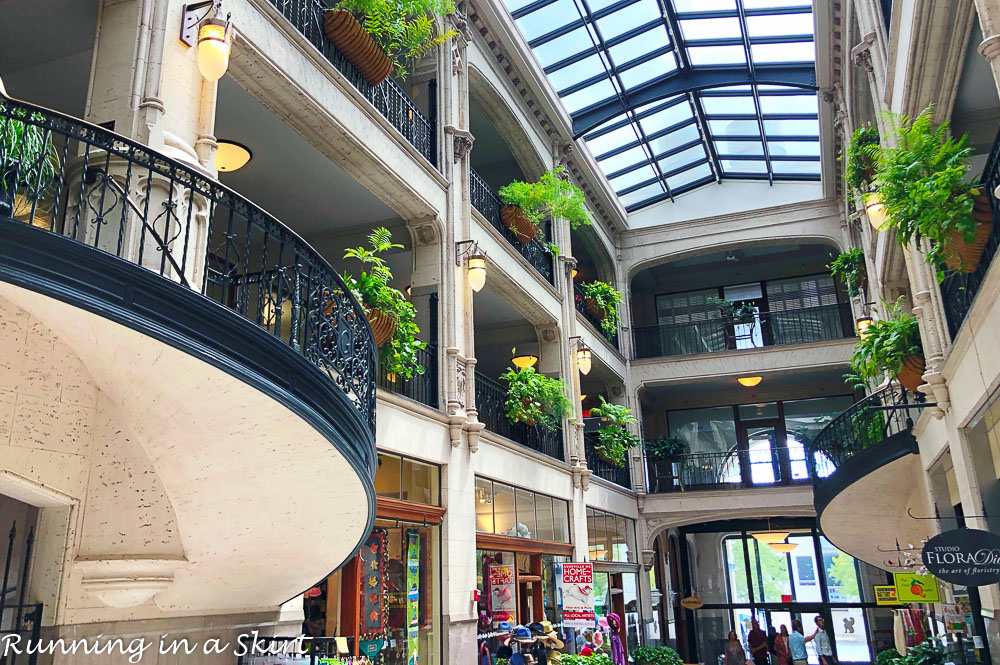 Or the historic plaster winged lions at the entrance?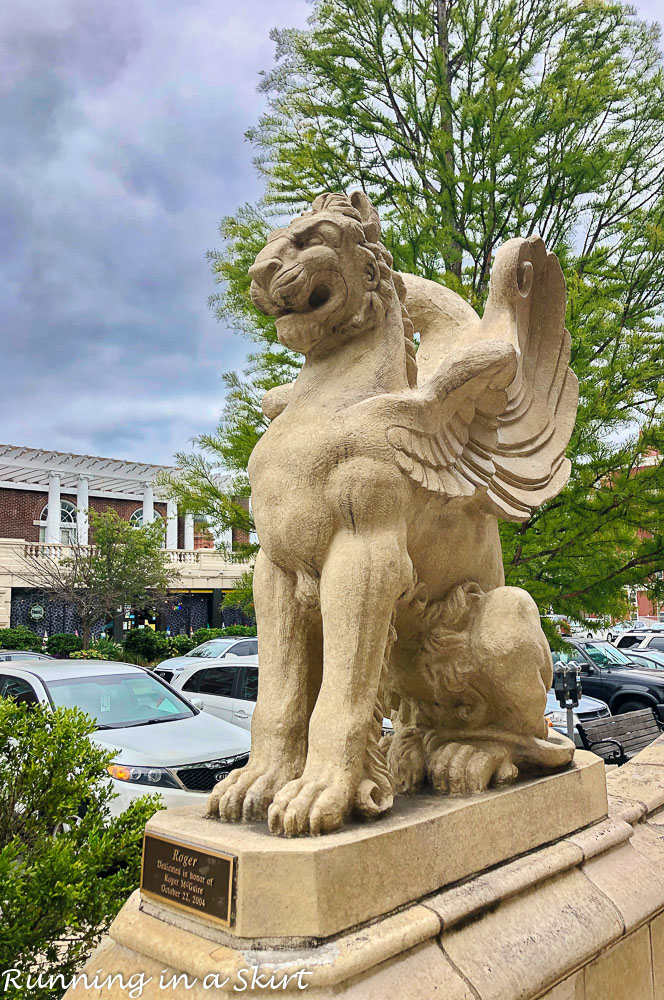 Walking through the building feels like a walk through time!
Fun fact: Did you know the Grove Arcade was originally supposed to have a 14 story tower on top but was never built because of the cost?
If you're into the history, check out the timeline on their website!
Wine Down & Relax
The Grove Arcade has two of my favorite wine bars in town. I've been a big fan of Sante Wine Bar & Tap Room for ages. It's one of my favorite places downtown.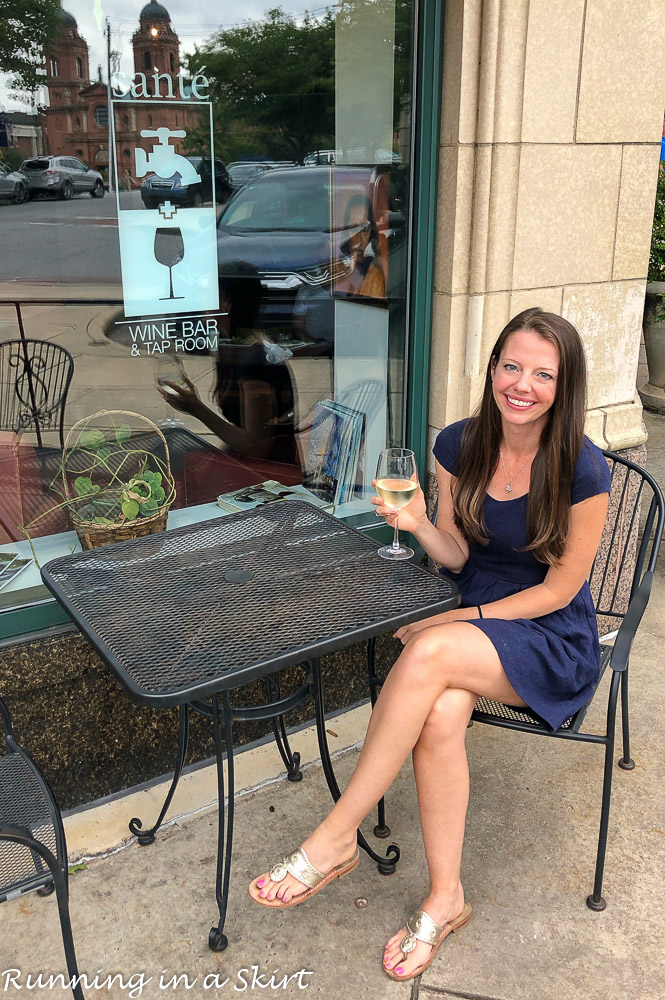 They have a delicious selection of wine and some of the best cheese boards. What I didn't know is that they also have a delightful lunch and dinner menu including pizzas, salads, sounds, sandwiches, and handmade desserts. In a beer town, this place is a wine lovers dream. Cheers!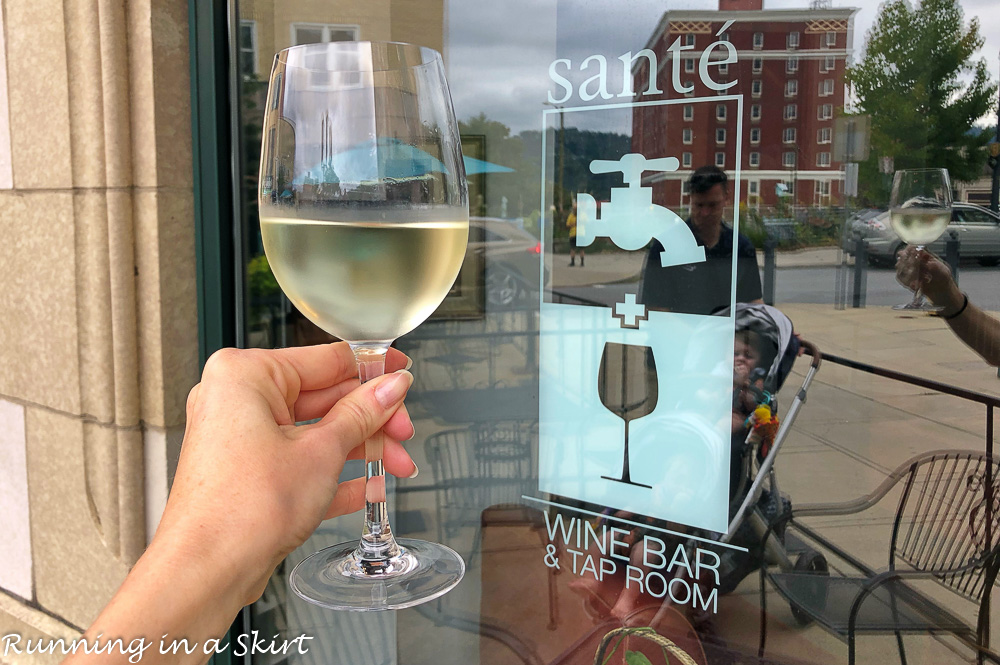 I also adore the Battery Park Book Exchange & Champagne Bar. Their outdoor seating is so charming.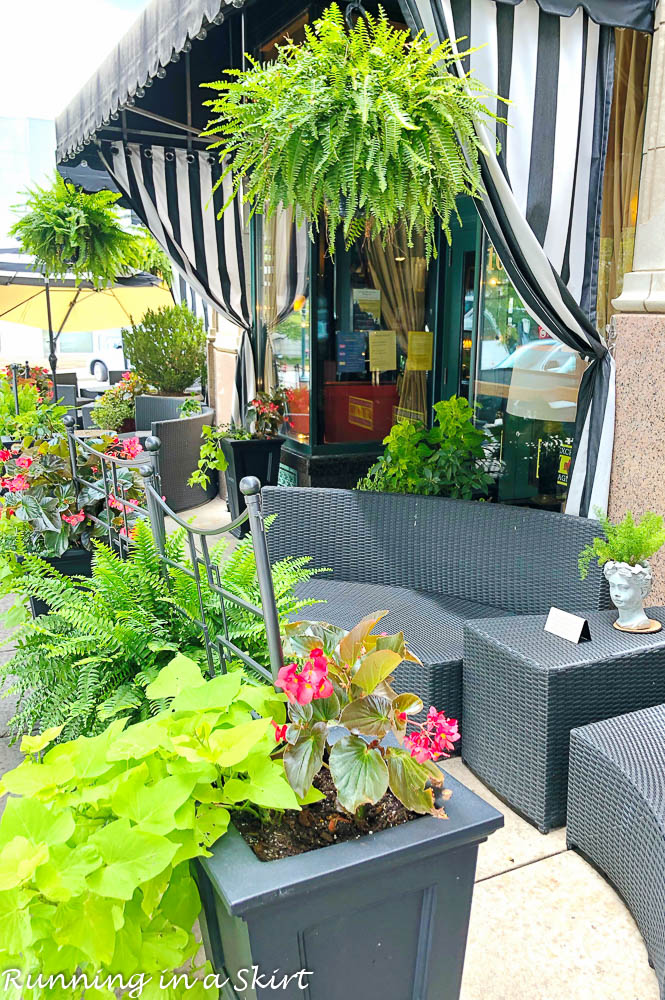 Inside are cases and cases of books with another spectacular wine list featuring fine wine, sparkling wine or of course... champagne. This place really combines two of lives great pleasures... books and wine!
Another favorite way to relax in the Grove Arcade is at the Wake Foot Sanctuary & Shop. This place is THE best way to relax in town offering foot soaks, massage services, and tea. After walking around downtown all day, it is literally the best 45-minute break from life you will get.
Epic Eats
The Grove Arcade is filled with some of THE best dining in all of Asheville. They've even dubbed their line of food choices, Restaurant Row.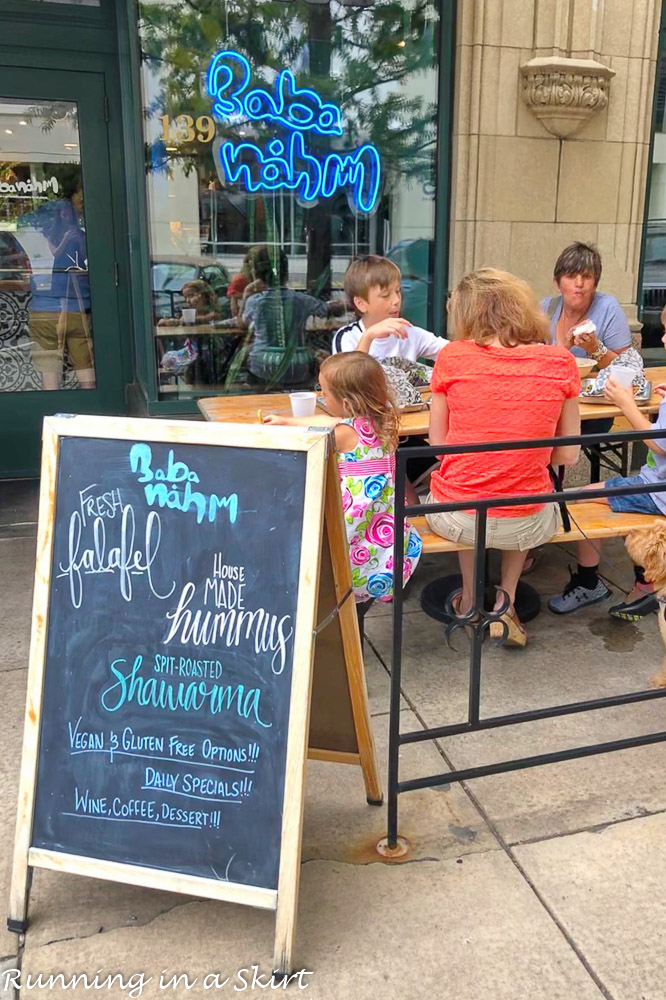 They have everything from Mediterranean food, to Italian food, to Southern food, and they are all so tasty.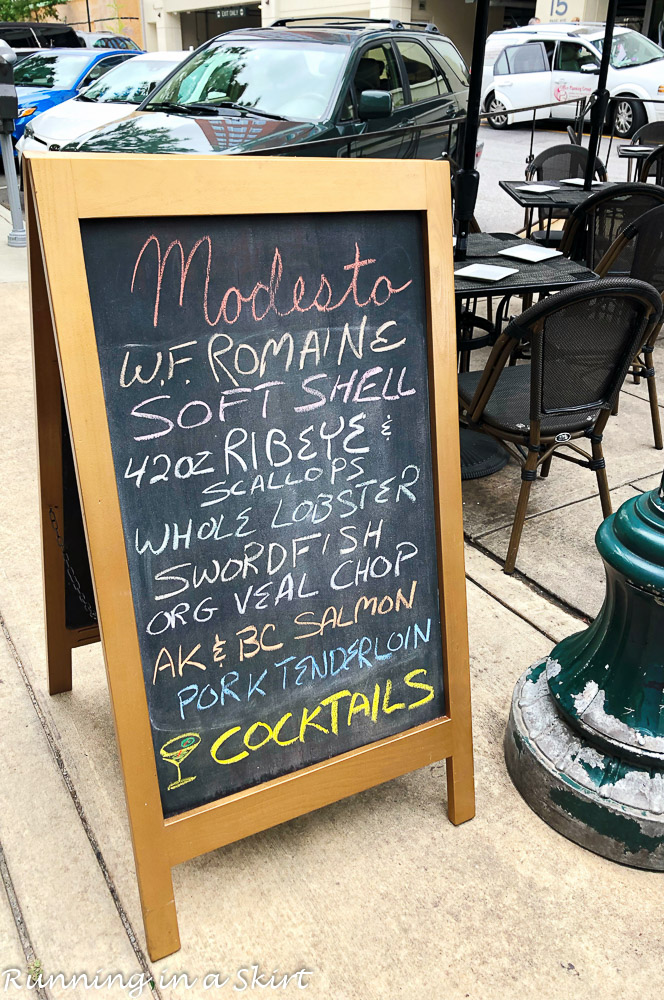 Carmel's Kitchen & Bar is always one of my favorite go-to Asheville restaurants because of their beautiful outdoor dining area that leads to the best people-watching in town.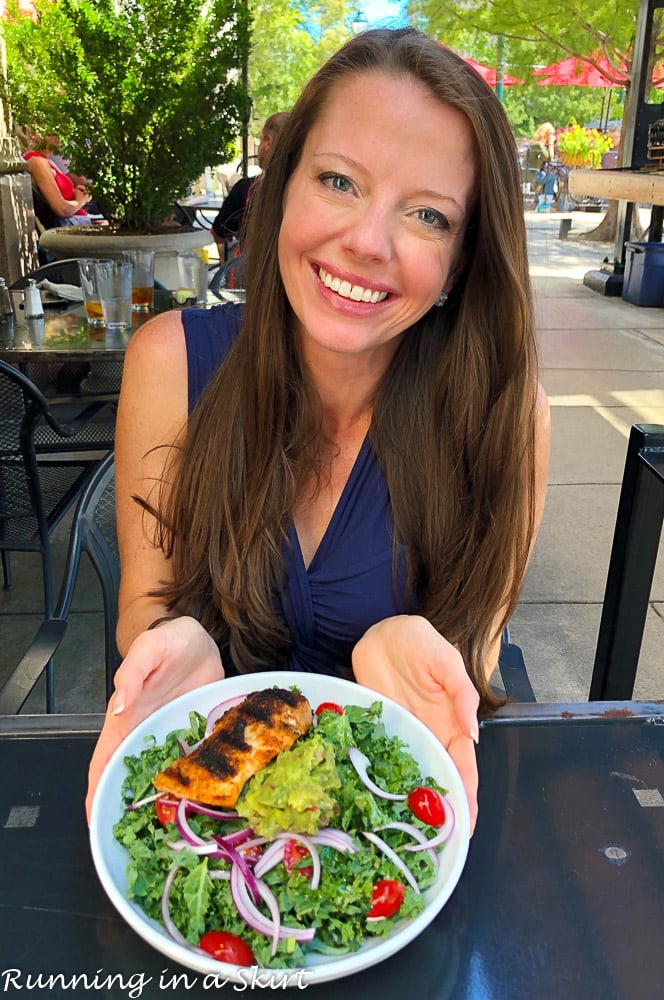 Just look at this salmon salad! It's topped with guacamole and light Southwest-inspired vinaigrette… which tastes incredible. Their menu is filled with classic café food like tasty sandwiches, creative salads, juicy burgers and flatbread style pizza.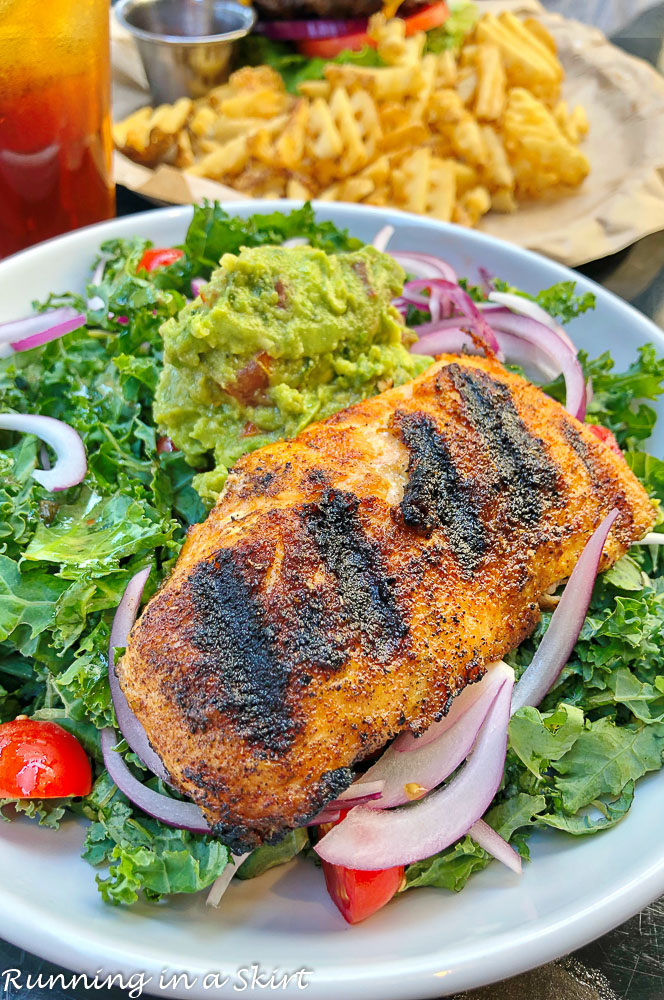 Other Grove Park Restaurant Choices
Sweet Tooth
Who doesn't have a sweet tooth? Nutz About Fudge is filled with deliciously indulgent fudge in flavors like Orange Cream, Amaretto Chocolate Swirl, Blueberry Cheesecake, Dulce de Leche, Butterfinger and Rocky Road.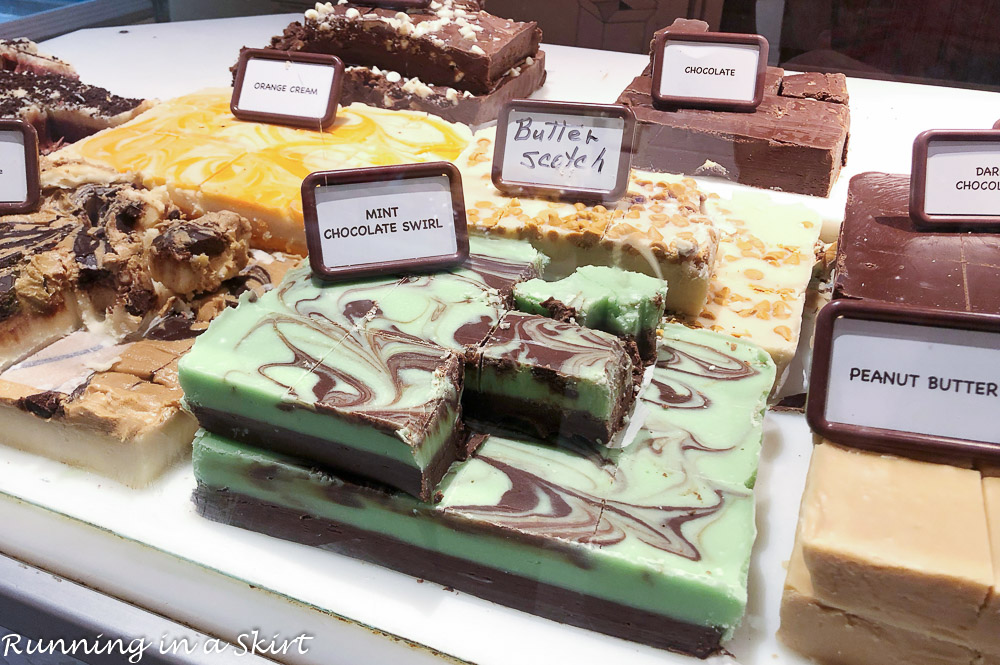 And if that wasn't enough reason to stop by, they also have Ultimate Ice Cream, which is made in Asheville. The fudge shop is super charming and the owner makes the fudge in house, which always leaves me wanting to come back for more.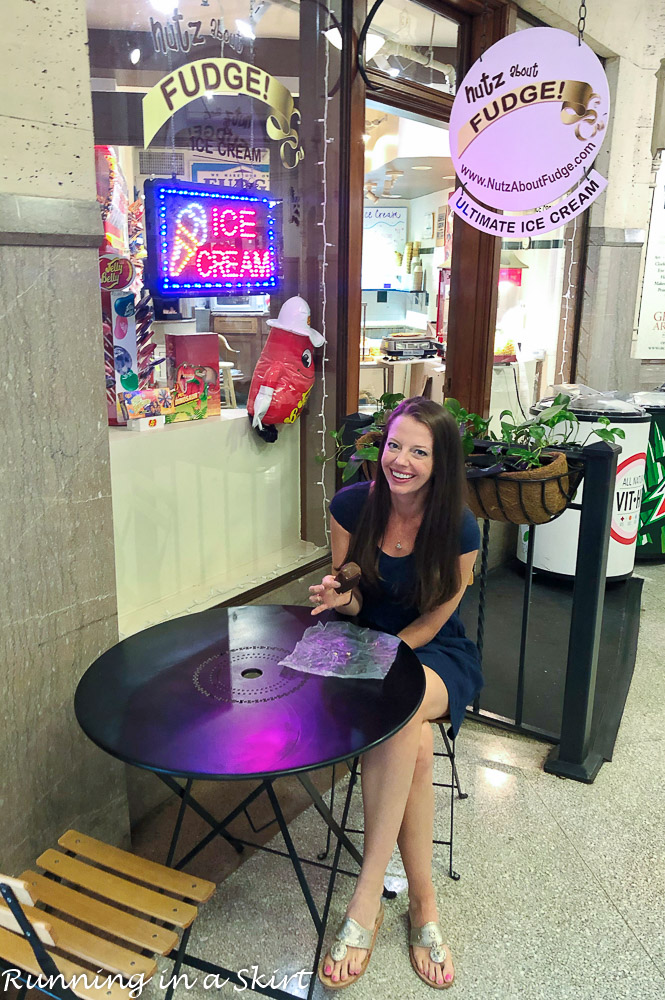 Eclectic Shopping: The Best Grove Arcade Shops
Curious about the best shops? Grove Arcade is filled with boutiques from the city's top artists and craftspeople. It is a quintessentially ASHEVILLE shopping experience.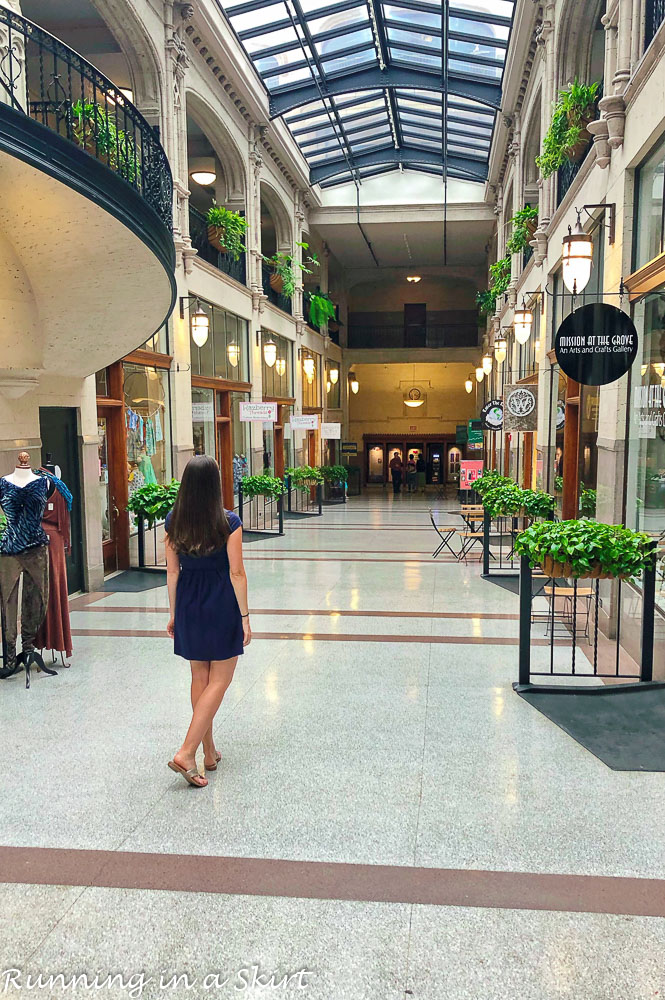 They have everything from sophisticated furniture, art, designer clothes and locally crafted arts. This is the place to come shopping if you tired of shopping at places with the same old stuff!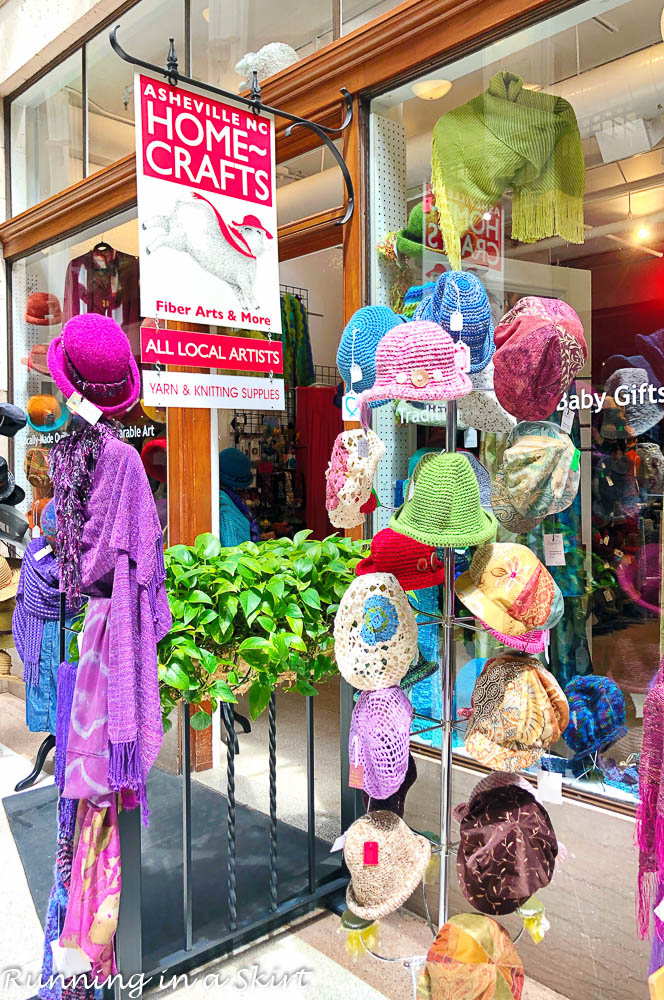 A few of my favorites are Serenity + Scott Apothecary and Mountain Made.
Serenity + Scott is like a mini-non-chain-Sephora just for Asheville. They have a lovely line of cosmetics and skincare. The have gorgeous makeup with lots of pretty colors that are easy to wear. Lots of their stuff is even organic. The staff is so helpful and can help you pick the colors and products with consultations for men and women.
Look at their vegan, essential oil bath bomb selection! Everything in the store is handcrafted just for them… so it is a special place.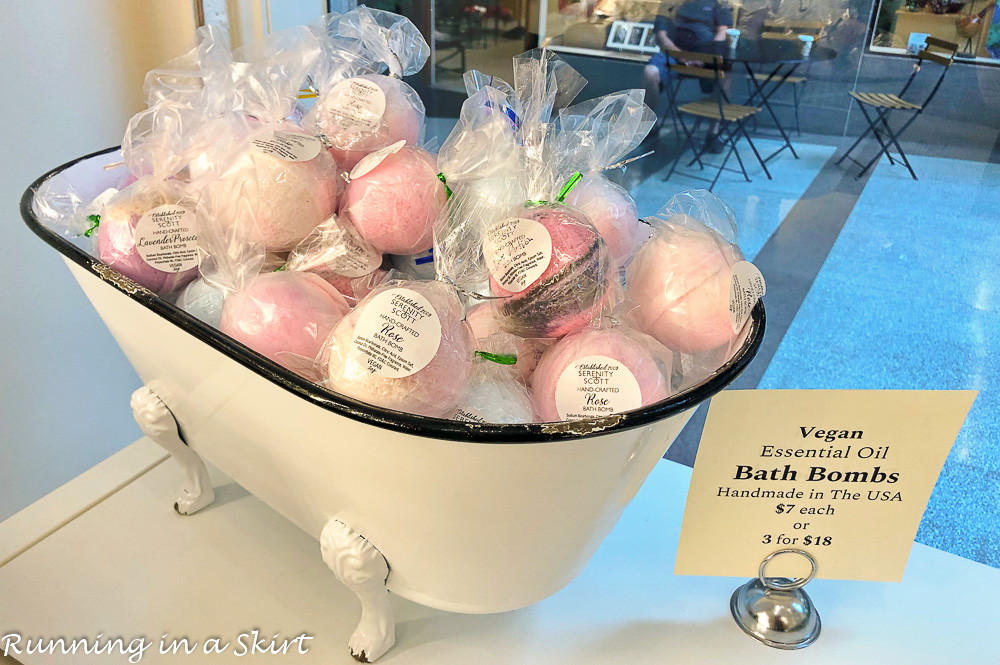 Mountain Made is a market for local artists including pottery, hand pained silk, jewelry, stained glass and much more. This is such a great place to find meaningful things for your home and gifts. The store is actually part of a local not-for-profit that gives back to entrepreneurial development in the mountains.
Mountain Made is filled with work from all different artists in the area and you never know what you will find. It is so fun and eclectic and hands down has some of the most creative stuff in a city full of creativity.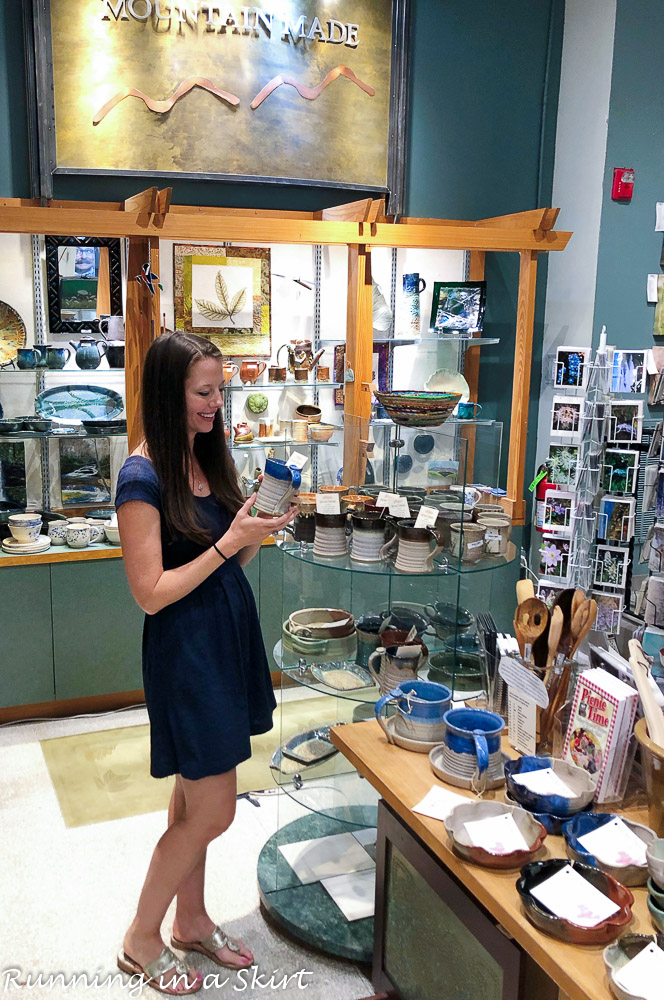 Don't you just LOVE these wine glasses? I'd love a set for my house!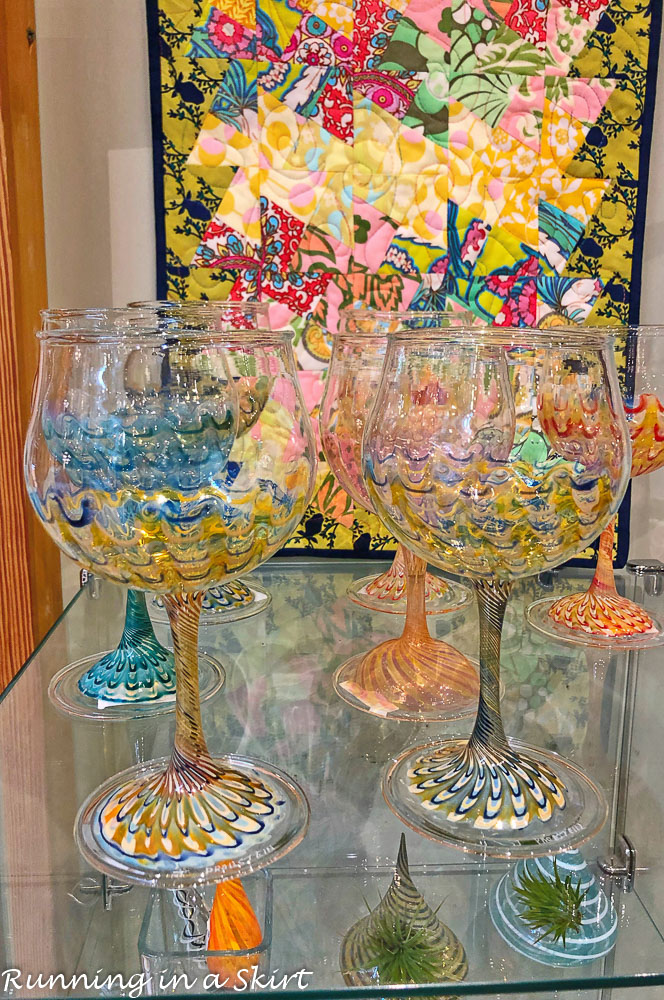 I also adore their outdoor market-style shops, called Makers Market, for picking up something quick. Every day, the market is filled with handmade jewelry, purses, paintings, and other fun finds. The artists are often working the stalls, so it always nice to talk to the person who made the pieces.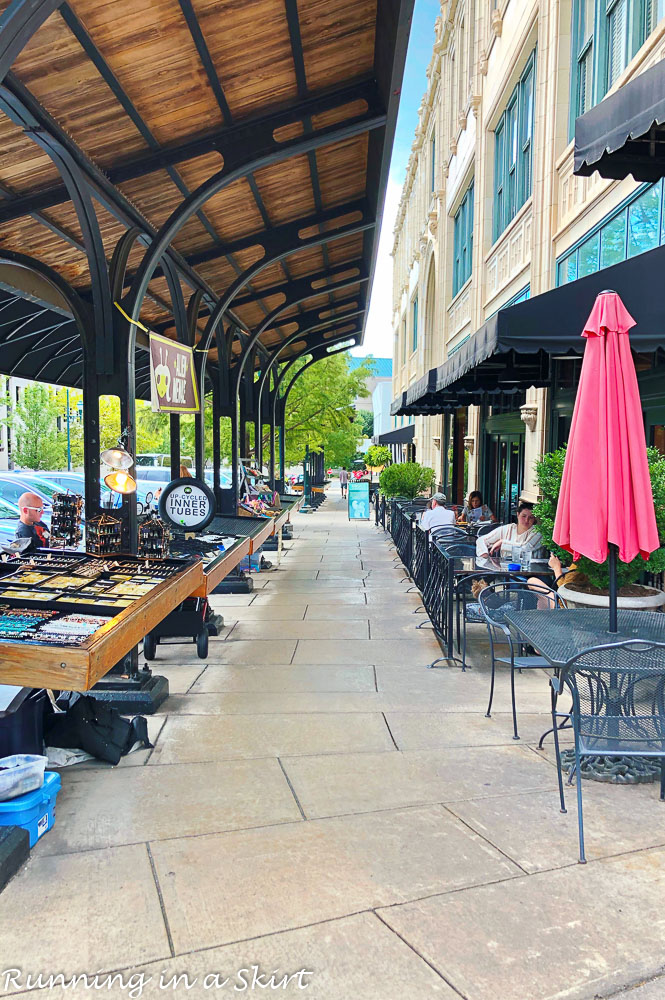 The rest of the shops have everything from beautiful yarn, fine jewelry, and clothes. There is even a produce shop and a watch store that has antique watches. In a world that feels like every store has the same exact thing, I love that you can really find the unexpected when shopping here.
Other Grove Arcade Shops
Stuff for Kids
Now that I have the twins, I'm always on the lookout for things for them and things for them to do!
Razberry Threads is a super charming store filled with children's clothing, toys, and accessories that are made by local Asheville artists. Their store is colorful, fun and filled with stuff that perfect for all kids. The clothes are so memorable and the boys got such a kick out of their toys, especially their hand puppet collection.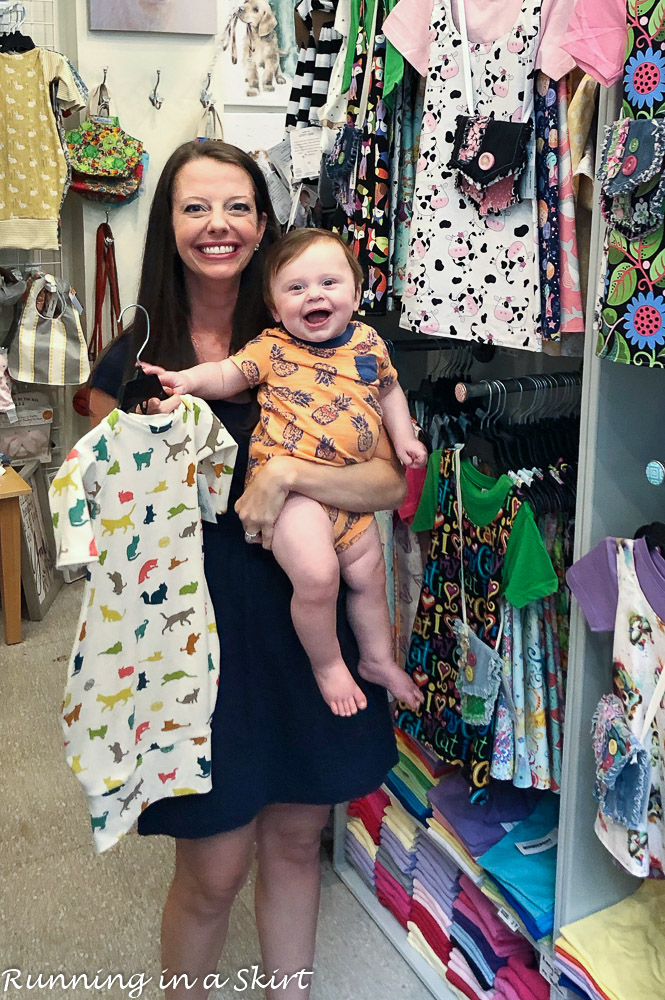 Enter the Earth is a shop filled fine mineral and fossils from around the world which older kids find fascinating. They even have museum-quality large fossils to see without the fuss of taking the kids to a museum.
The folks at The Woodrow Instrument Company will even do a demonstration for the kids if you ask! They have all sorts of string instruments including mountain dulcimers.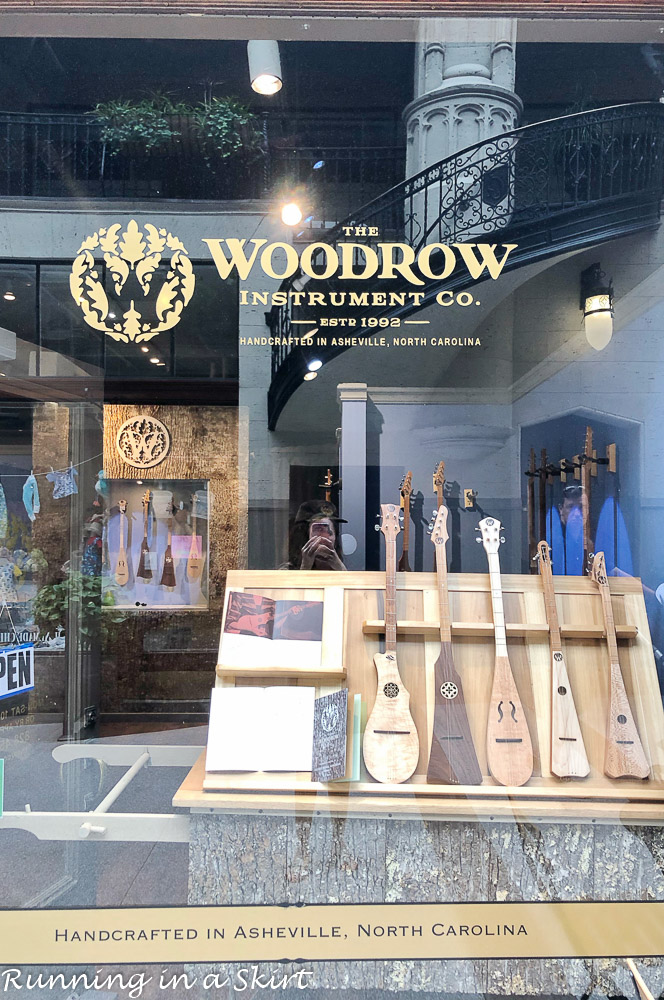 The Grove Arcade has been a part of Asheville's history for decades, but it has never been a more interesting place to dine, shop and relax! There is so much to do in this one small corner of Asheville that you can easily find yourself spending a whole afternoon. The free WiFi is a plus, too!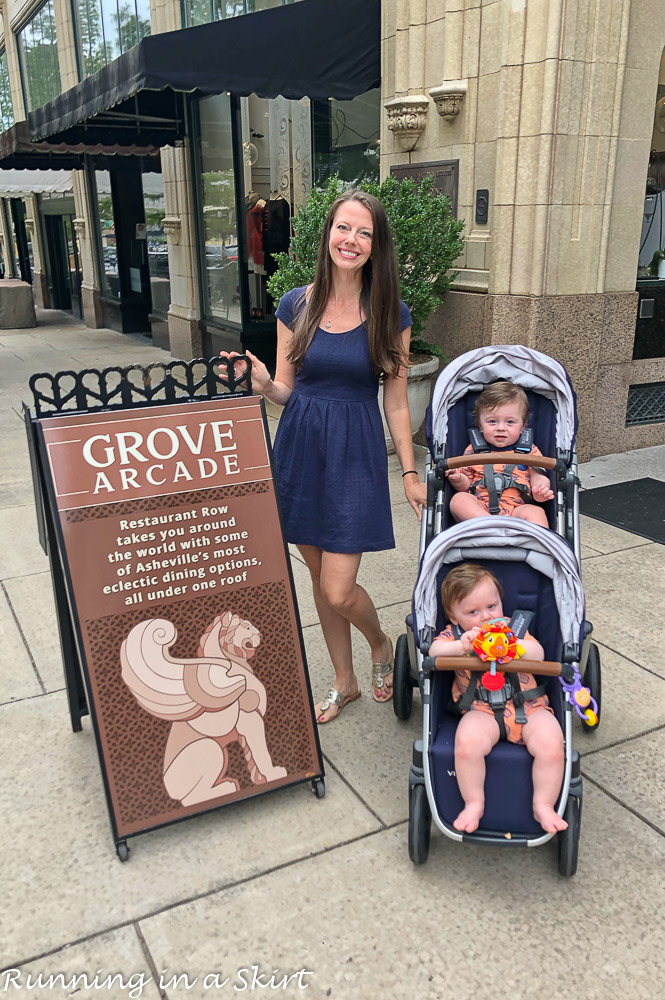 Make sure to check out Grove Arcade's website including their complete shopping and dining directory. Grove Arcade is also on…
Pin for later...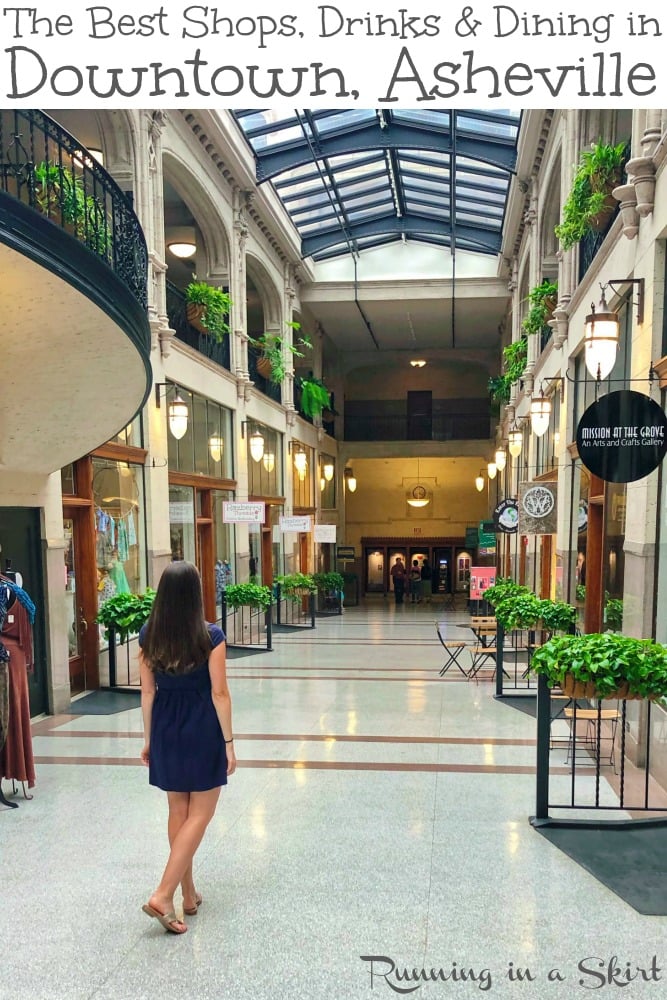 Your turn!
What's your favorite shop/restaurant in the Grove Arcade?