Before we get to my super fun super effective full body circuit elliptical workout, I just have to show you something…
My puppies last week:
Happy dogs!
My puppies this week:
Not so happy dogs…
I think they blamed me when the crazy winter that will never end kicked in again. So much for spring! They are not fans of the snow and cold. Neither am I, so to add some heat back into my life I created this seriously sweaty full body circuit elliptical workout.
This workout is a perfect mix of weights and cardio. The best part is the time flies because you are not JUST doing the elliptical for 30 minutes straight. The elliptical gets your heart rate up so the circuit exercises burn more calories and are more effective. I added exercises that work both legs and arms at the same time to get more bang for your buck! I don't know about you, but I have to use my time to the fullest.
To do the workout you will need a small area near your elliptical for the circuits and a set of 2-8 pound hand weights. A mat is optional for the weighted bridge and the planks.
It's called the Full Body Circuit Elliptical Workout! GO! Don't forget to tell me how you did!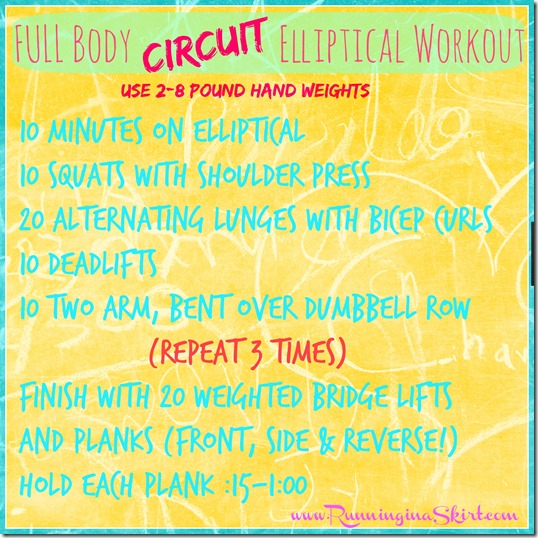 Notes:
Crank the elliptical up to a high level! I use at least 10. You should be able to get in at least 2 miles in after all 3 sets.
If you have never done planks, start with the lowest time and work your way up.
An extra challenge is to rotate from front, side and back planks without coming back to the ground or taking a break!
Don't forget to stretch!
If you aren't familiar with the exercises, here are some links to show you what to do…
Have a wunderful workout!
Your turn!
What is your favorite gym workout?
How do you feel about spring snow? love or hate?
[/fusion_builder_column][/fusion_builder_row][/fusion_builder_container]