Guess who came to visit?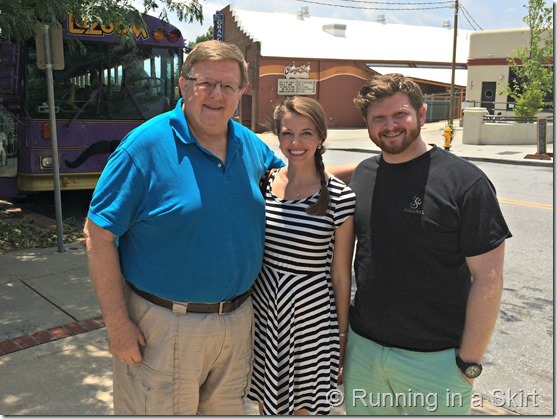 Both my dad and my brother Tommy!
My Dad drove up from Florida to judge the Tryon BBQ Festival this past weekend and my brother drove over from Charlotte. We had such a nice weekend in Asheville to celebrate all things DAD for Father's Day.
Saturday
On Saturday we had a cookout feast at our house. My Dad thought he was not going to see my brother until late Sunday when he drove to Charlotte, but Tommy surprised him by driving over Saturday so we could all be together over the weekend.
The hubs and I had a lot of fun putting together our tried and true grilling favorites for the family.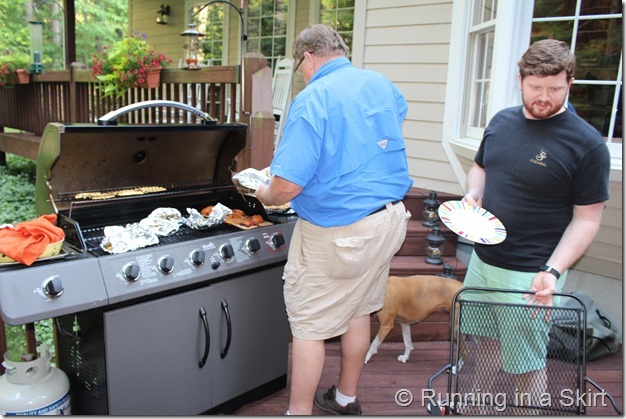 Now this is a Father's Day feast!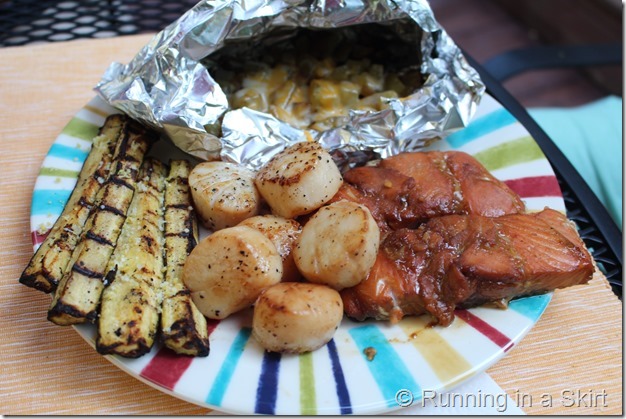 Recipes for the cheesy grilled potato packets, smoked scallops and sweet soy glazed salmon coming soon to Running in a Skirt! I'm not going to lie, this plate was pretty amazing.
We all had a great time catching up and letting the dogs entertain us. Rhett and Reina got to play with my brother's dog, Solow and I have never seen such happy dogs.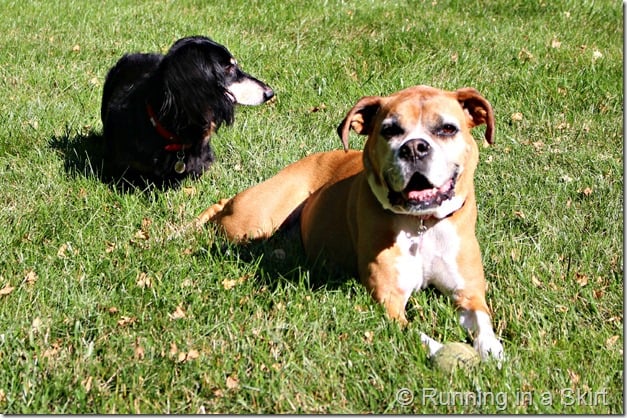 Solow used to live at my Dad's house so he really enjoyed seeing this tiny little Dachsi.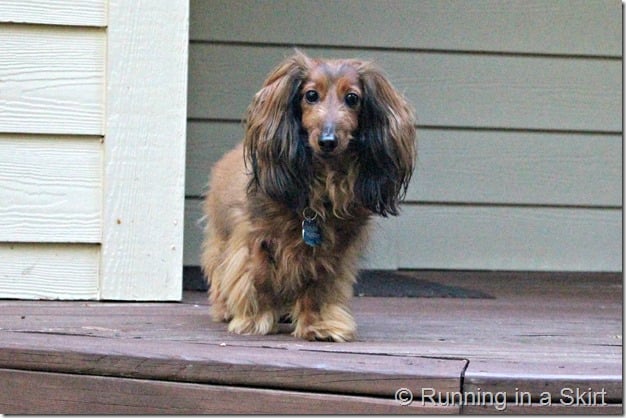 Reina, of course, played with her ball all day.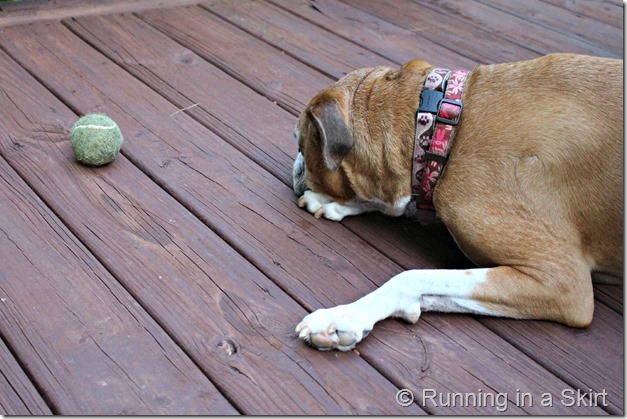 Rhett made friends with the illusive frog. He had a much better reaction to the deck decoration than Reina had last year!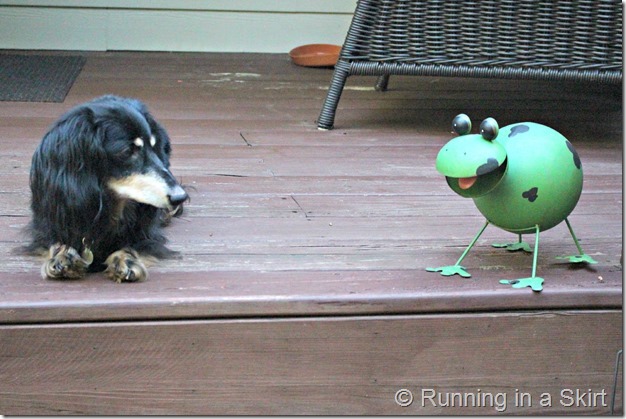 And Solow was so happy to be able to run free in the yard.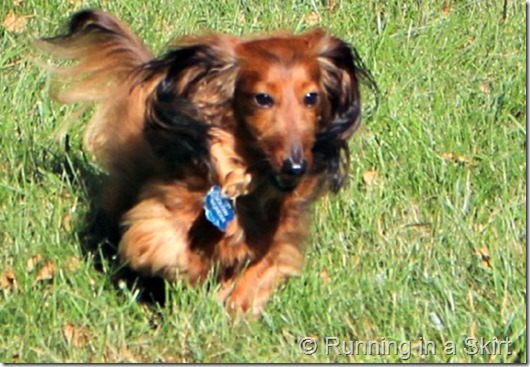 We topped the evening off with a fire, music and smore's.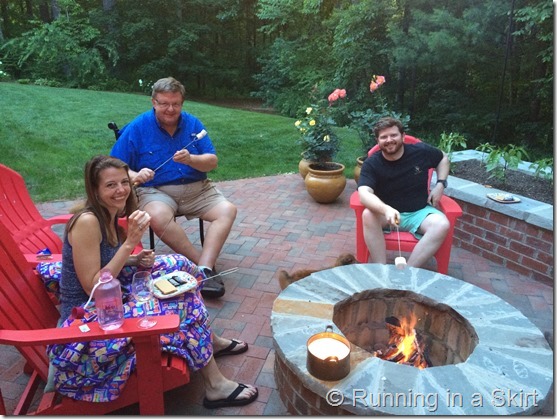 My friend Holly gave me these massive marshmallows to try out.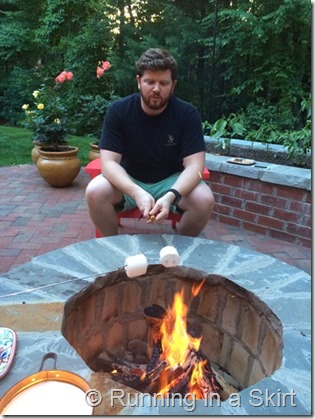 They take just the right skill to cook without burning to a crisp or dropping.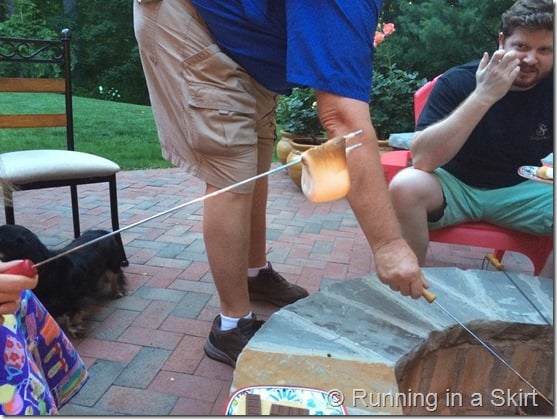 Just like that! Has anyone else tried these before? They are pretty awesome.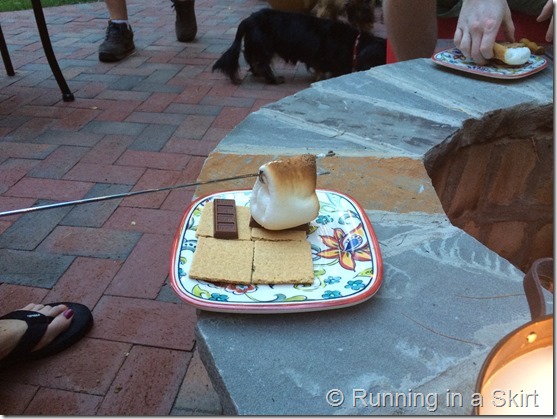 Sunday
Sunday we took Dad downtown to explore and try out one of Asheville's hottest breweries, Wicked Weed Brewing.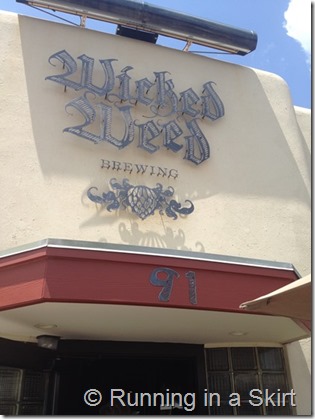 Wicked Weed has been on of the most popular places in town since it opened and there is always a crowd, but we somehow got lucky enough to get a table quickly.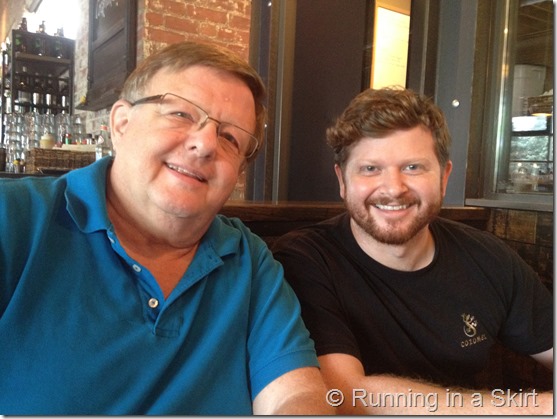 The beer is so creative and unique. This "Freak Nature" bottle is so fitting for Asheville and it's quirky nature.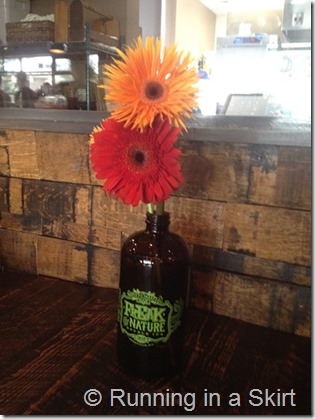 The brewmasters even created a set of special release beers for the World Cup. They have a unique brew for each country playing at the event. If it would have been later in the day I would have tried the Mexico or France ones.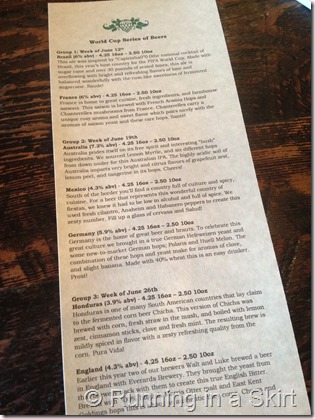 Luckily the food at Wicked Weed is also pretty awesome. A high end chef created some pretty tasty items on the menu and even if you aren't drinking this is a yummy place to try in Asheville.
We all had a different type of burger. My Dad had a regular cheeseburger, I had a black bean burger (which rocked,) and my brother and the hubs had a bison burger.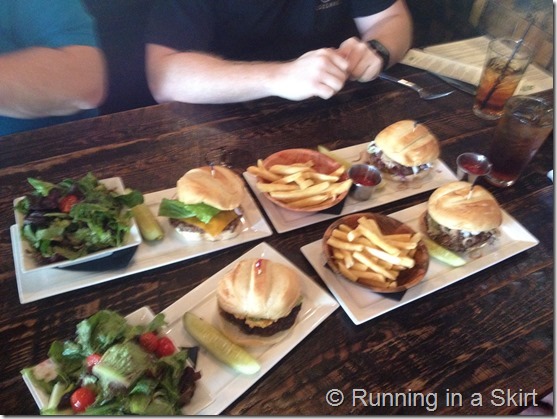 We finished the afternoon off with a walk around downtown before Tommy and Dad both left to go back home.
I am so blessed to have a such a caring loyal Dad in my life. He is the rock of our family and we love him so much! I loved playing host to the men in my life for the weekend events.
Your turn!
What did you do for Father's Day?
What's your go-to grilling favorite?