Hi everyone!
I hope you guys had a great weekend. Despite having a broken elbow, this weekend was actually pretty fabulous. On Friday I went out to dinner at the Biltmore and on Saturday some friends and I went to a local Winery. Sunday involved some work around the house (what I could do one armed- lol!) and a little relaxing.
For today's post I'm going behind the scenes of all the normal blog stuff and sharing what I'm Currently doing...
Currently I'm…
Reading…
I've always been a Judy Blume fan and when I saw she had a new adult book out, In the Unlikely Event, I couldn't resist. I picked up in the unlikely event and I've been enjoying reading it so far. It's a fast read with a great storyline.
Listening…
Miranda Lambert's latest album is finally on Amazon Prime. I've been listening to the entire thing on repeat. I know, I know... I am so predictable with my music.
Does anyone else have this pair of sunglasses? I do!
Watching…
I binge watched the last season of Jane the Virgin when I first hurt my arm. When the last episode was over I went into tv withdrawal. Love that show.
The Hubs and I are once again in the market for a Netflix/Amazon TV show that we will both like. We have such dramatically different tastes and television that it's hard to find a show that we both want to watch. We've enjoyed in the past... House of Cards, Friday Night Lights, the Crown and Narcos. I'd love any suggestions that you have. Thank you!
Wearing…
Stupid arm braces but I did order this adorable pink one from Etsy. 🙂
Eating…
I made a farmer's market run the other day and came home with these amazing tomatoes and peaches. So it's been all peaches and fresh tomatoes all the time in my house. The tomatoes are rich and have just the right amount of acid and those peaches are oh so sweet. I seriously can't get enough and I think I'm going to have to go buy more ASAP.

Here's a sneak peek at a recipe I made with them coming up on Thursday. Bahhh-haaa!

Drinking…
I think this was my drink last month... but I'm still loving sparkling Rose. One of my favorites has been the sparkling rose at the Hendersonville vineyard, Saint Paul Mountain Vineyards. You've got to try it this summer.
This photo was taken the day before I busted my elbow. 🙁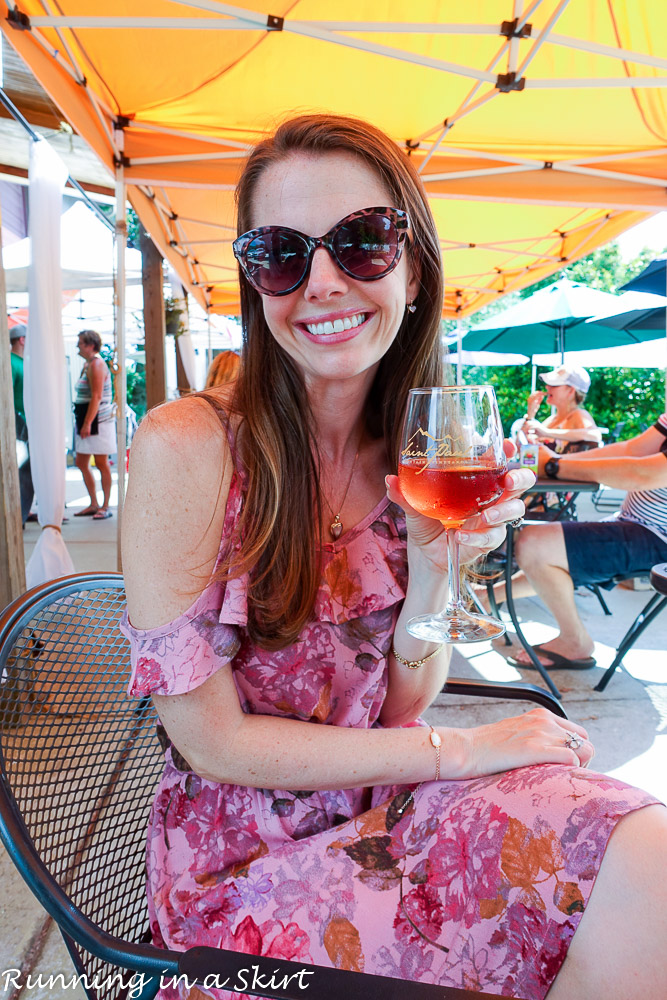 Indulging…
The other day I went to Blackbird in downtown Asheville and I ordered my favorite coconut cake in town. I haven't had it in so long and it is so good. If you are in downtown Asheville you've got to try it.

Anticipating...
I can't wait for my arm to get better. I'm trying to be super patient and follow the doctor's orders but I've got to be honest with you I miss my regular life where I can do whatever I want. I don't necessarily miss driving but I do miss being able to leave the house without depending on someone else.
Praying…
For my arm to heal fast and for sweet Rhett who's still hanging on.
Thank you so much for reading today and for your kind comments.
Your turn!
Answer one of the Currently… prompts above
I'm linking up with Thinking Out Loud Thursday.