Running in heat and humidity can be tough. Here are my best ways to survive the hot summer running season.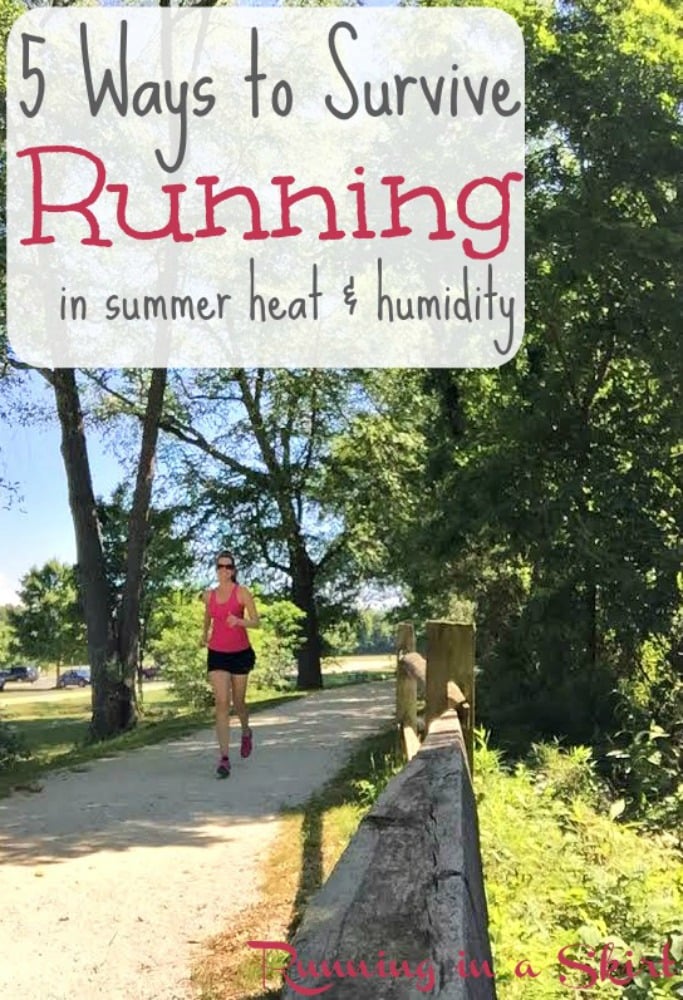 Hello! Hello!
I thought I'd combine two of my loves for the post today: weather and running! As a meteorologist I know how crazy weather can be. As a runner, I know just how hard it can be to get your miles in once the mercury creeps up.
Running in heat and humidity is no joke and can be dangerous. Heat illness and stroke is a real problem and should be taken seriously by all runners.
With that said, there are some easy ways to beat the summer heat and make the most out of the hot running season.
5 Ways to Survive Running in Heat and Humidity
Run in the Early Morning
Running with the sunrise is key in summer. The coolest time of the day is just before sunrise, so wake up with the sun and take advantage of it. If you can't run with sunrise, go as early as possible. Sometimes it can be unbearable as early as 8 or 9 depending on where you live. A few hours can be the difference between a pleasant and dangerous run.
Watch out though, even in the mornings, the humidity may be the highest. First thing in the morning, the temperature and the dew point are close or even the same, so you might actually get 90-100% relative humidity.
Dress the Part
Wear light colored, sweat wicking running gear. Technical material will dry quicker and keep you slightly cooler.
Put on sunscreen and wear protective sunglasses. The extra effort will be worth it.
Seek the Shade
There could be a ten degree temperature difference between running in this...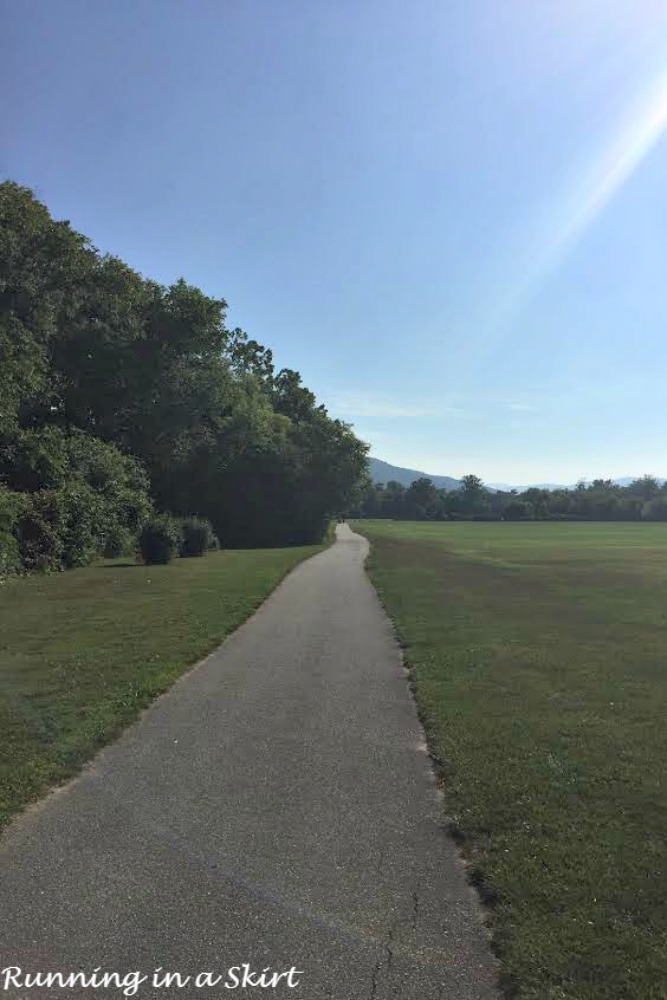 ... or this.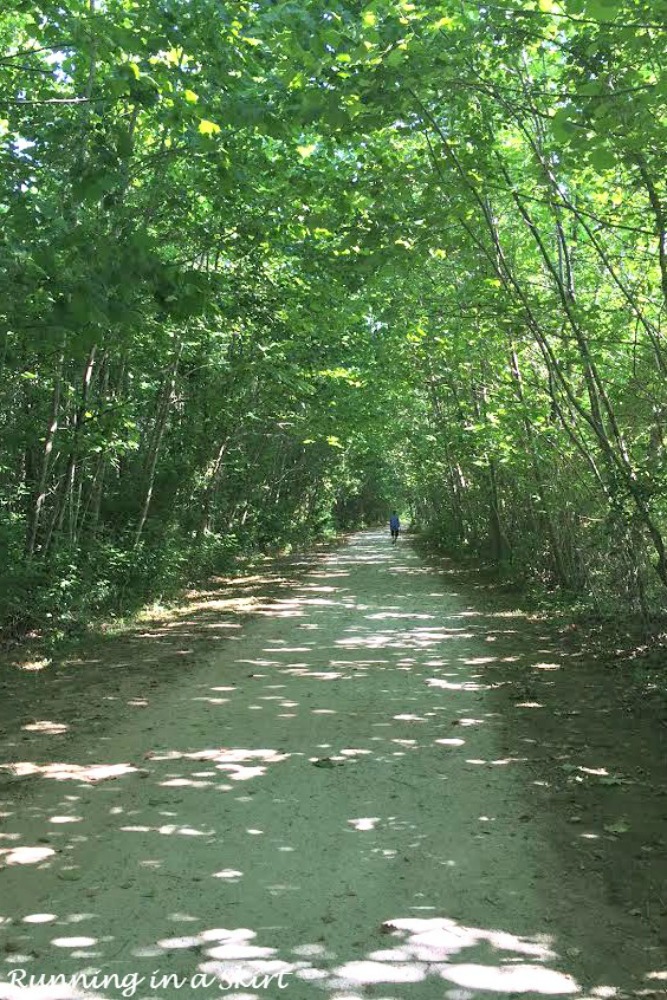 Know where the shaded trails are in your area and utilize them! Also consider running on a surface that's not scorching hot pavement.
Run Slower
Once the temperature starts climbing, you will need to adjust your pace to keep from getting heat illness. Consider slowing your pace by ten seconds to one minute depending on how hot it is. Once your body gets used to the summer heat you might be able to build the speed back in.
You can also consider running exclusively by effort instead of speed until your body adapts.
Hydrate!
When it's very hot consider placing water around your route or taking a bottle with you.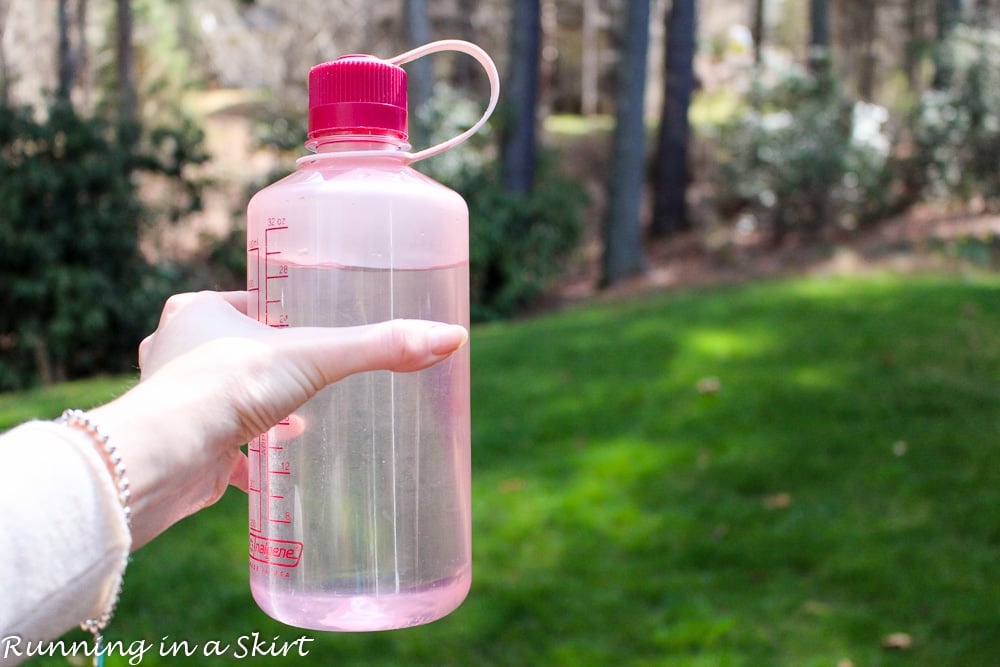 If you are training for a longer race or running for longer than 45 minutes you need to consider a consider electrolyte replacement to counteract all of the sweat!
Be Careful Running in Heat and Humidity
Even with these tips, running in heat and humidity can be dangerous. You must listen to you body and know the danger signs of dehydration, heat exaustion, heat stroke, heat cramps and hyponatremia.
Some signs of heat related illness including feeling dizzy or lightheaded, disoriented, or you have stopped sweating when you know you should be. You can also get goose bumps in hot weather or have clammy feeling skin. If you feel any of these stop exercising, get out of the sun and seek medical attention.
In the end, know your personal running in heat and humidity threshold. Don't be ashamed to take it indoors. Treadmills are a great way to work on your speed and mix up your workouts.
Thanks for stopping by today! Come back tomorrow a fresh way to use frozen tortellini and summer veggies.
I'm linking this post with Jill Conyers for Fitness Friday & Inspired to be Fit, Amanda for Thinking Out Loud Thursday, Coaches Corner, and Annmarie for Wild Workout Wednesday.
Your turn!
Do you run outside in the summer?
Ever felt a heat related illness coming on?
Runners- What tips would you add?