OMG! Did you hear? New Kids on the Block (NKOTB), Boyz II Men and 98 Degrees are going on tour this summer. Yup. Three of the biggest names in boy band history are teaming up for an epic revival of some of the best and worst music of the 90's!
I secretly sort of want to go…
Oh boy bands! There is something so nostalgic about the boy bands that were popular when we were young. Remember when we thought those wild haired kids produced the best music ever? (Wow, that made me feel old )Well, we all may have changed our music tastes, (or maybe not—no shame in that!) but when one of those songs is played it instantly takes me back to my youth.
In my elementary and middle school, New Kids on the Block was at the top of the boy band hierarchy. By High School and college, Back Street Boys and N'Sync ruled the airwaves. "Ain't no lie—Baby—bye.. bye.. bye…"
Growing up in Orlando, I even had some connections to those wildly popular 90's boy bands. There is a video somewhere in my parents house of a fashion show I was in, at the mall, where the Backstreet Boys were part of the entertainment. It was before they became household names and they were still playing small venues like a free mall fashion shows. At the time, we had no idea who they were or why it was such a big deal that they were in "our" fashion show. And NO! that video will not be making an appearance on the blog.
Also, Joey Fatone of N'Sync went to my High School! He was a couple years ahead of me and I didn't really know him… but I still felt a certain connection!
I went digging and I still have quite an assortment of embarrassing old boy band favorites. In CD form of course…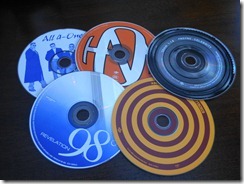 Is that a Hanson CD? No……
I got to thinking about how much fun it would be to have a nostalgic boy band playlist to get your feet "Mmmbop" moving "Step by Step!" So I offer you, my friends, Your Favorite Boy Band Playlist! "I swear by the moon and the stars" that I think you'll love it!
12 Tracks, 48 minutes, includes a perfect warm up song!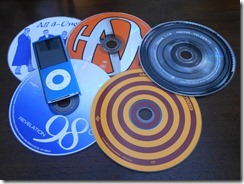 You can find and play the music on your computer for FREE through Spotify.com
Click on the pink link below for a direct link to the playlist if you already have Spotify on your computer.
Your Favorite Boy Band Playlist
YOUR FAVORITE BOY BAND PLAYLIST
The Hardest Thing – 98 Degrees
Everybody(Backstreet's Back) – Backstreet Boys
Step by Step – New Kids on the Block
Quit Playing Games (With My Heart) – Backstreet Boys
Summer Girls – LFO
Tearin' Up My Heart – N'Sync
You Got (The Right Stuff) – New Kids on the Block
Pop – N'Sync
MMMBop – Hanson
We've Got It Goin' On- Backstreet Boys
Bye Bye Bye- N'Sync
Larger Than Life- Backstreet Boys
Your turn!
Who was your favorite "boy band?"
What's your favorite "boy band" song?
What kind of music takes you on a trip down memory lane?[/fusion_builder_column][/fusion_builder_row][/fusion_builder_container]