Hi guys! It's been quite a week! I was really looking forward to falling back into a routine after all the holiday stuff and our trip to Florida BUT a big snowstorm had other plans.
It started snowing late Saturday and kept snowing ALL DAY Sunday and then some on Monday. We ended up with probably around 8 or 9 inches but some of it got packed down by some sleet we also had. The storm meant we were snowed in through Wednesday with no preschool or help with the twins so it's been a long week. Our neighborhood never seems to get plowed so we are often on our own until it melts. On top of that, Jackson seems to have picked up a stomach bug from somewhere so we're still stuck at home. He's actually quite pitiful right now.
I know a lot of local readers were in the exact same situation and I feel for everyone. I feel like it's been a long and stressful week all around.
It was beautiful snow though and the entire neighborhood spent much of the day playing together which was so nice. Snow is not my favorite, but I have to admit the boys did have a lot of fun sledding and playing. I tried my best to not let my dislike of the cold weather rub off on them. 🙂
The boys were astonished when they woke up to see this! We had a couple of snows last year, but nothing like this.
This was one of the first snaps we got when the snow was so fresh and clean.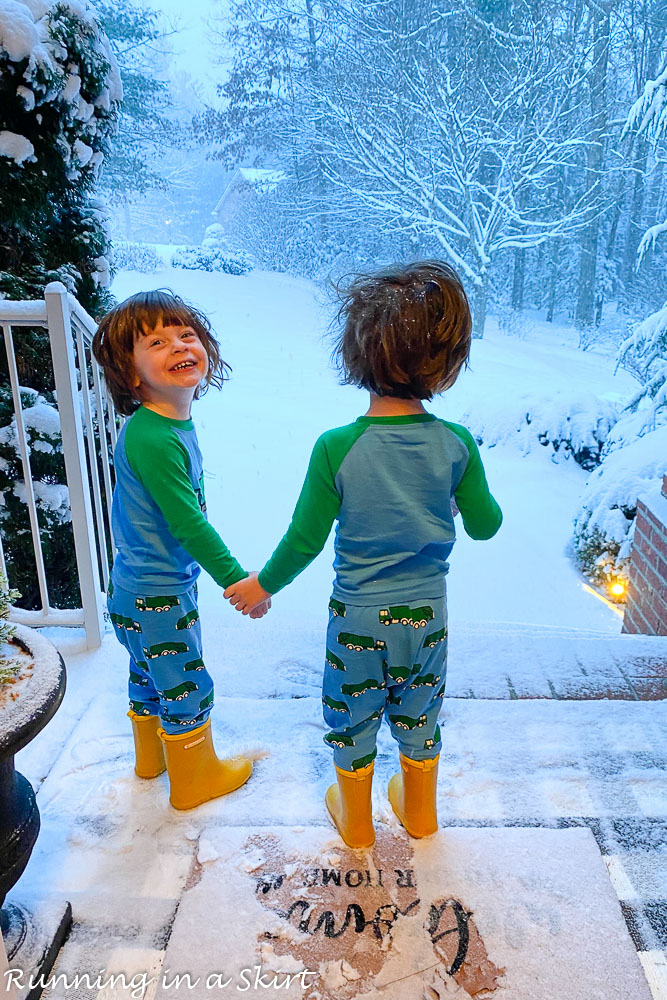 Hunter tried to help shovel the driveway but we all ended up giving up. Our driveway is so long and it would have taken hours to clear.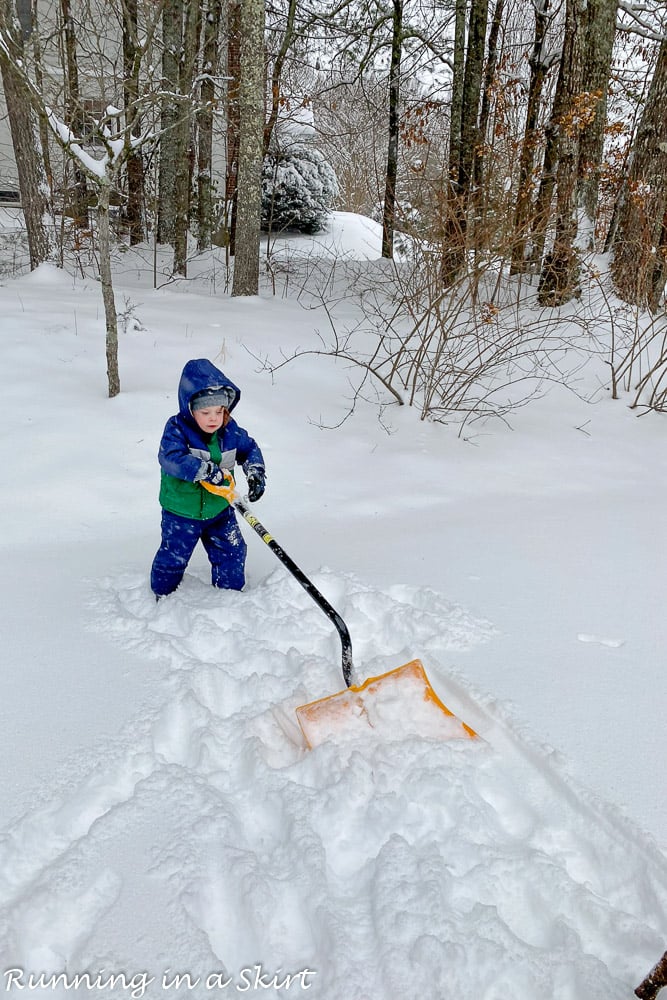 Here's Hunter getting good use out of the beach shovel. It's pretty crazy they got to shovel beach sand and snow with it within a few days.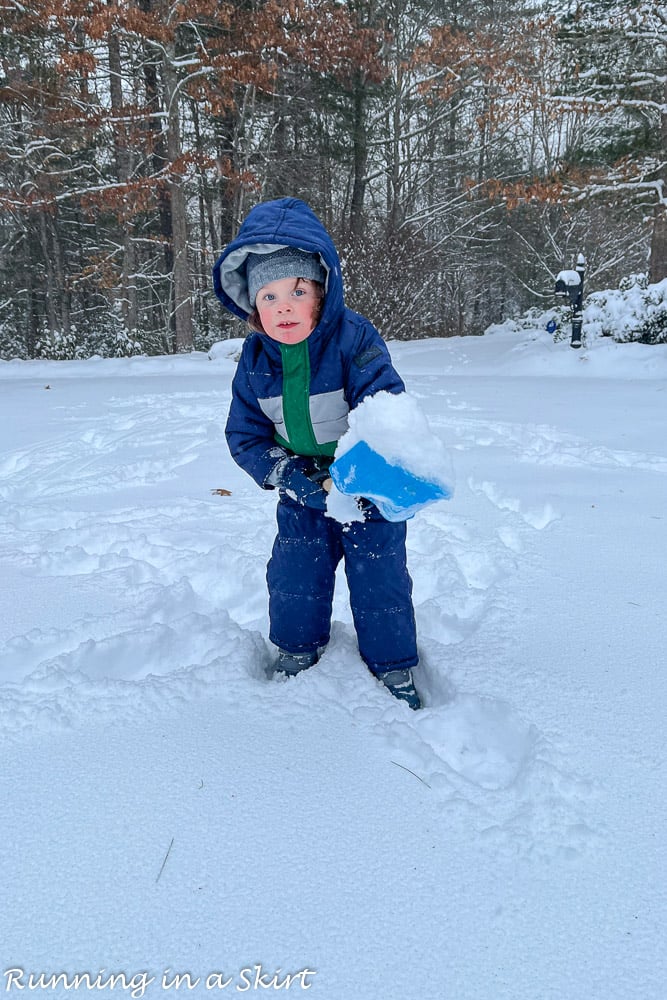 He was also pretty adamant about making a snow angel but once he got down I think he was just cold.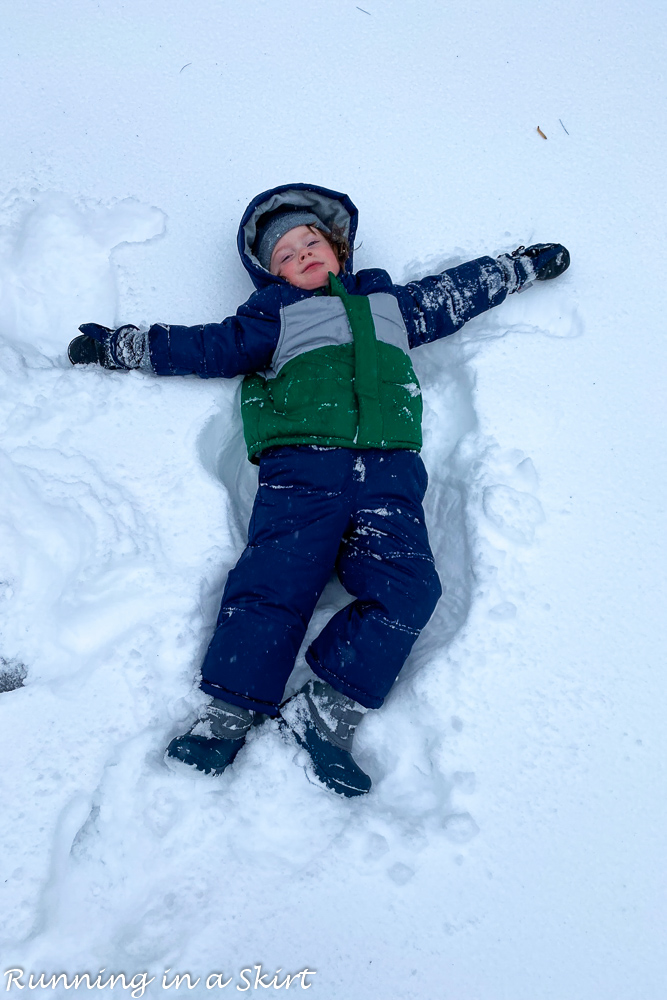 The snow was way too dry to make any sort of snowballs or snowmen but they still had fun.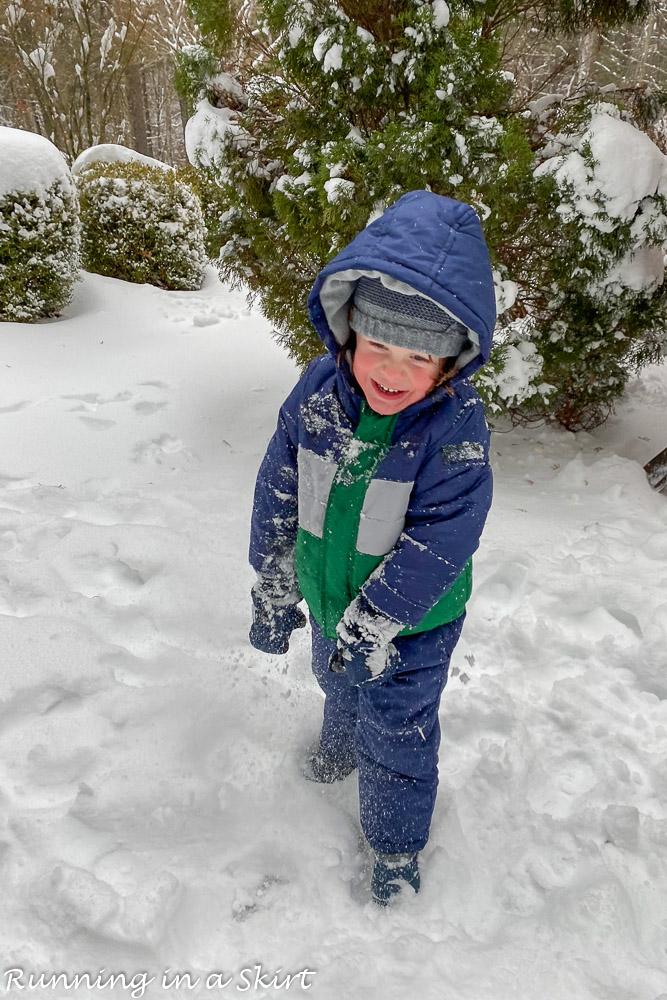 Here's Daddy being the hero carrying them around because it was really hard for them to walk around in.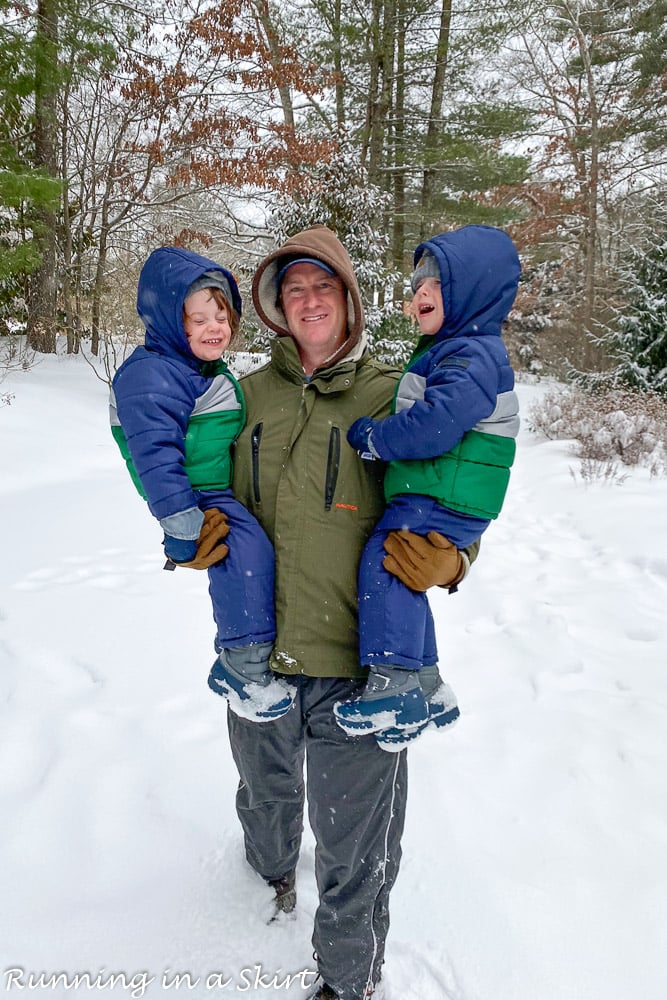 On round two of playing in the snow after the twins' nap, we did more sledding with our neighbors.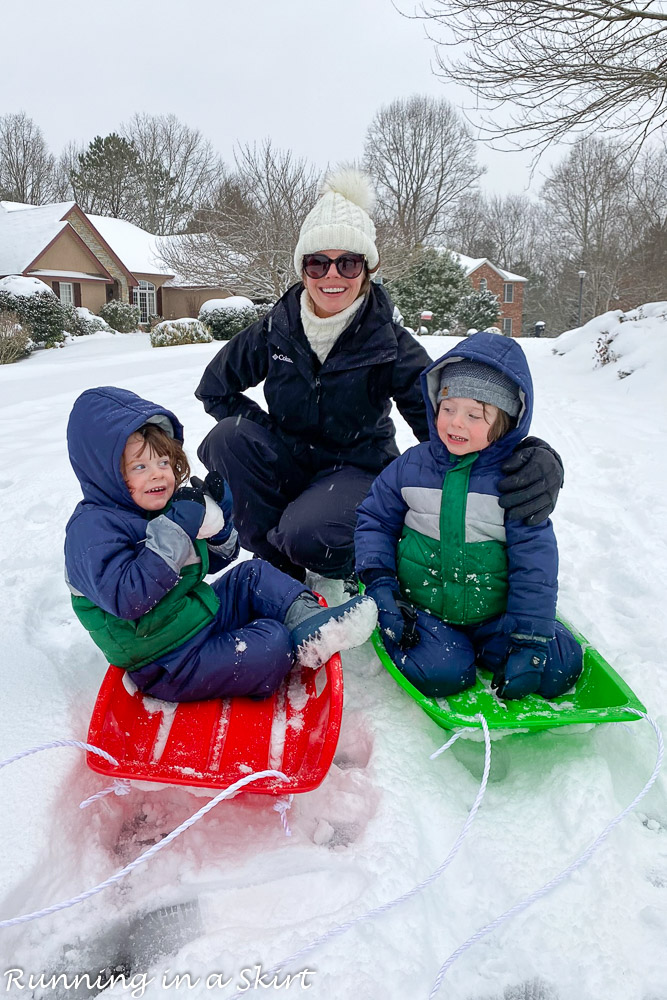 Both boys started going down the hill with some of the older girls in the neighborhood but both worked up the nerve to go down the little hill on their own.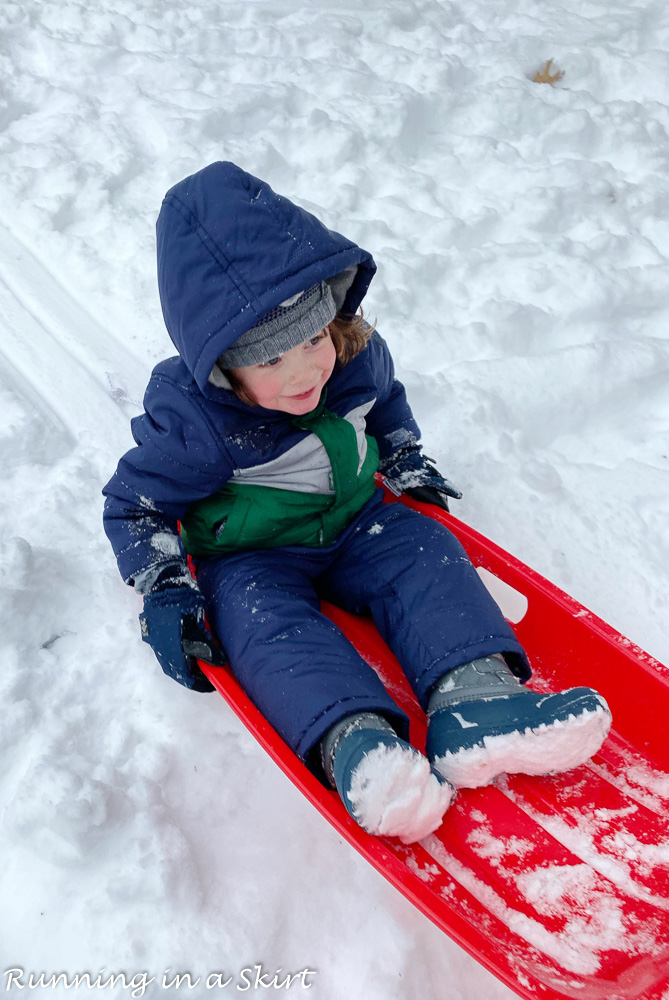 They loved it and there were smiles all around. I even had fun too. It was such a lovely day and brought everyone together.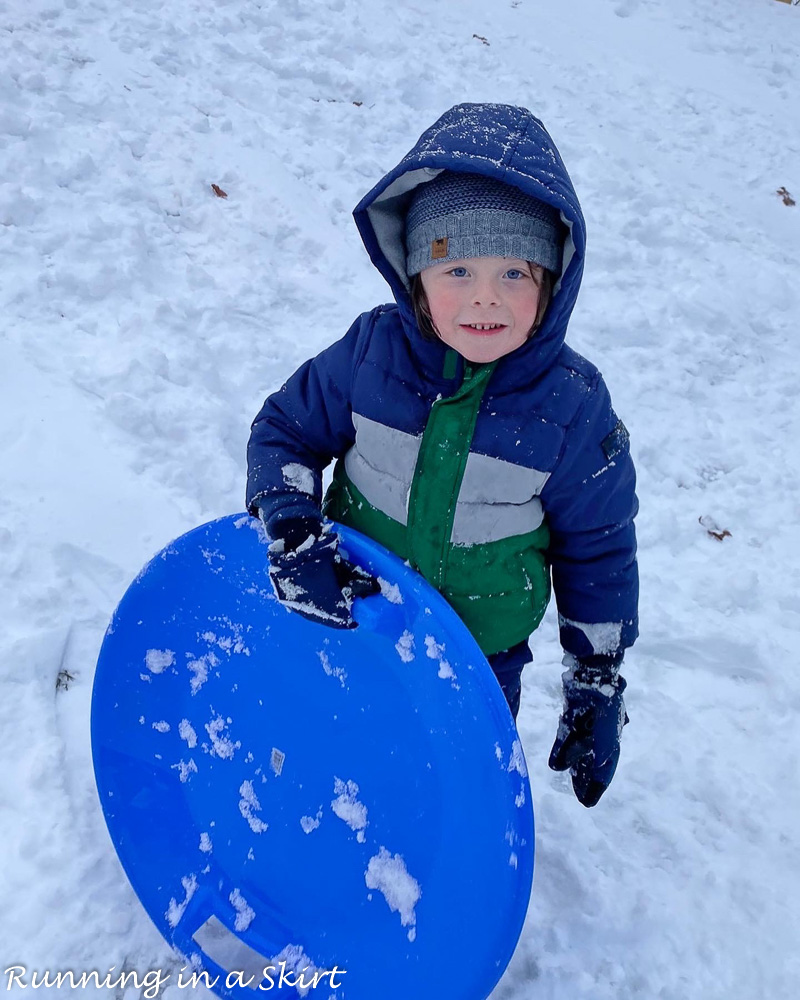 I had to laugh when I went through my photos though because the twins were pretty cold and I did get a fair amount of photos with faces like this one.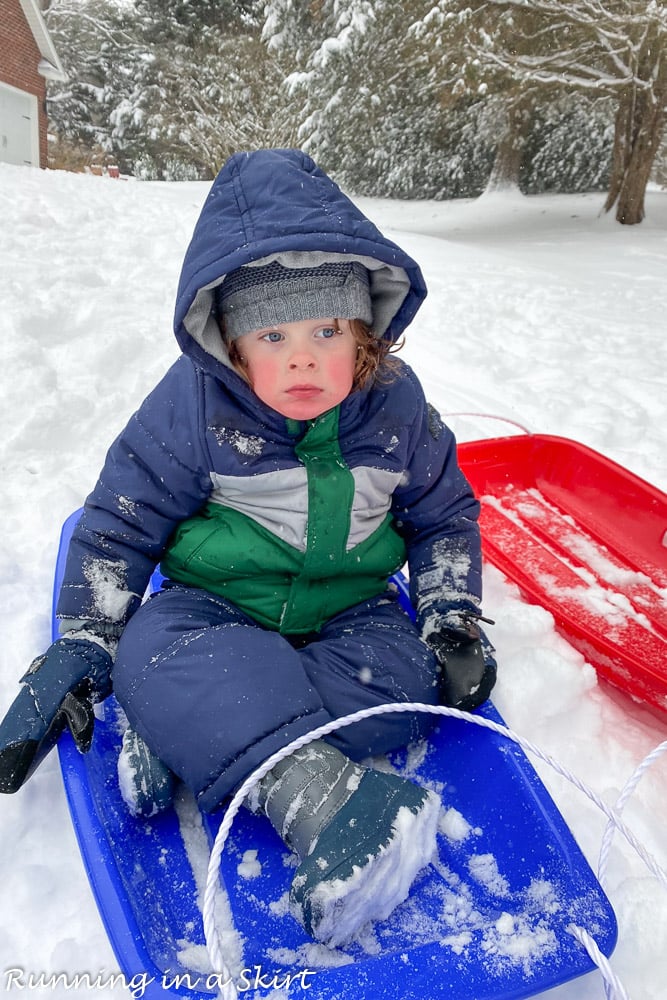 And faces like these... which is generally how I feel about cold and snow! It made me laugh because that was my face most of the day. They did like the snow but they didn't LOVE it as most kids do.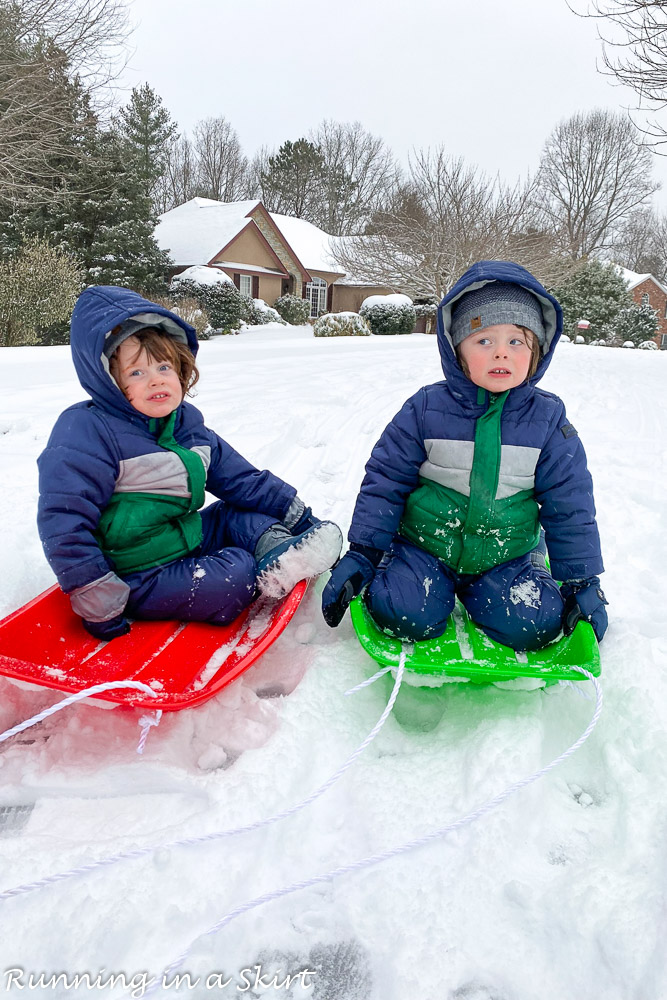 What a memorable snow day! I feel like everyone is going to remember this one for a lifetime.
As I'm writing this I'm trying to figure out how to plan for the rest of the week and the weekend because it looks like we could get more snow on Friday and Saturday. So it looks like our week of uncertainty will last a bit longer. And who else knows who is going to get sick in the family!
I'm just hoping we can get back to our so-called "normal" routine next week. I hardly remember what that is anymore.
Hope y'all stayed safe and warm in the snowstorm too! Have a wonderful weekend everyone. I'll be back Monday with another new recipe.