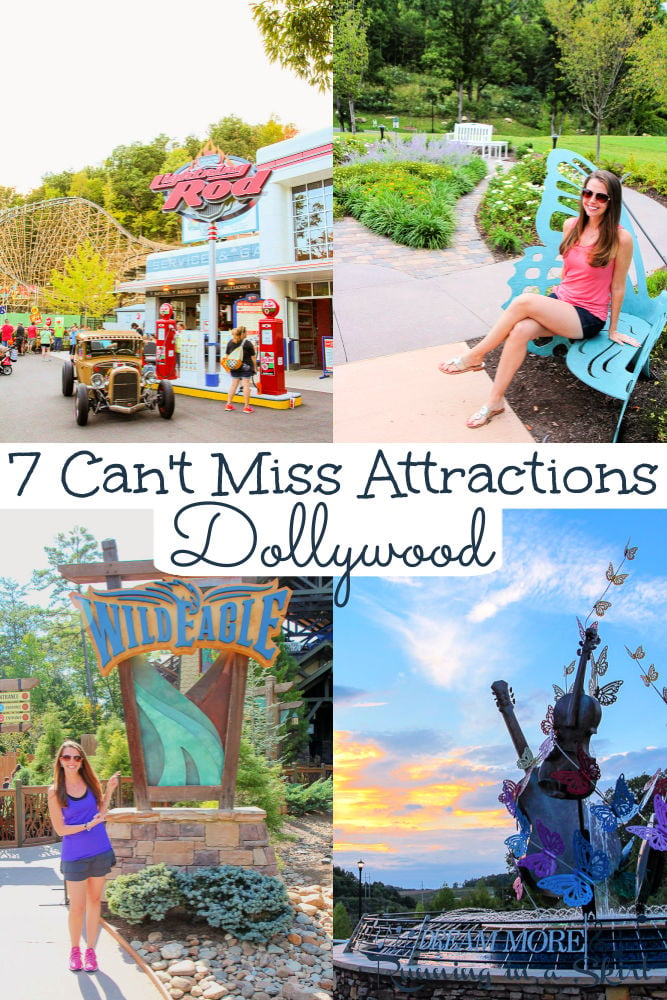 Haven't been to Dollywood in a while? It's time to go back! There are fabulous things to do at Dollywood that may surprise you, including the spectacular new Dollywood Resort, DreamMore!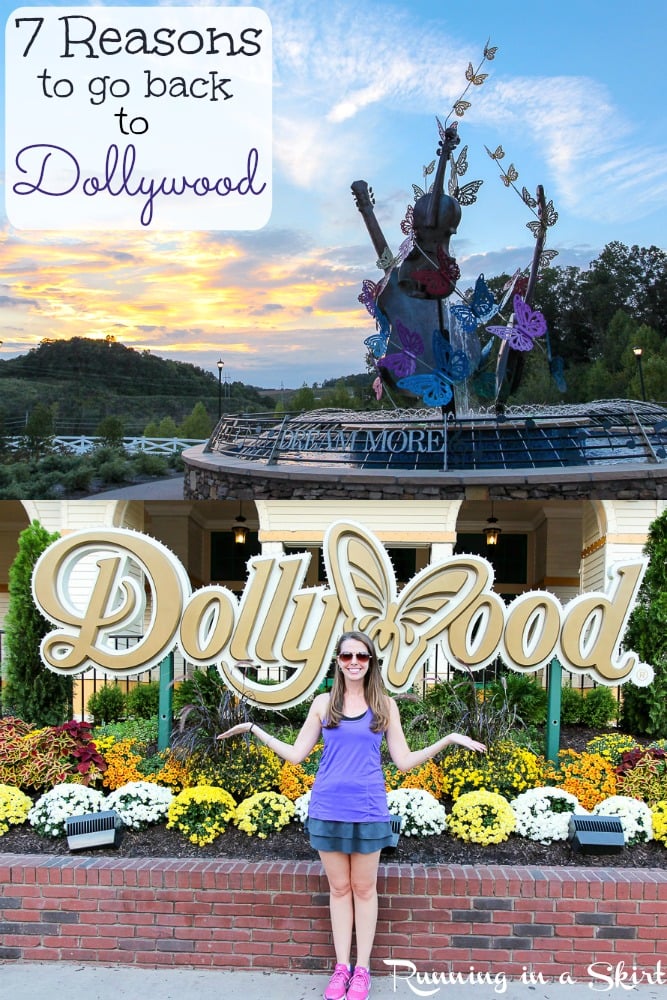 Hi guys!
I had such a great time at Dollywood this past weekend. I had been to Dollywood when I was a kid and once as part of a One Day Wunder (my travel series at WLOS), but never to just enjoy the park as an adult. The Hubs had never been at all! So when Dollywood invited me to see the park and share it with you, I couldn't resist. I'm so glad I went this past weekend because the Hubs and I had a wonderful trip. We both agreed that this park is a gem in the Smoky Mountains.
I loved the way the park is tucked into the mountains with shade trees and pretty landscaping. It feels so much more inviting than some amusement parks that are basically concrete jungles. I also liked the combination of thrills and stuff to do for folks that aren't coaster fans. I honestly just enjoyed walking around and people watching for part of the day!
As part of our weekend we checked out all the things to do at Dollywood and stayed at the new Dollywood Resort, DreamMore! I thought I'd share some of those highlights with you today.
Things to Do at Dollywood
DreamMore Resort & Spa
The new Dollywood resort, DreamMore is so very nice! From the moment you walk in it feels incredibly grand, yet homey. The kind of place you want to spend a week relaxing.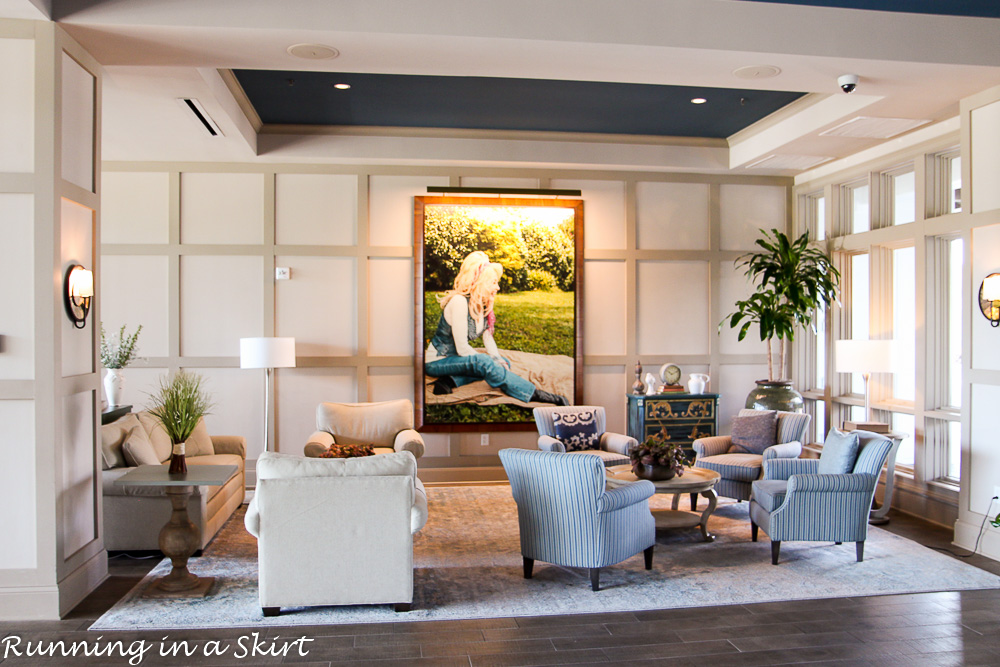 There are the perfect amount of Dolly touches everywhere, without it being overwhelming. Her signature butterflies are on the curtains and carpets. You can even get some of her homemade pink lemonade around check-in!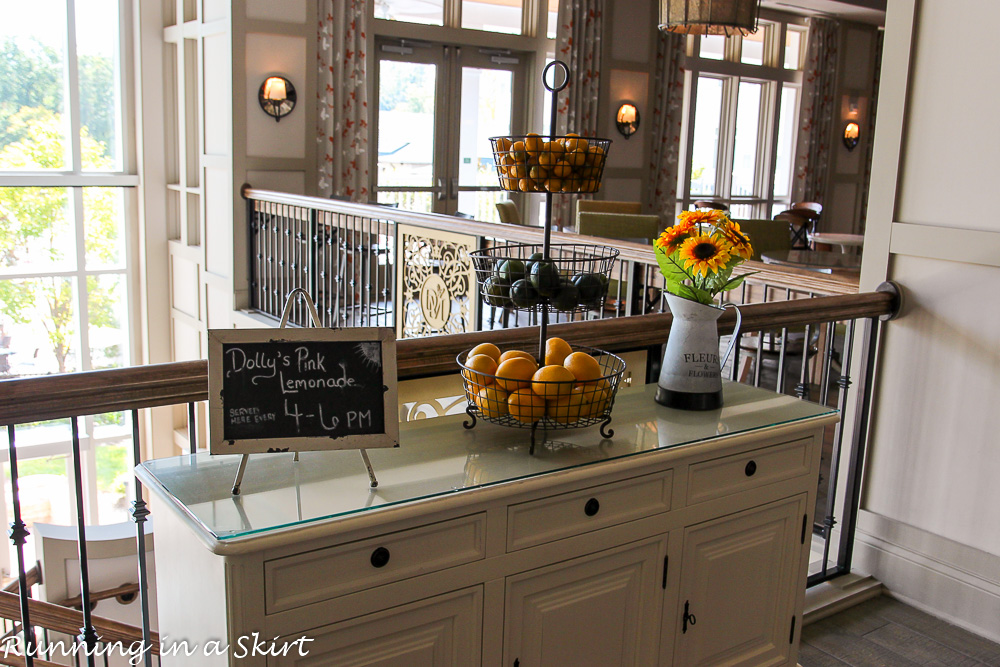 The rooms are perfect for a couple traveling or even a family! They have regular beds AND bunk beds for the little ones. The hubs and I didn't feel out of place though.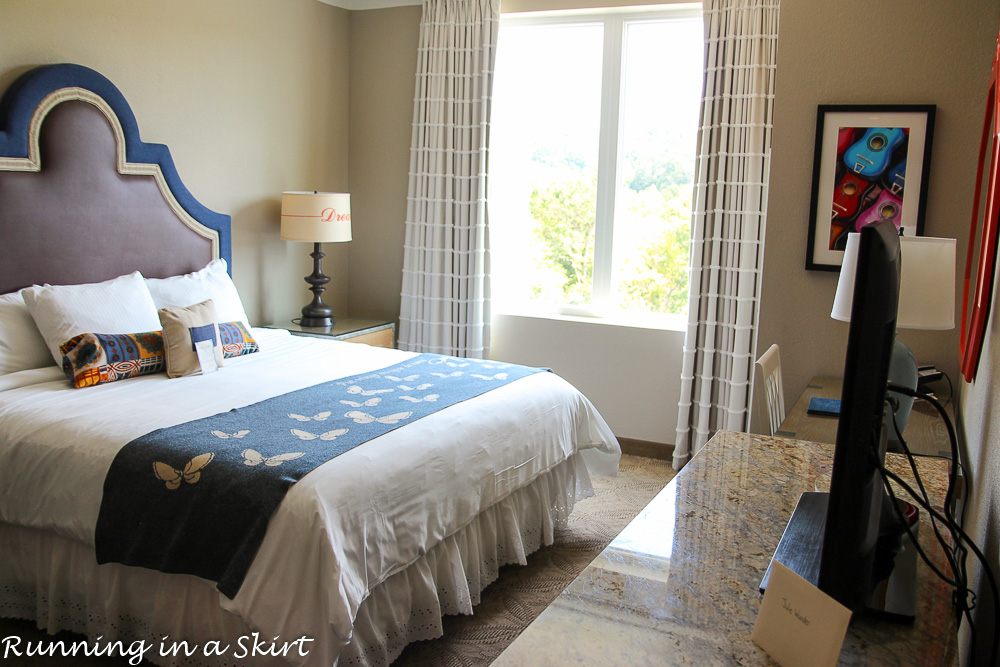 The decor was country, yet polished and so charming! We even got a welcome note from Dolly herself.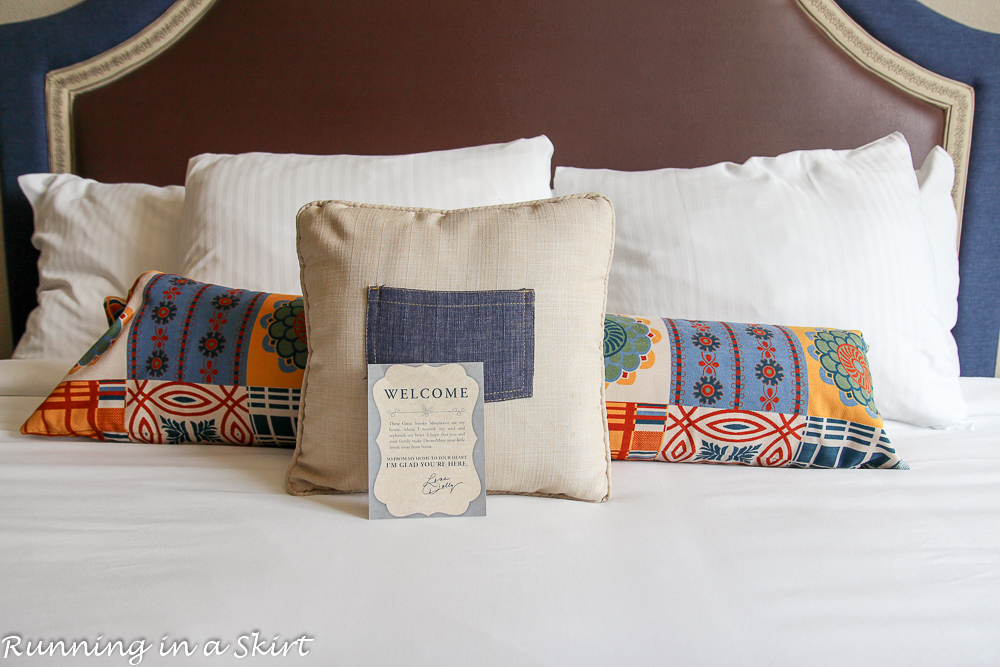 One of the highlights is a pretty impressive resort style pool, nestled into the gorgeous mountains. It is great for adults, but has everything a kid could want including a splash pad for the little ones. We noticed planned activities for the kids.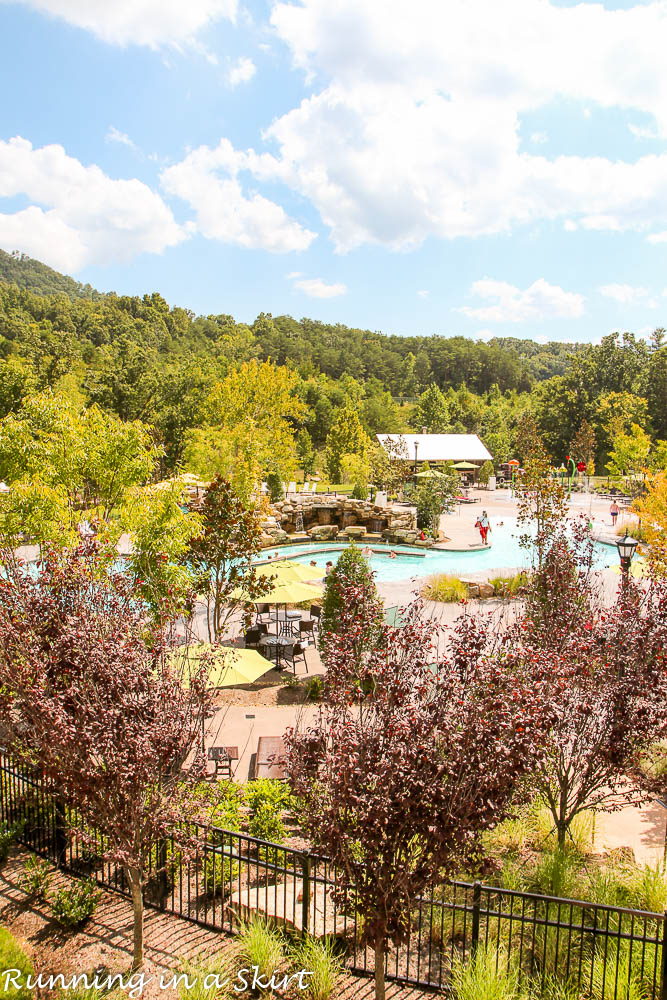 For the cooler months, there is a stunning indoor pool! Can't you just imagine being in this on a blustery, snowy winter day?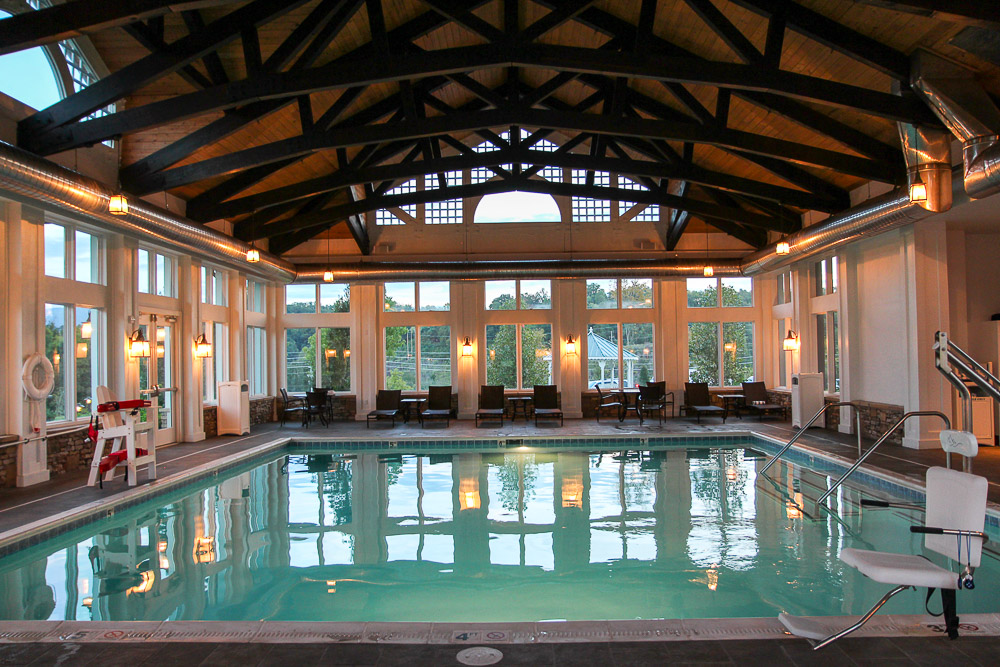 They have grab and go snacks (with healthy choices!,) plus a charming country style restaurant called Song & Hearth. The breakfast buffet is LEGIT with pancakes galore including flavors like birthday cake, double chocolate brownie AND cinnamon bun. I'm going back in my sugar coma just reading that!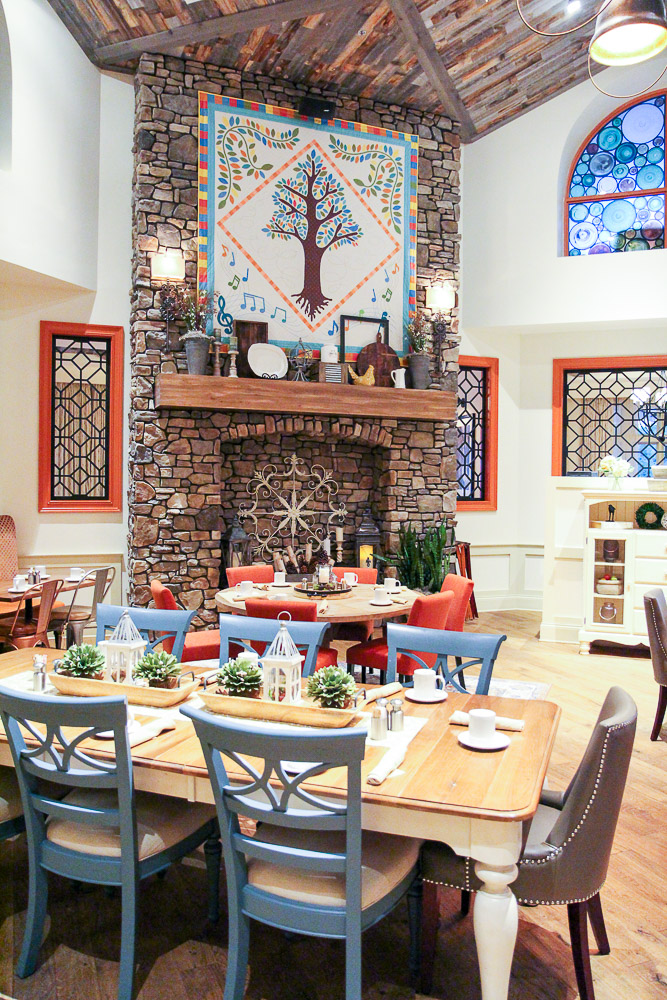 The calming mountain touches are everywhere including white rocking chairs...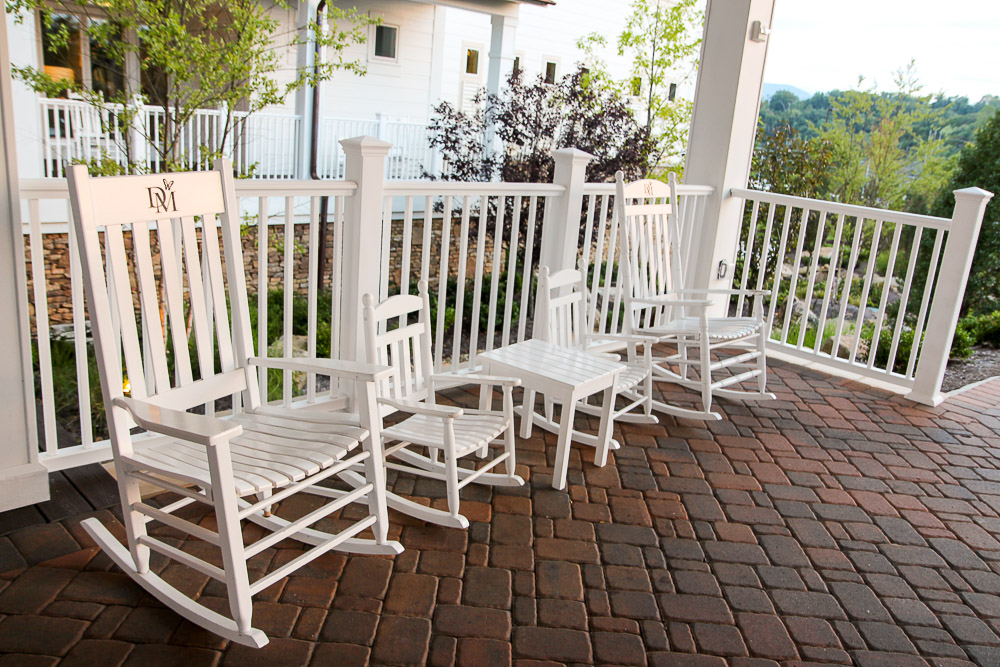 ... and rock filled water ways. There is also a spa <--- must go back!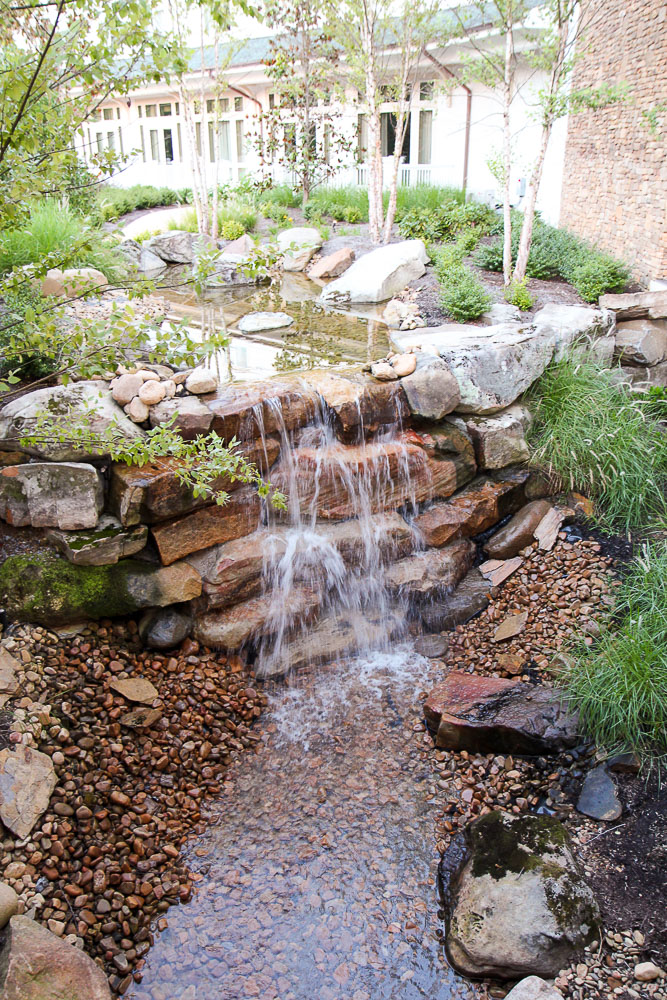 There are fire pits, outdoor games and even pretty butterfly inspired gardens. I've always adored butterflies... so I was in awe.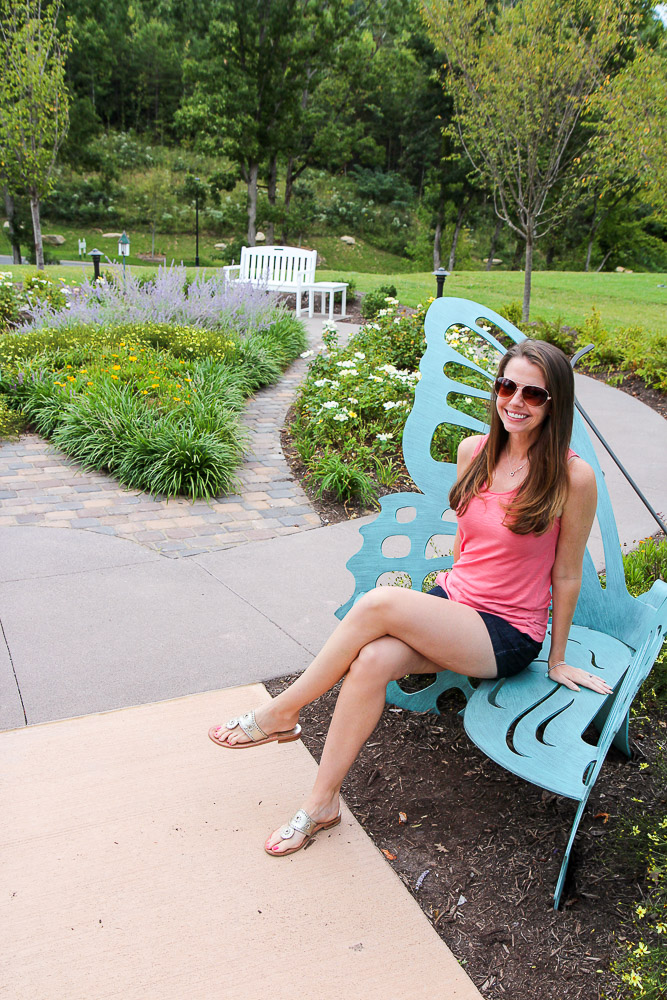 And of course, some great country music was playing the hallways!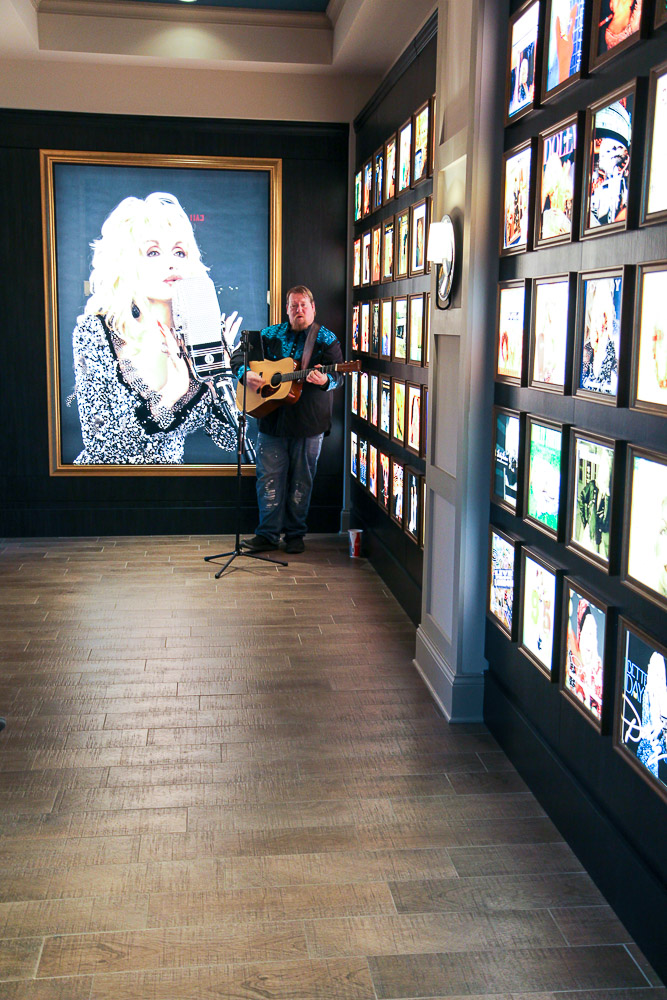 One of the benefits of staying at the resort is you get two days of Dollywood admission for the price of one. So you can stay one or two nights and go to the park two days! There is also a really easy and convenient shuttle from the resort to the park, which eliminates the traffic hassles! You also get a free TimeSaver pass, which is really nice (I'll explain more about that below!) All those extras really makes staying at DreamMore a wise choice!
Stay at DreamMore for 25% off right now in September! And if you are a planner, they already have some deals for Christmas.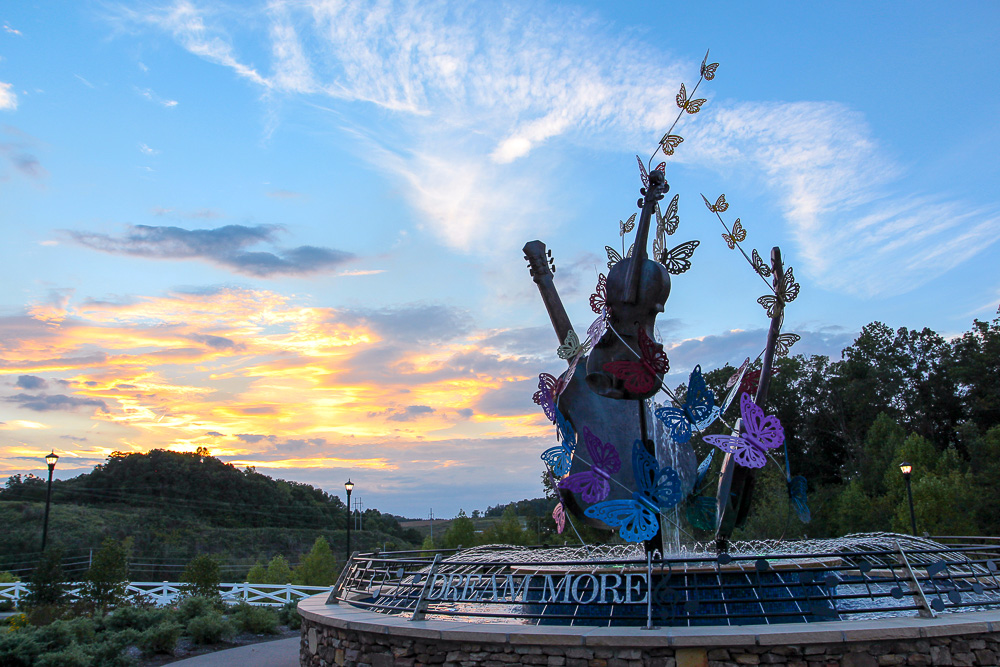 The Hubs and I were so impressed with the DreamMore Resort! If you are heading to Dollywood or the Gatlinburg/ Pigeon Forge area I highly recommend staying there!
New Lightning Rod Coaster
Another reason to go back to Dollywood is their new Lightning Rod coaster. Holy smokies guys!!! This is the fastest wooden coast IN THE WORLD! The Hubs and I rode it once and we both were blown away.
Literally!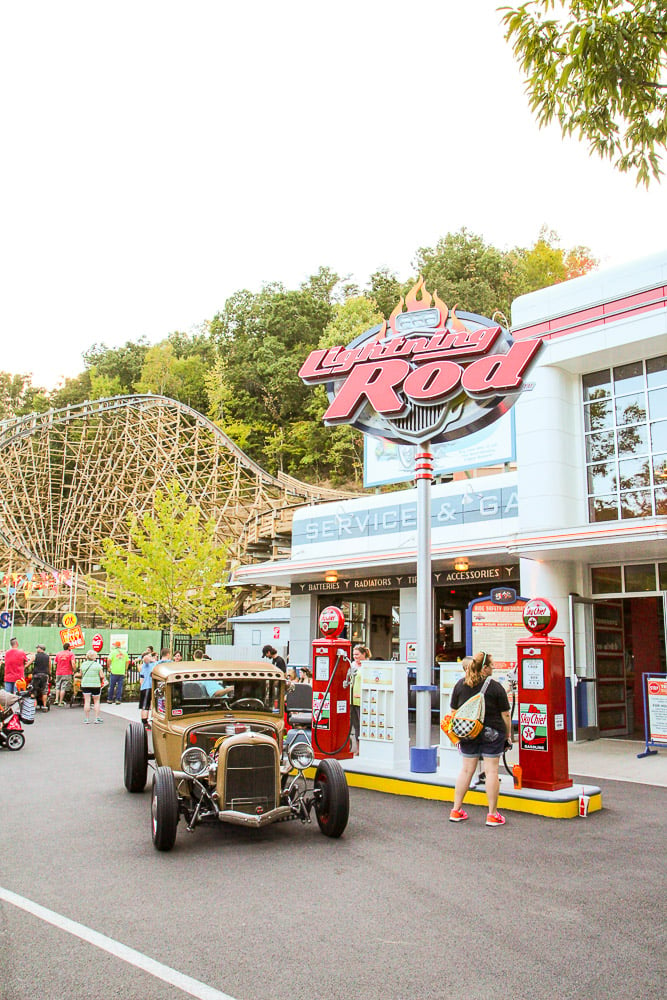 If you are coaster fan, you must add this one to your list! It's fast and fierce.
I've got to admit, I'm still a fan of the Wild Eagle! It is smooth and feels like you are flying. This one has been open for a few years, but it's still spectacular! I did a One Day Wunder on it when it first opened.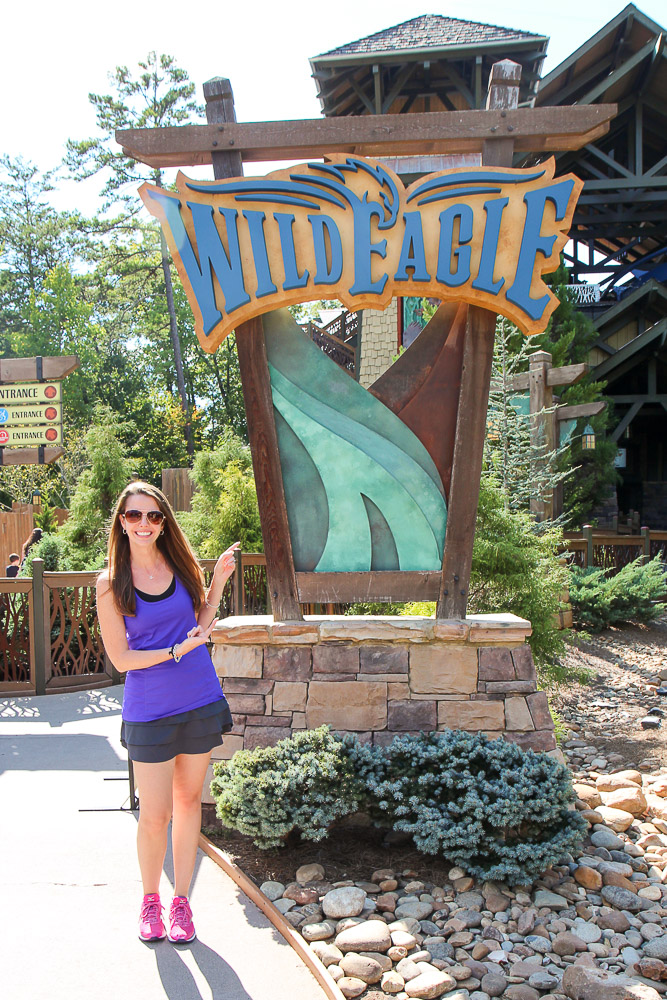 We also tackled the Tennessee Tornado, which was also a lot of fun!
Shows
Somewhere along the line I got old and don't have the ability to ride back to back coasters anymore. So we had to split up our day of coaster rides with some shows!
I loved the country music reviews AND the bird show!
Look at this cutie!!!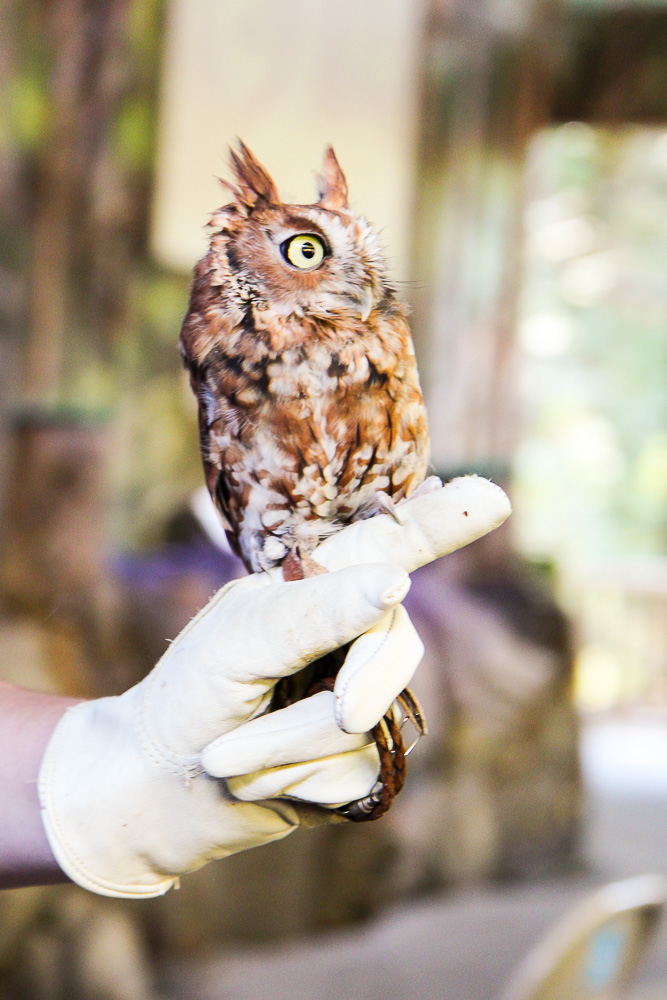 I also spent a long time walking through the craft area and watching the demonstrations. Yes, I've officially turned into my parents and I'm ok with that! It was so much fun.
So even if you aren't a coaster fan, there is plenty to do at Dollywood!
TimeSaver Pass
So why didn't things like the TimeSaver pass exist when I was a kid?!?!?
The TimeSaver pass, which you get free for staying at the resort basically lets you skip the lines for the more popular rides. The day we were there was pretty slow, but in summer this would have been a huge deal!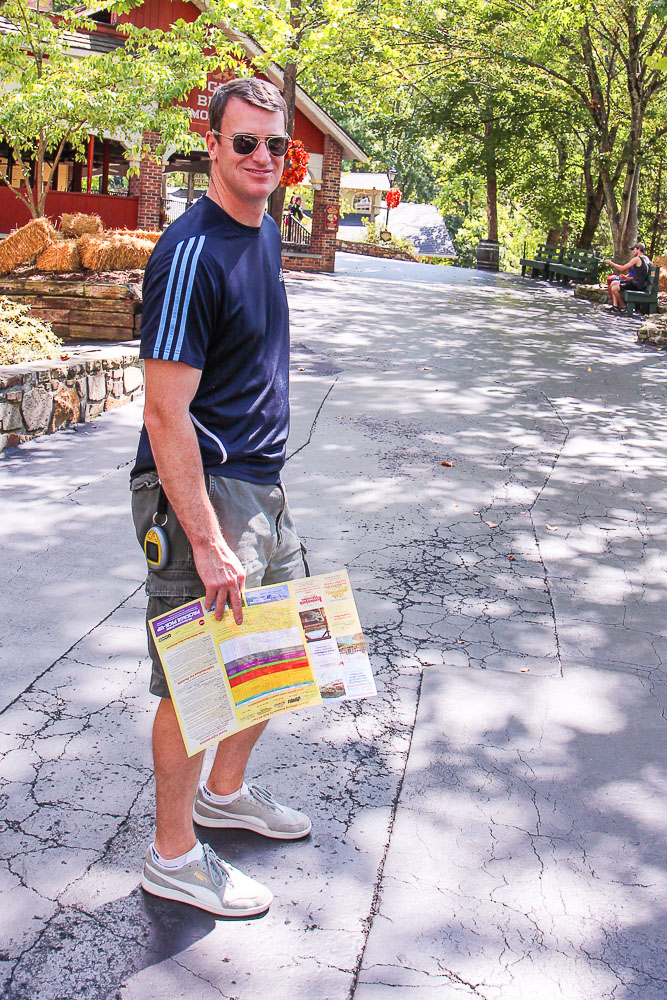 The actual pass is hanging off the Hubs shorts in this photo. It was easy and fun to use! Perfect for two adults who have the patience of toddlers :-).
Country Music Memorabilia
I have to tell you guys, I am a HUGE Dolly Parton fan. My Mom's family lived in East Tennessee for most of their lives, so her music was always on. As I got older I learned to appreciate her for her positive attitude towards life and wise sayings, many about creating, designing and living your dreams. I also love and respect the way she has done so much for the community she came from.
She's such a brilliant song writer too. She's a person worth learning more about because she is so much more than that famous image. Since I'm such a fan I loved seeing some of her memorabilia on display at Dollywood and DreamMore.
This is a song she wrote in a time capsule to be released on her 100th birthday! I'm sure it's absolutely brilliant. It's on display at the resort.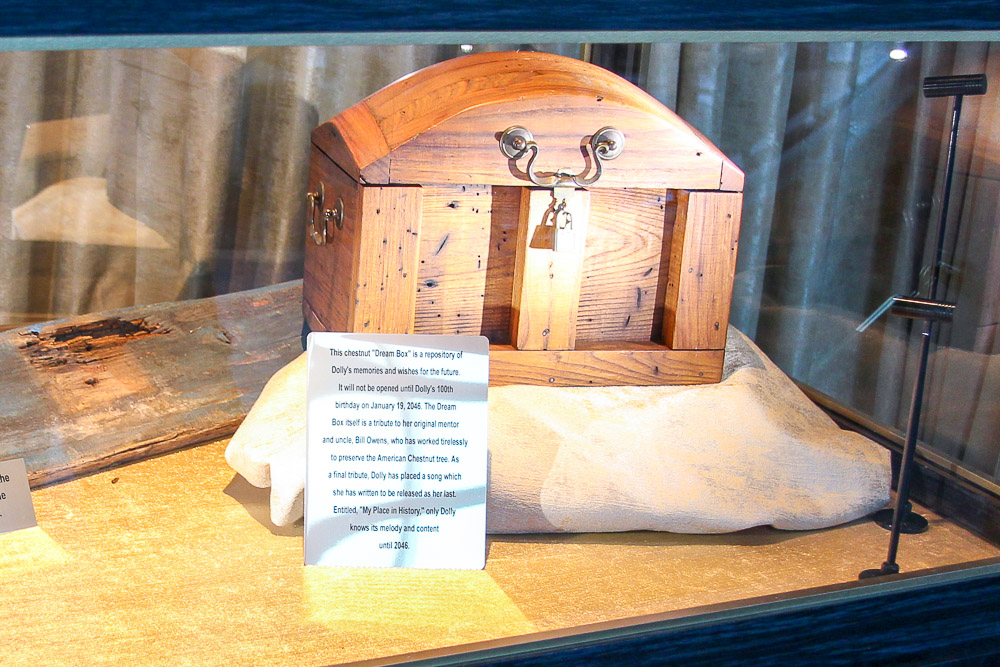 Dollywood has a big museum of Dolly memorabilia including the Coat of Many Colors, from her famous song.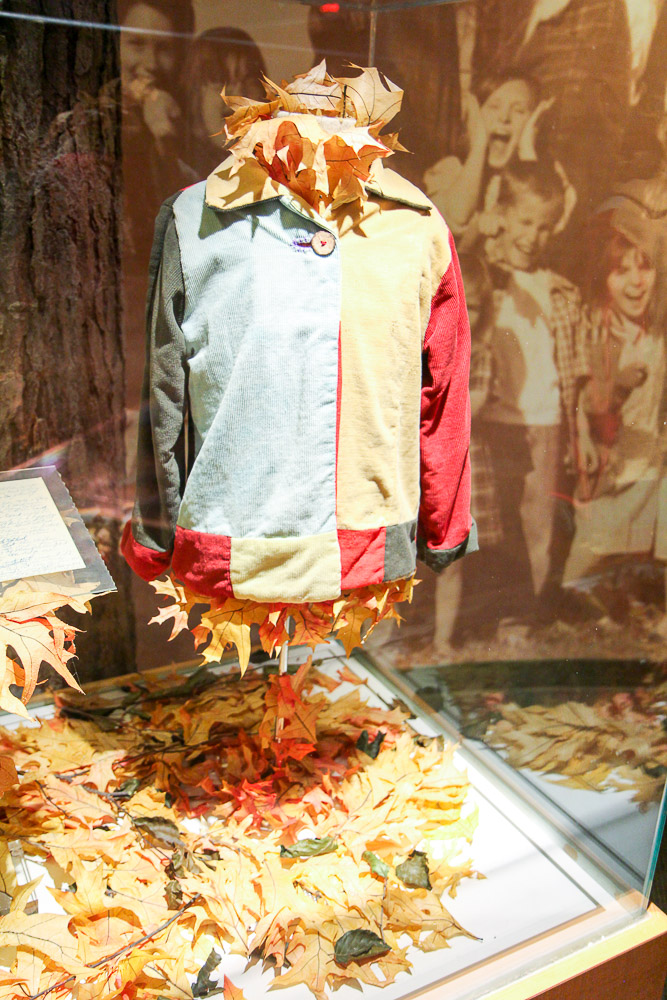 She also has on display her actual tour bus she took around the country! Pretty cool.
Dolly Inspiration
I mentioned one of the reasons I love Dolly Parton is how inspiring she is!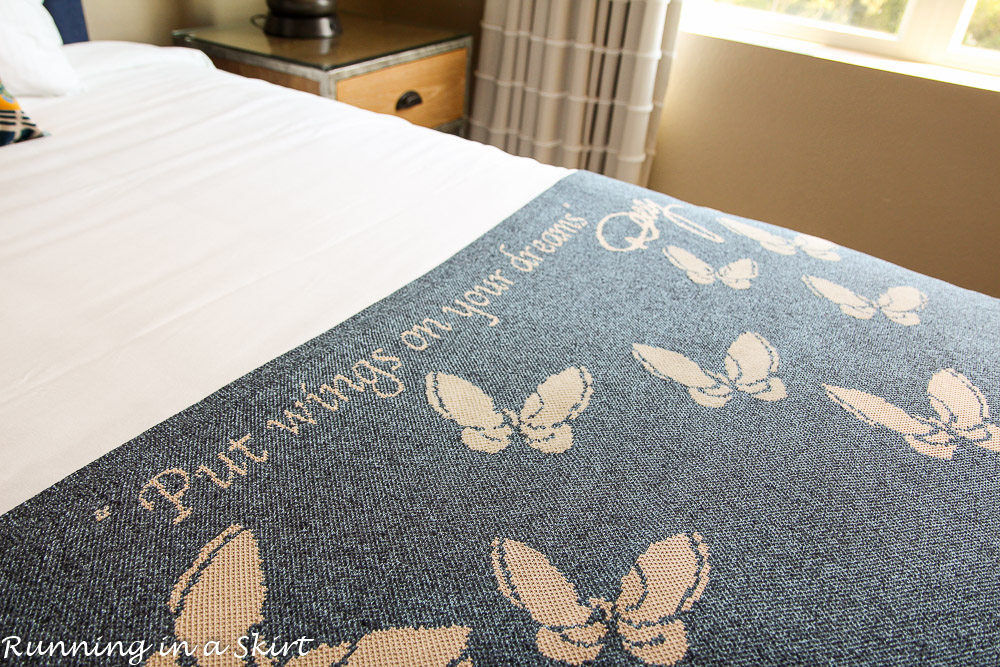 The resort was filled with reminders to live life to the fullest.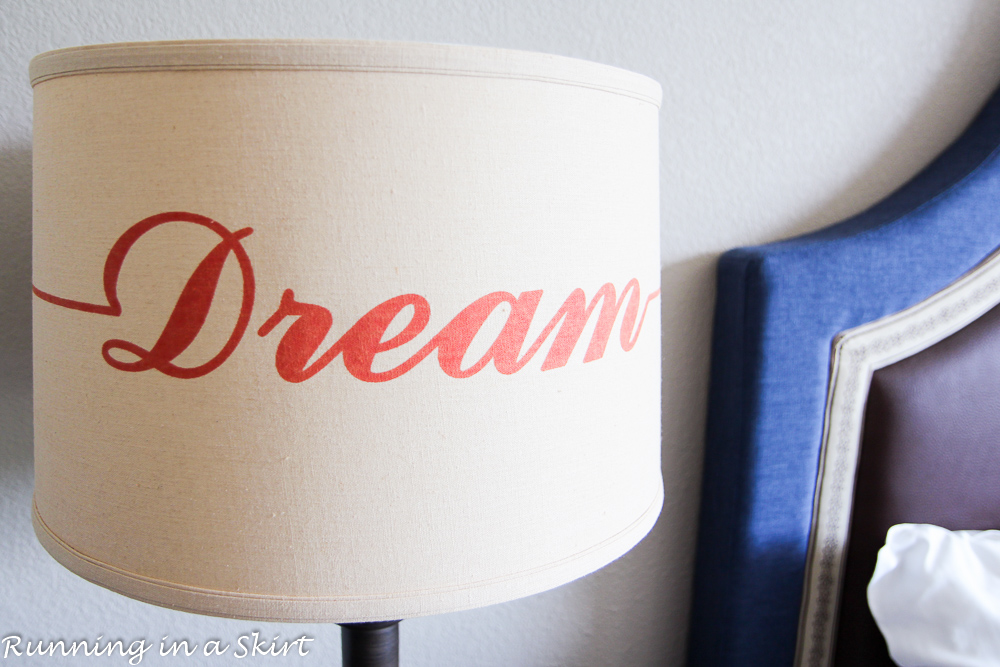 I just love this quote!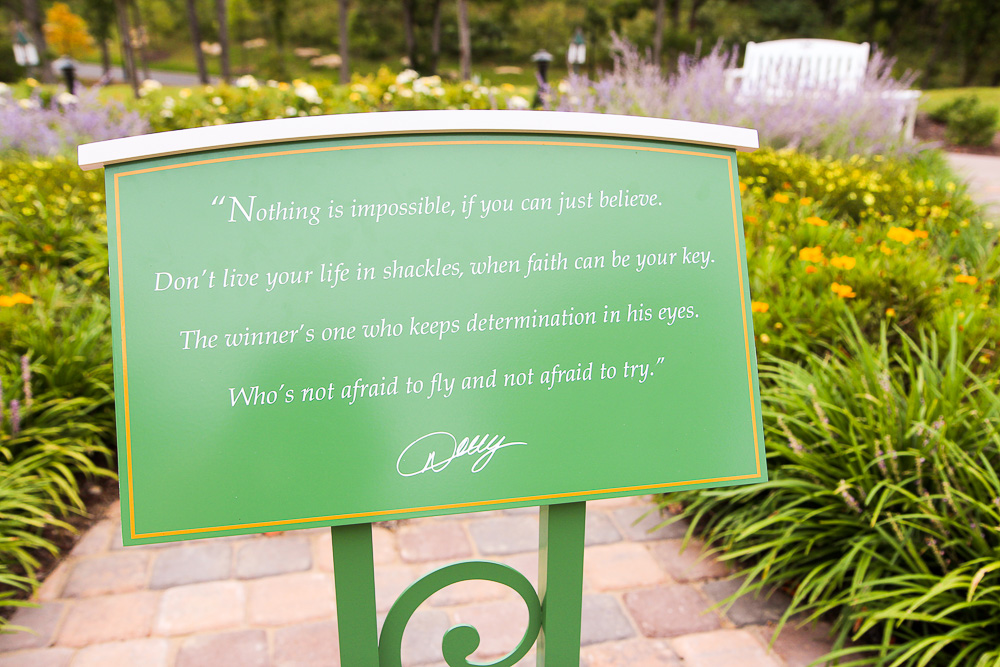 I felt pretty inspired after just one night here!
Light the Way 5K
This one is just for my fitness buddies! Dollywood is hosting a holiday themed 5K this November. The Light the Way 5K is an incredible run through the park with four million Christmas lights! It's November 11 beginning at 11 PM. You can run or walk it and it's really a one of kind event to be able to see Dollywood's Smoky Mountain Christmas festival lights at night. Proceeds benefit charity, so it's a great way to give back too!
I have a scheduling conflict this year, but I would LOVE to do this race sometime. Doesn't it sound like the perfect way to get in the holiday spirit?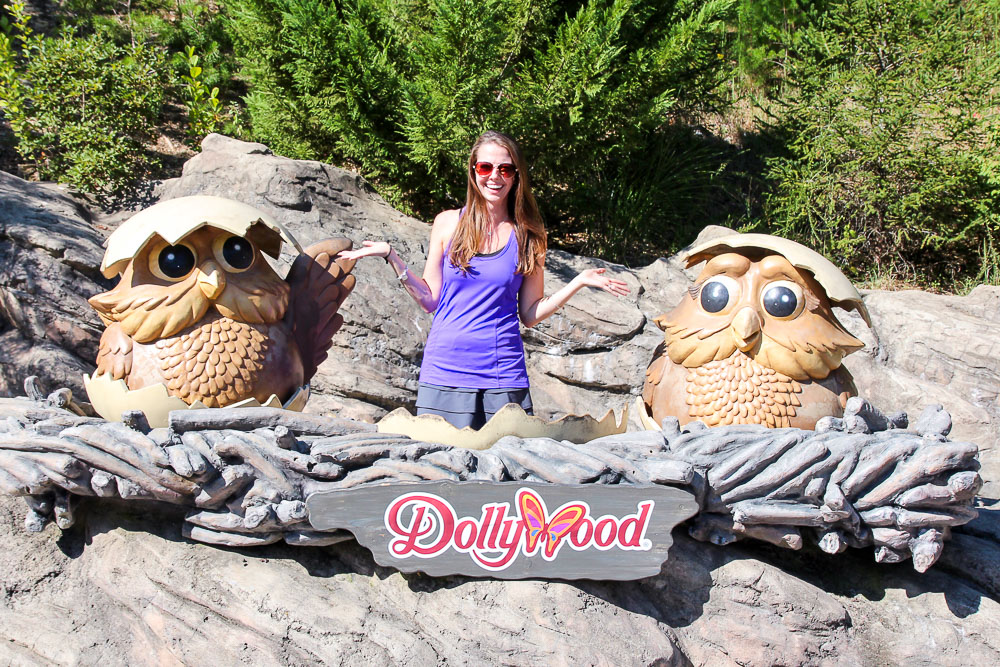 So, in a nut shell. I had a lovely weekend at Dollywood. September turned out to be a great time to go because it was still warm but not very crowded. The Hubs and I will definitely be back!
Right now they have a deal where you can get a 3-day ticket for $33 per day. The other special is if you arrive after 3, the next day is free!
Like this? Pin this to your favorite Pinterest Board for easy access later!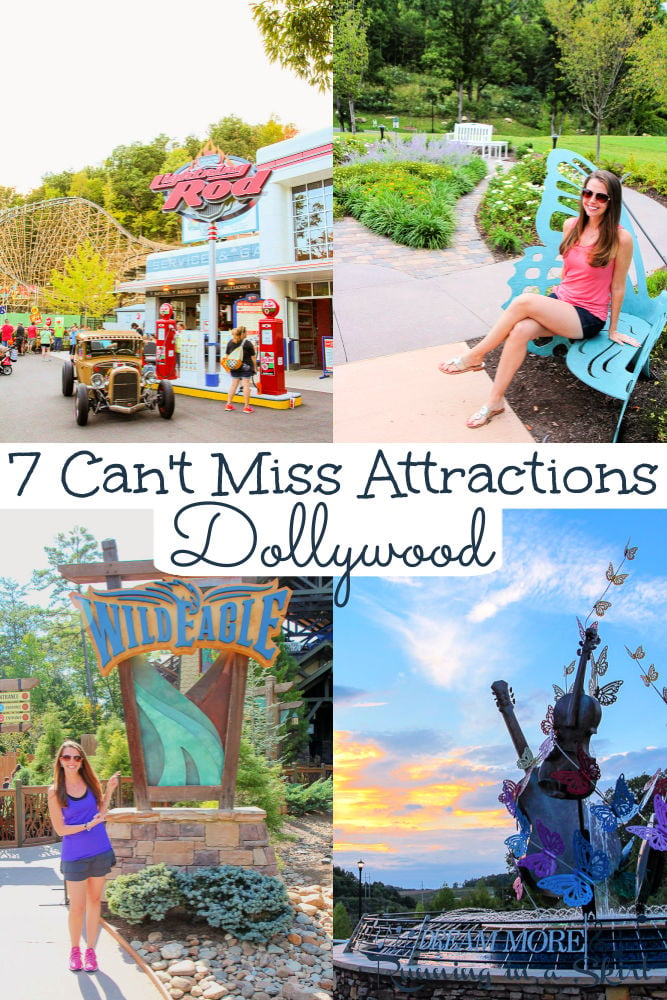 Dollywood hosted us for this trip, but all information and opinions in the post are my own. Thank you so much for supporting Running in a Skirt and allowing me to share new travel destinations like this with you. You guys are the best!
Thanks for stopping by today! I'm celebrating Fall's arrival tomorrow with a savory pumpkin pasta recipe that only takes 15 minutes to make!
I'm linking up with Thinking Out Loud Thursday.
Your turn!
Have you ever been to Dollywood?
What would be your favorite thing?