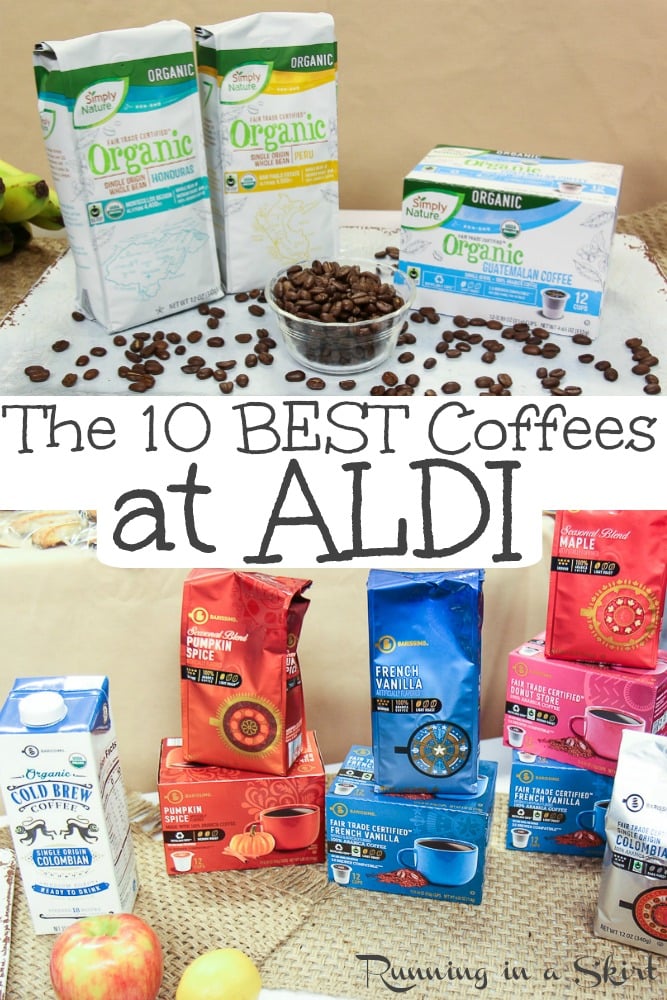 Curious about ALDI coffee? I went shopping and found the best ALDI coffee options at the store including lots of wonderful Fair Trade Certified™ options!
I'd like to thank my friends at ALDI for sponsoring this post. Thank you for supporting companies who support Running in a Skirt. As always, all opinions are my own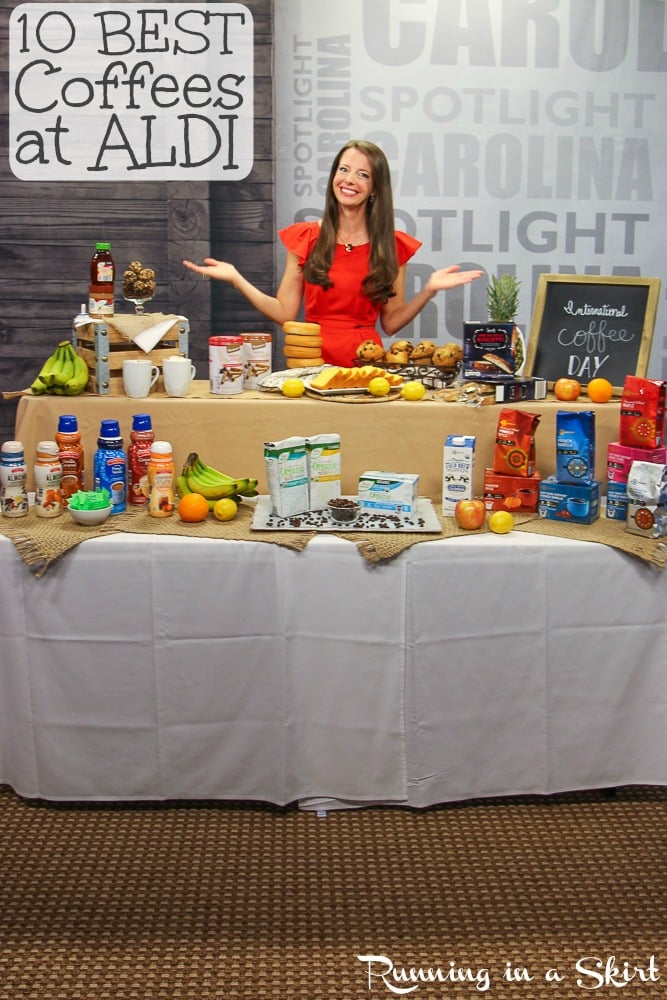 ALDI Coffee
Earlier this month I had the chance to go back to WLOS to tape another segment for Spotlight Carolina. This time around we were on a bit of a caffeine high talking all things COFFEE and the best ALDI coffee for International Coffee Day which is this upcoming Sunday, September 29th.
It's always a bit of an energy boost to get to go back to WLOS for the day and add a little caffeine in the mix... I was feeling GOOOOOD!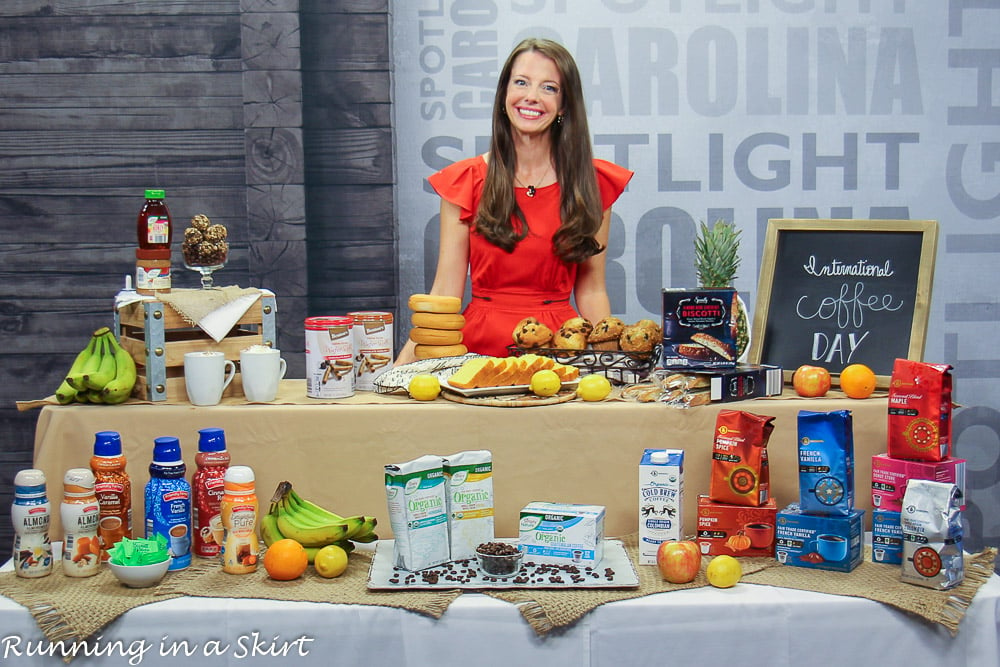 If you haven't tried ALDI coffee yet, you are missing out. They have SO many options including flavored coffee, Fair Trade Certified™ coffee, and organic coffee. Better yet, like all things at ALDI they are delicious and affordable.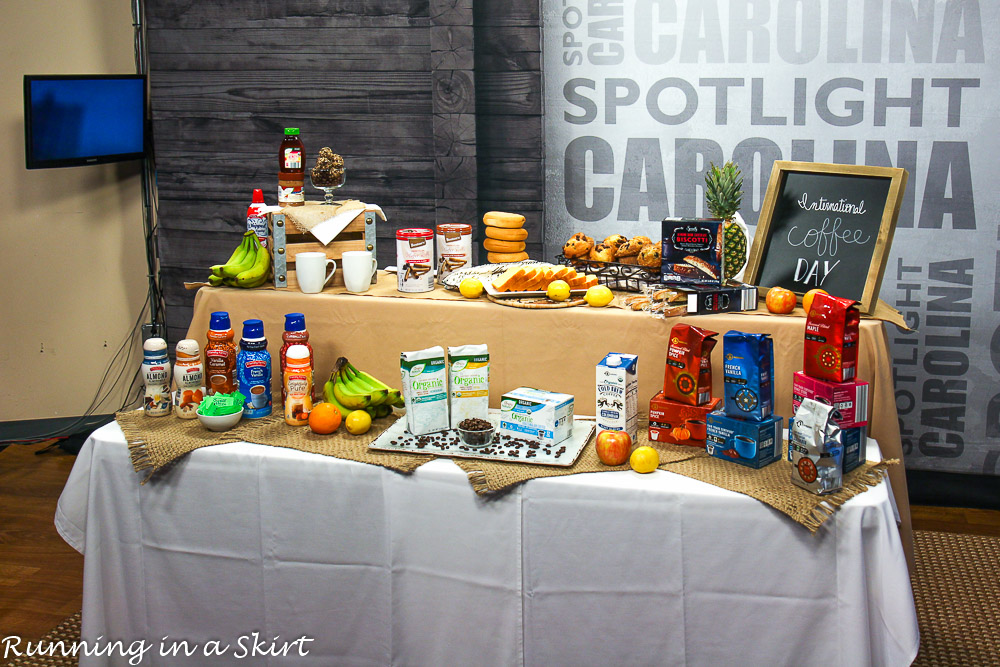 A 12-ounce bag of beans retails for about $4, on average. You really can't beat that!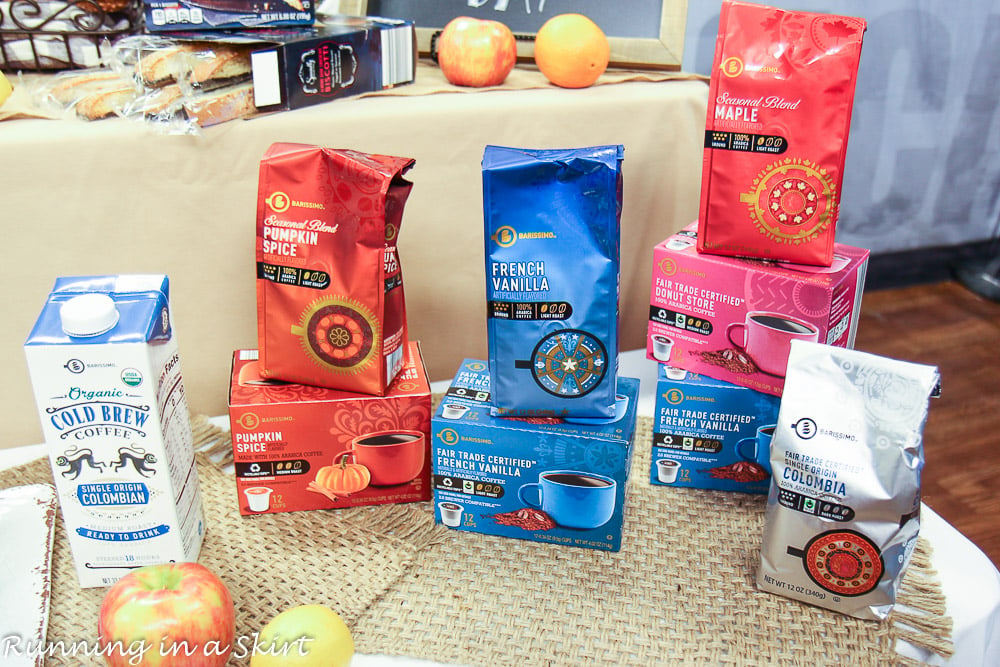 You can find whole bean, ground, single-serve cups and even prepared cold brew. They all taste amazing and give you that little nudge we need to get going in the morning.
Beyond the taste and price, ALDI is committed to improving the social and ecological standards of cocoa and coffee production. ALDI started offering Fair Trade Certified™ coffee in 2012 and has grown its portfolio to offer 23 Fair Trade Certified coffee options. More than 30% of their coffee is certified sustainable. Products that display the Rainforest Alliance, UTZ or Fair Trade label are certifications of improved farming practices and compliance with required social standards.
This is such an important and cool cause that ALDI is involved in and it's great to buy coffee that you can feel good about drinking.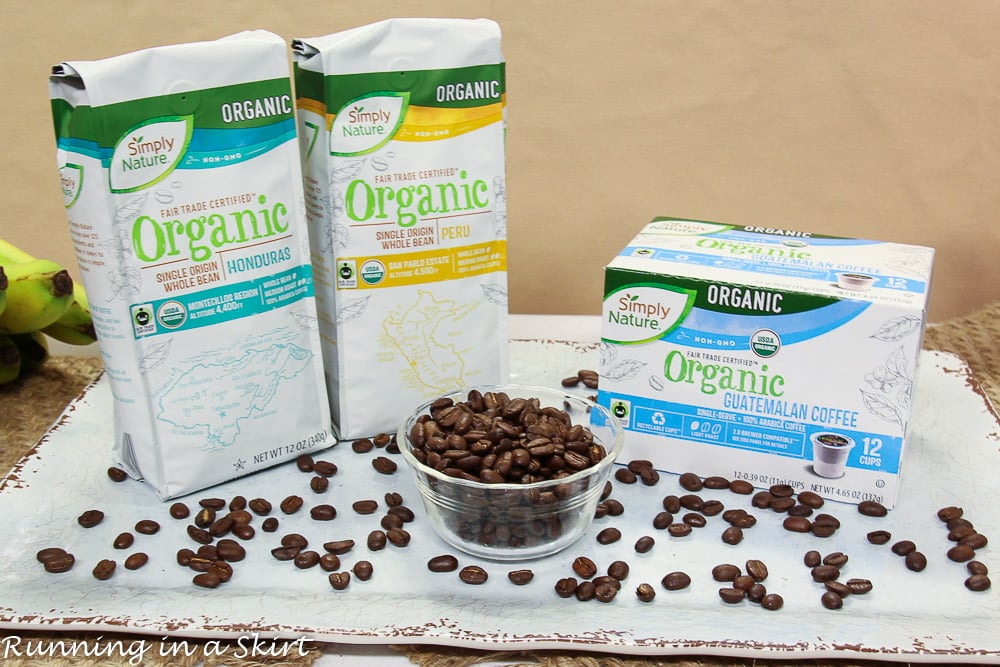 With so many high quality and affordable coffee options at ALDI it's hard to pick the best ones... but here are a few of the best ALDI coffee picks.
10 Best ALDI Coffee Buys
Simply Nature Organic Light Guatemalan Coffee Cups
Simply Nature Organic Medium Extra Bold Coffee Cups
Barissimo Donut Store Coffee Cups
Simply Nature Fair Trade Organic Whole Bean Coffee - Honduras, Peru or Colombia
Barissimo Fair Trade Single Origin Ground Coffee - Guatemala, Colombian or Sumatra
Barissimo French Vanilla Ground Coffee <--also available in coffee cups!
Barissimo Hazelnut Ground Coffee <--also available in coffee cups!
Barissimo Pumpkin Spice Ground Coffee <--also available in coffee cups!
Barissimo Maple Ground Coffee
Barissimo Organic Cold Brew Coffee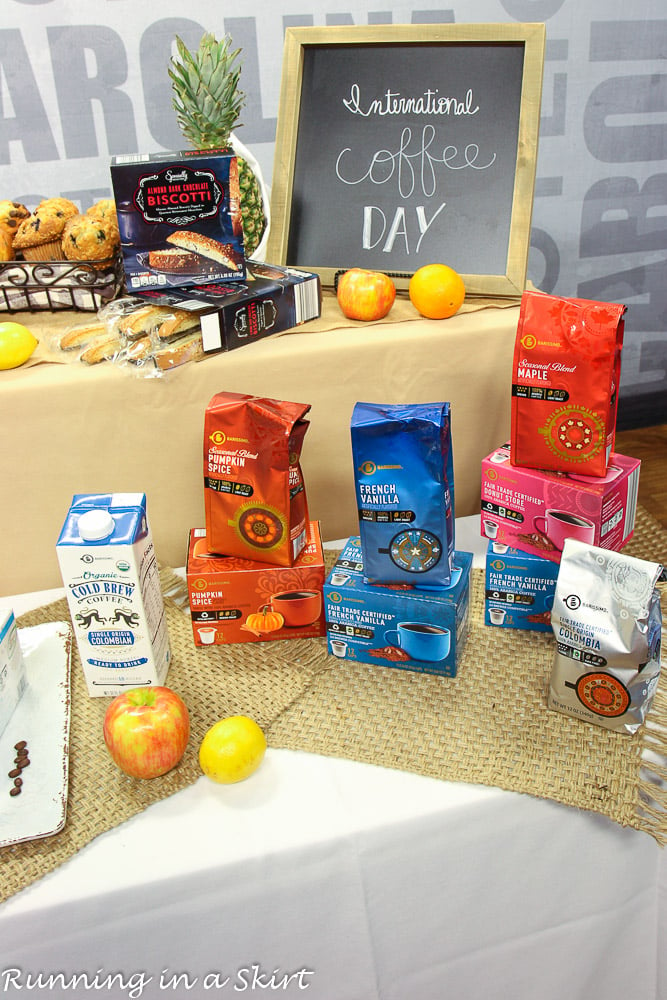 I personally am a big fan of the Barissimo Donut Store Coffee Cups and the Barissimo Pumpkin Spice Ground Coffee.
I need some creamer AND sweetener in my coffee and ALDI has me covered with that, too!
ALDI is packed with choices including flavored creamers like Friendly Farms French Vanilla Coffee Creamer, Friendly Farms Cinnamon Roll Coffee Creamer and Friendly Farms Vanilla Caramel Creamer. They even have Friendly Farms Delightfully Pure Pumpkin Spice Creamer made with real milk and cream.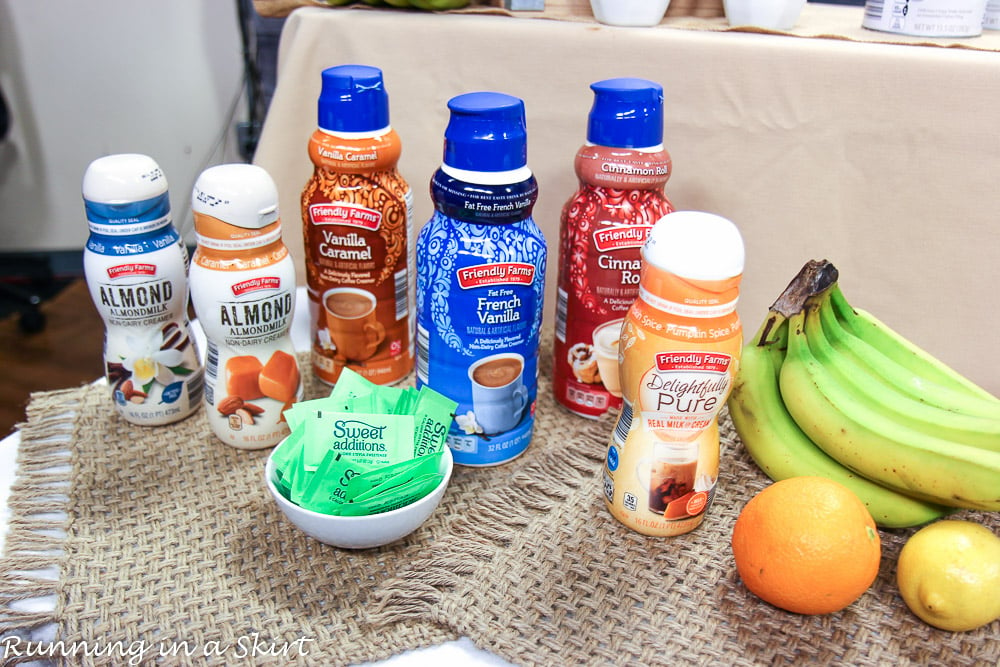 I love their Sweet Additions Stevia Calorie Free Sweetener too.
If you have a dairy allergy or prefer not to drink milk, ALDI is now featuring almond milk creamers. Don't miss the Friendly Farms Vanilla and Caramel Almondmilk Coffee Creamers. I'm a big fan of almondmilk and love how light and delicious these both taste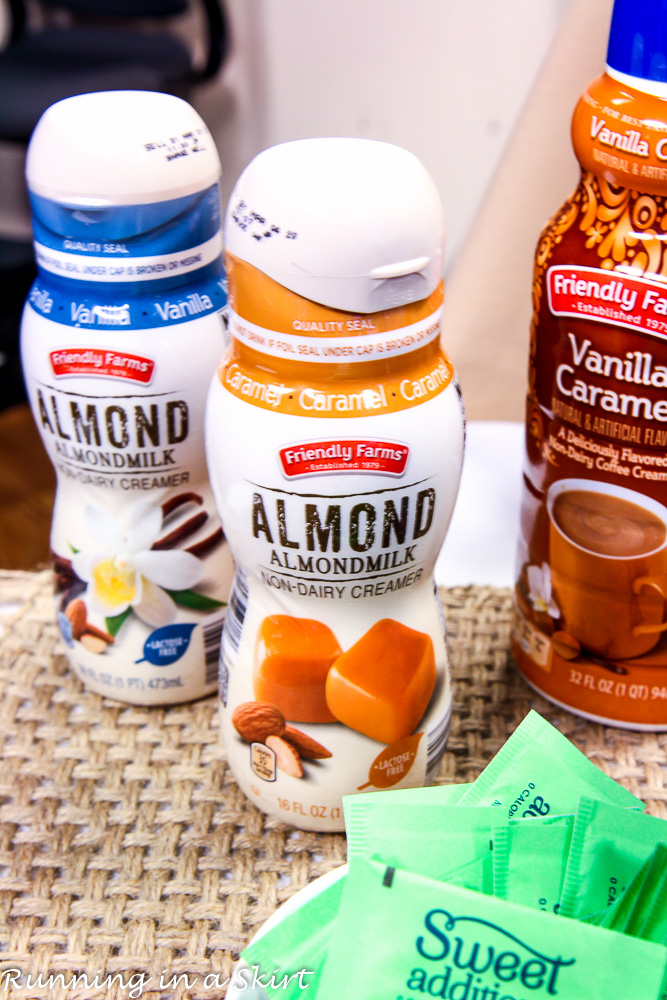 If you prefer plain creamer, ALDI has milk and half and half, too. With the addition of organic almondmilk, coconut milk and a full range of lactose-free and soy milk, ALDI now offers one of the country's largest selections of private-label milk alternatives for your coffee.
Of course, you can't have coffee without a light bite — at least I can't!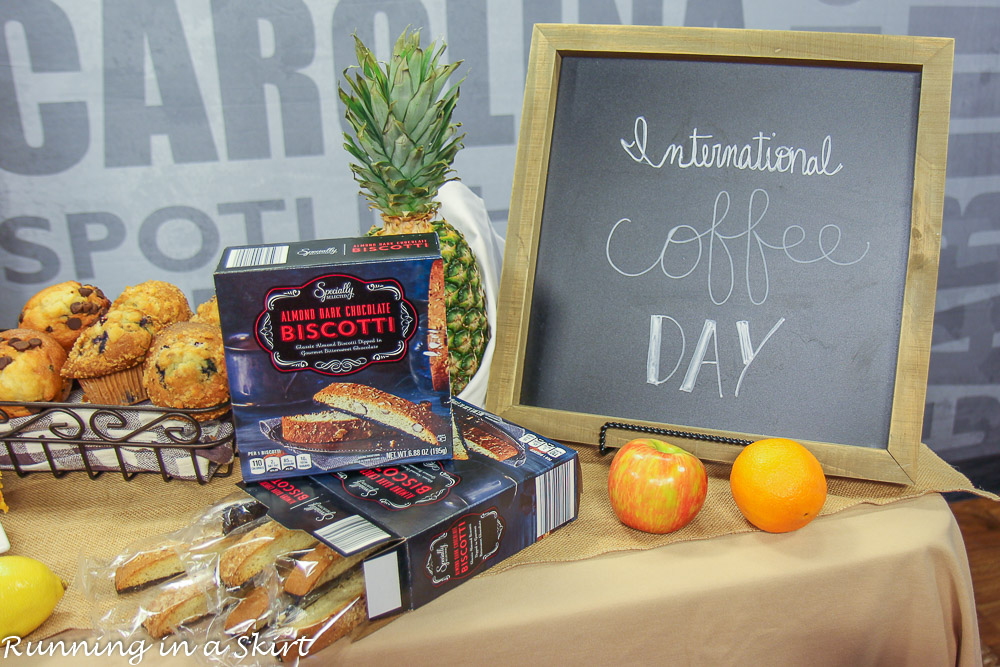 ALDI has you covered with a large selection of baked goods, cookies and biscuits.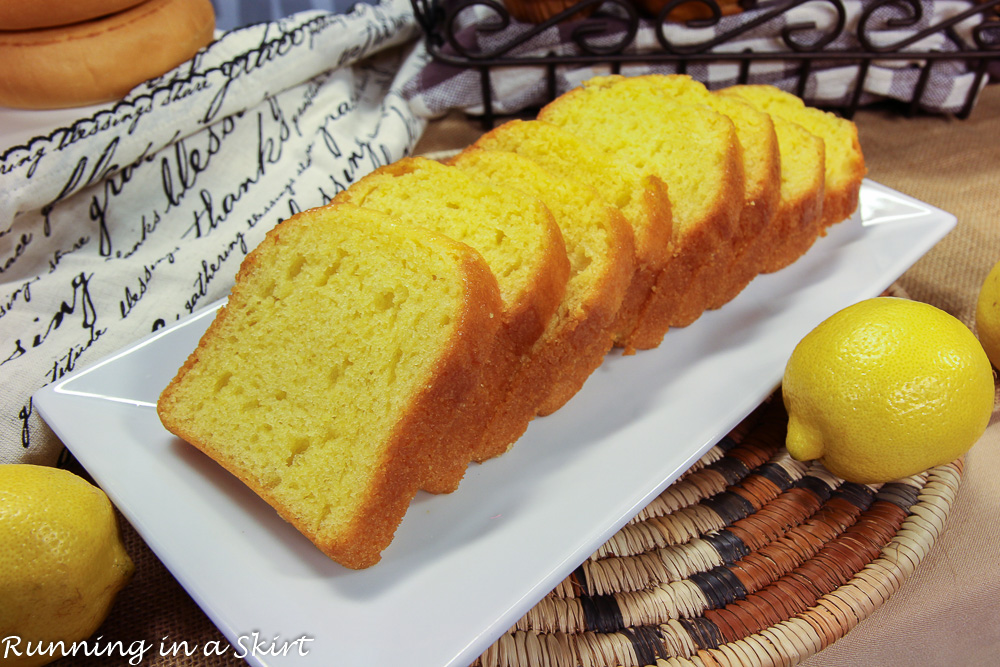 I'm a big fan of their Village Bakery Blueberry and Chocolate Chip muffins.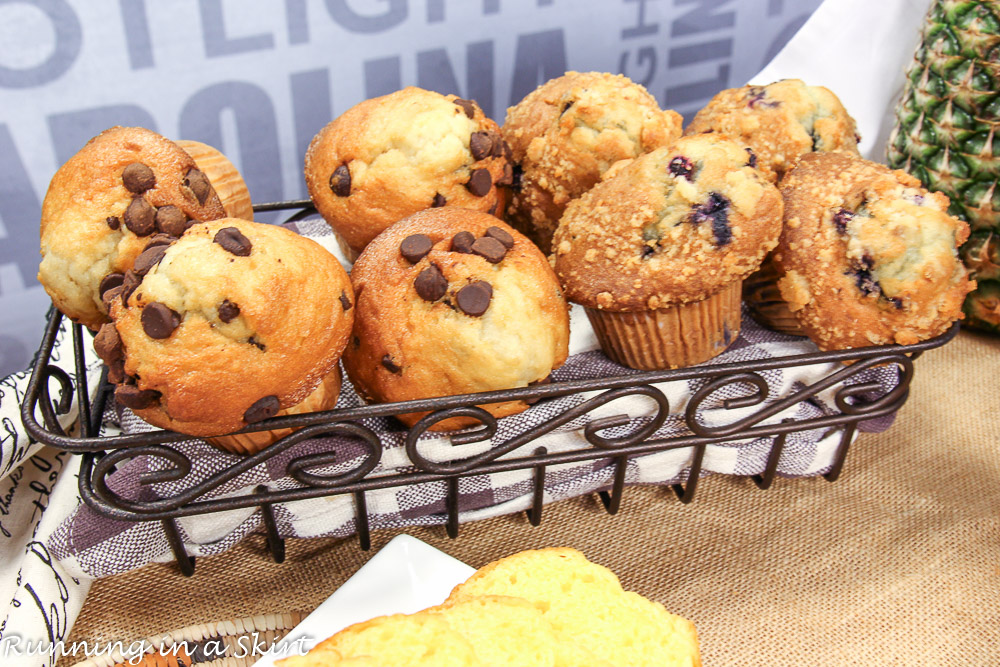 Their fruit is also always a great option. ALDI has a huge selection of fresh produce including apples, berries, pineapples and oranges in each store including lots of organic options. ALDI is constantly expanding its organic lines and has organic food at such great prices.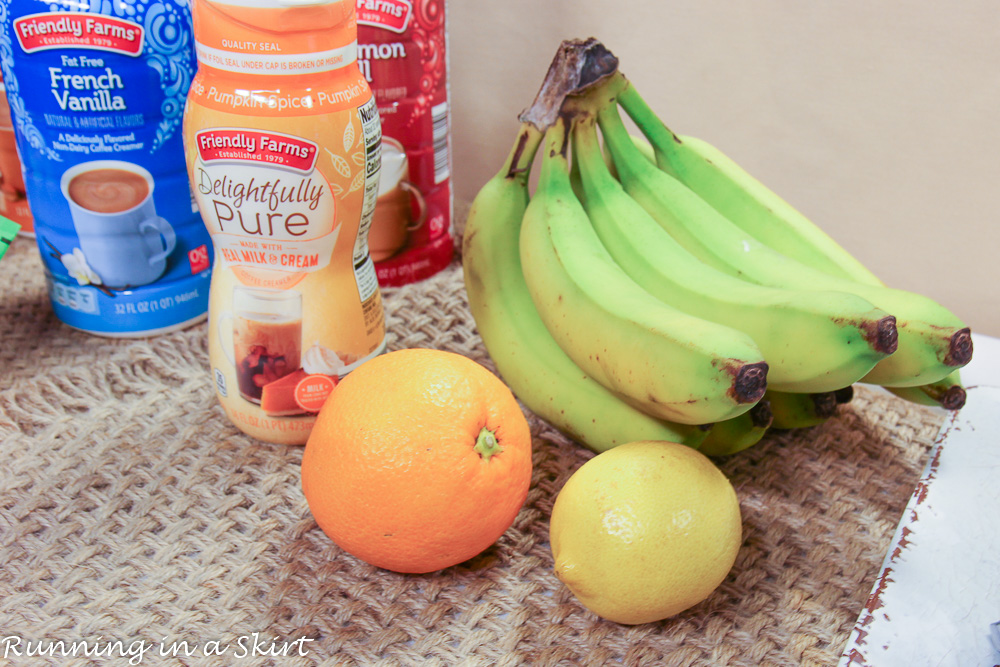 You can even cook with ALDI coffee. I made these No Bake Coffee Banana Energy Bites for the TV segment.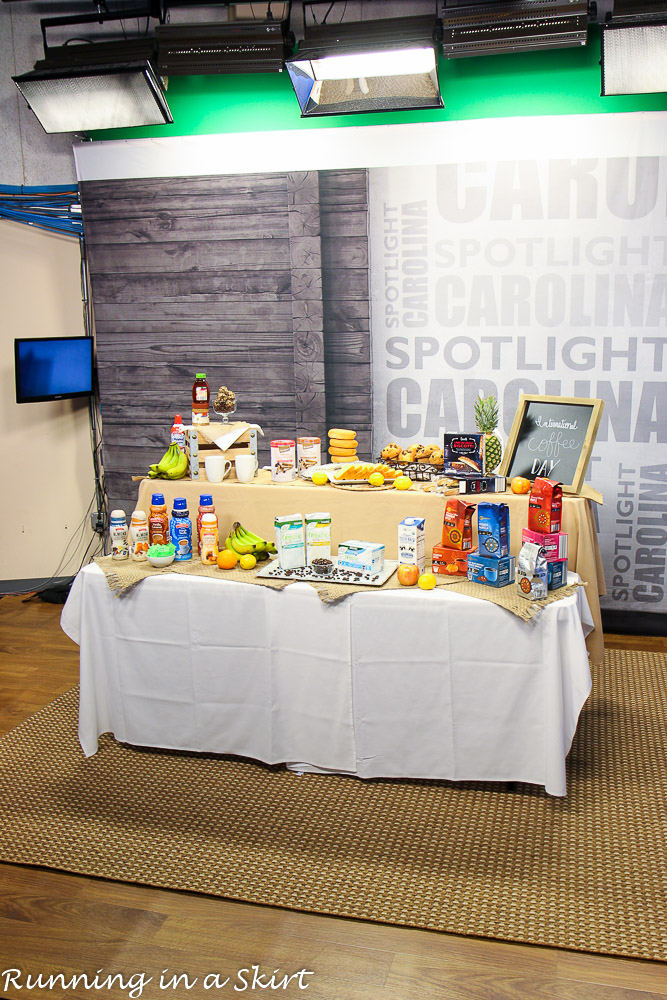 I also made this Cinnamon Bun Iced Coffee. Both the recipes are on the ALDI website, aldi.us.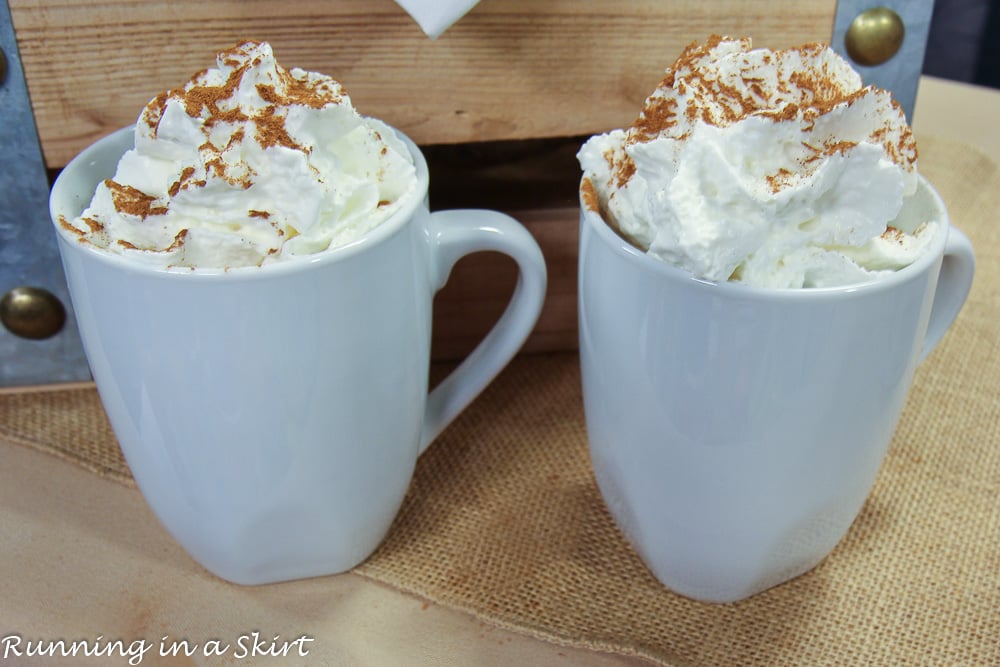 I had so much fun with this TV segment! It airs this Wednesday, September 25th at 12:55 after the noon show on WLOS if you are local. If you aren't, I'll post the segment here on Friday.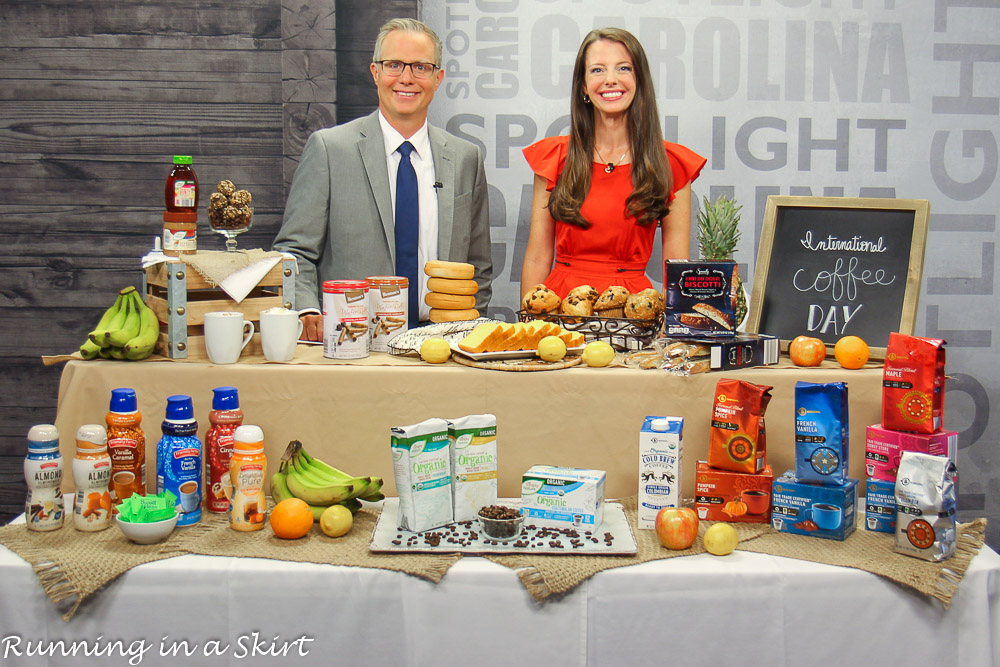 You can find all of these wonderful products across the country at ALDI If you can't make it to the store ALDI is making groceries even more accessible. In addition to convenient shopping at more than 1,900 stores, ALDI offers grocery delivery to more than 10,000 ZIP codes including the Asheville area. Order your groceries today at shop.aldi.us. First-time Asheville customers can use the code ALDILOVE to receive $10 off your first three orders of $35 or more. You better believe I'm taking advantage of that.
Don't forget to check out their website, ALDI.us for their weekly deals, ALDI finds and a great assortment of recipes. If you get anything from ALDI or make a recipe with ALDI ingredients you can share it with the hashtag, #ALDIlove.
Pin for later...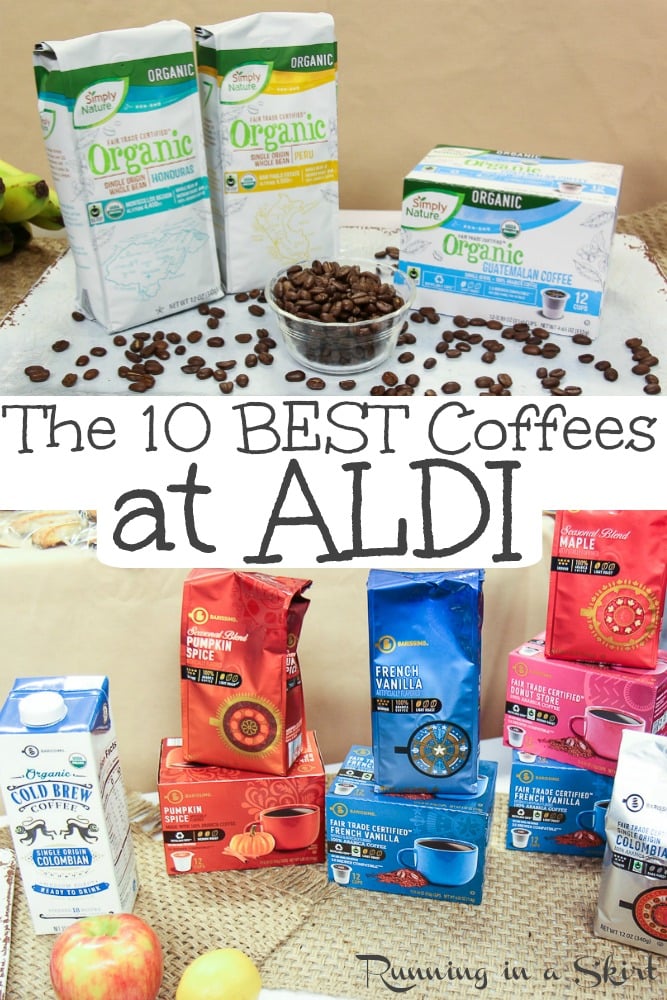 Your turn!
What's your favorite type of coffee and coffee creamer?