Fall officially starts tomorrow, which feels a little bittersweet to me. I find something magical about spring and summer. I adore the first daffodils blooming in April and the rebirth feeling of Easter. I always feel the rush of the season when festivals and tailgate markets start and when people seem to come out of their winter shell.
When spring turns to summer, I thrive in the slow drawl of the season. I love evenings that are still light and 75 degrees at 8:30, garden grown tomatoes, tall sunflowers, weightless hummingbirds and sparkling fireflies. When the first leaves start turning in the fall, I always feel a little sad that it's all over.
Growing up in Florida, I never experienced seasons. Florida "seasons" are hot and less hot. You don't measure the year by the trees, plants and weather; all of your memories sort of blend together without the seasonal backdrop that is now so dramatic in my life in North Carolina. Even though I've lived here for nine years, I am still in awe of the magic each season brings.
Now, Fall has it's own glory. Pumpkins, mums, pansies, boots and perfect running weather are all ahead. Not to mention I live in one of the most gorgeous places in the world for watching the fall leaves. It's a stunning transformation that makes me grateful to live in such a wondrous place. These mountains seem to make everything a little more special.
So I will look forward to Fall and Winter and all the wonderful things these seasons have to offer. But, before I give up on summer though, I thought I'd remember the season through pictures and music.
Summer 2012 started off with a beautiful wedding!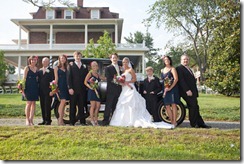 Remember those mega hot weekends in June?
Yup. That was them.
We planted a garden….
I finally got the raised bed I'd been dreaming of this year!
We found time for a few weekend trips…
Our traditional summer favorite, Charleston.
And a new gem, Nashville.
We played tourist in our own town…
I love the purple bus!
And I ran. And ran. And ran.
I didn't realize I "thumbs up" in running pics so much.
Ummm…. maybe I need a new pose before the marathon.
This summer will definitely be remembered as the one where the marathon training took over our lives!
And with that running in mind, I offer you a Summer Running Playlist! These are songs that remind me of Summer because of their lyrics or they were popular during Summer. They should all keep you moving through the fantastic cool running weather we have ahead, while reminding you of the magic of summer.
You can listen to the music for free on Spotify! Click on the link below. The software is free. It's 38 minutes of running entertainment.
Download the software at:
http://www.spotify.com/us/get-spotify/overview/
There are several options, but the free option is great.
Then click on this link and the music will load automatically.
Pocketful of Sunshine- Natasha Bedingfield
Summertime – Kenny Chesney
Call Me Maybe – Carly Rae Jepsen
Drunk on You – Luke Bryan
Live Your Life – Rihanna
Summer Nights – Glee Cast
Umbrella – Rihanna, Jay Z
Beautiful Girls – Sean Kingston
Barefoot Blue Jean Night – Jake Owen
Boom Boom Pow – The Black Eyed Peas
[/fusion_builder_column][/fusion_builder_row][/fusion_builder_container]