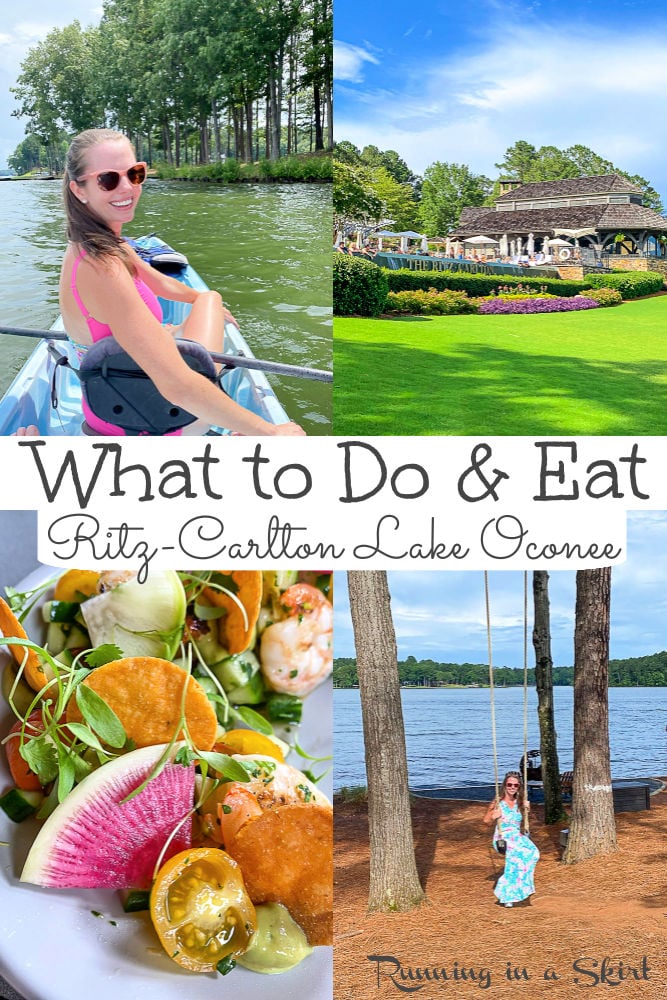 Curious about the Ritz-Carlton Reynolds Plantation? I recently spent a weekend at this lovely Georiga resort on the lake! Here's my Ritz Carlton Lake Oconee Review including the best things to do and the best restaurants to eat at if you are planning a trip too.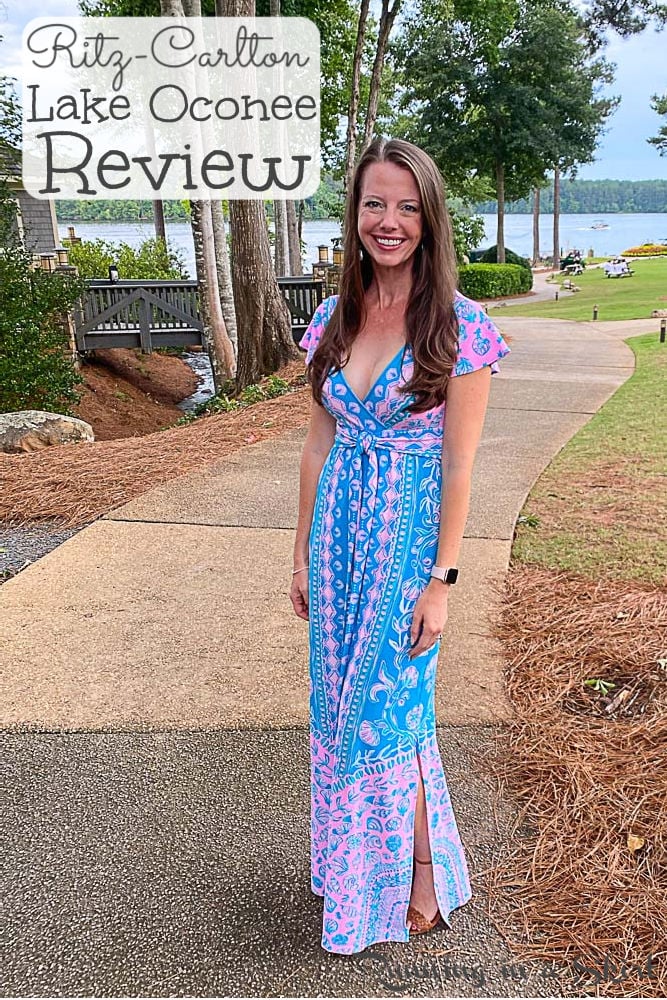 Ritz-Carlton Lake Oconee Review
The Hubs and I recently had the chance to take a kid-free weekend trip and decided to go to the Ritz-Carlton Reynolds Plantation on Lake Oconee. For our trip, we needed to stay close to Asheville but didn't want to go to a city. We were looking for a trip that felt a bit fancy but not fussy. The place also needed to be easy and relaxing. Additionally, we wanted to do something we hadn't done before. It was a long list of requirements and this resort ended up being perfect! I traded in some of my Marriott (Ritz-Carlton's are now owned by Marriott) points for our trip and we were not disappointed.
I loved this resort and I wanted to share more about our trip in my Ritz-Carlton Lake Oconee Review.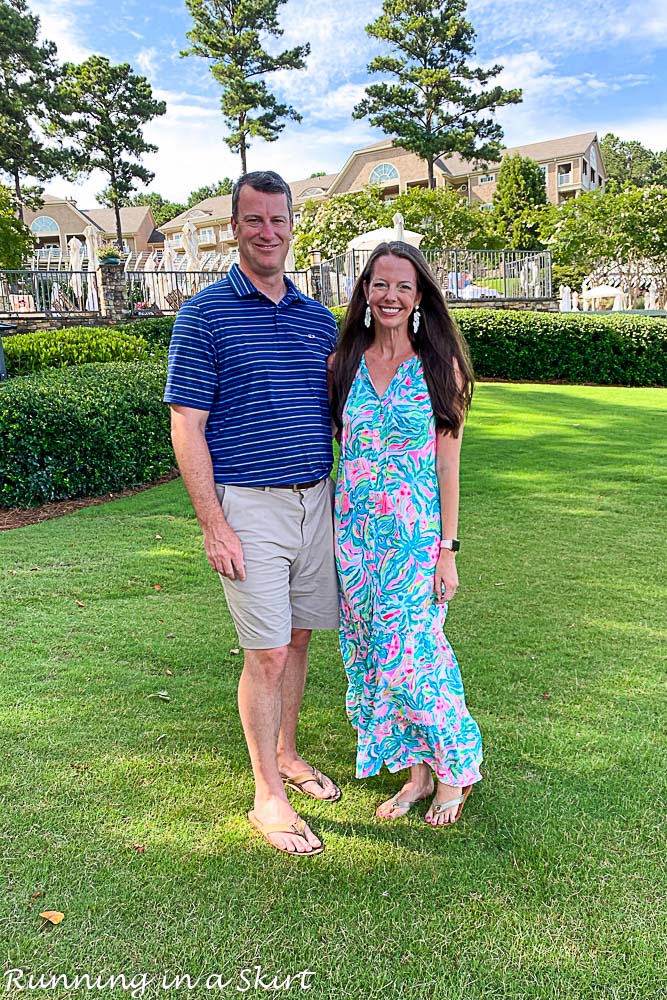 Where is Lake Oconee?
The Ritz-Carlon Reynolds is on Lake Oconee in between Atlanta and Augusta. It's only an hour and a half or 75 miles East of Atlanta. It's in Greensboro Georgia and is part of the Reynolds Plantation or neighborhood.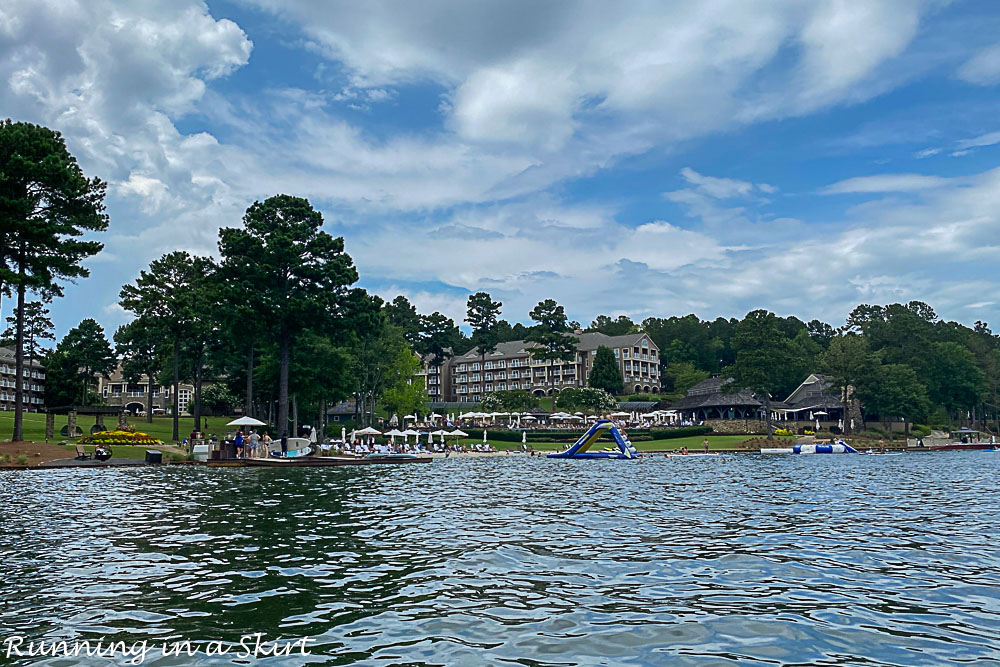 The resort is basically like a fancy summer camp for adults and kids with gorgeous lakefront amenities. It's the kind of place with an all-inclusive feel where you can come to and never want to leave the property.
There are four restaurants on the property and we had one incredible meal after another. Keep reading to see all the delicious food we enjoyed.
The resort also features lake activities including a marina, swimming, fishing, and boating. There is also golf, a spa, tennis, biking, hiking, and an irresistible infinity pool that hangs over the lake's edge. This season they also just installed an even larger family-friendly pool that's perfect for kids of all ages including toddlers.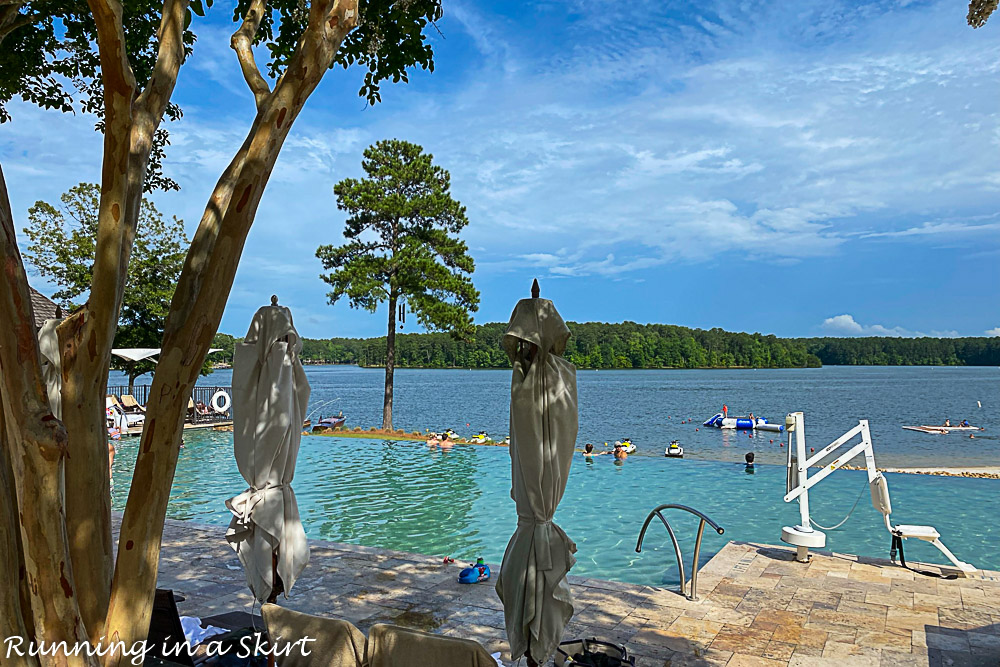 The grounds are immaculately maintained with lush plants and flowers. There are also fountains, a stream, firepits, and huge swings hanging from the trees.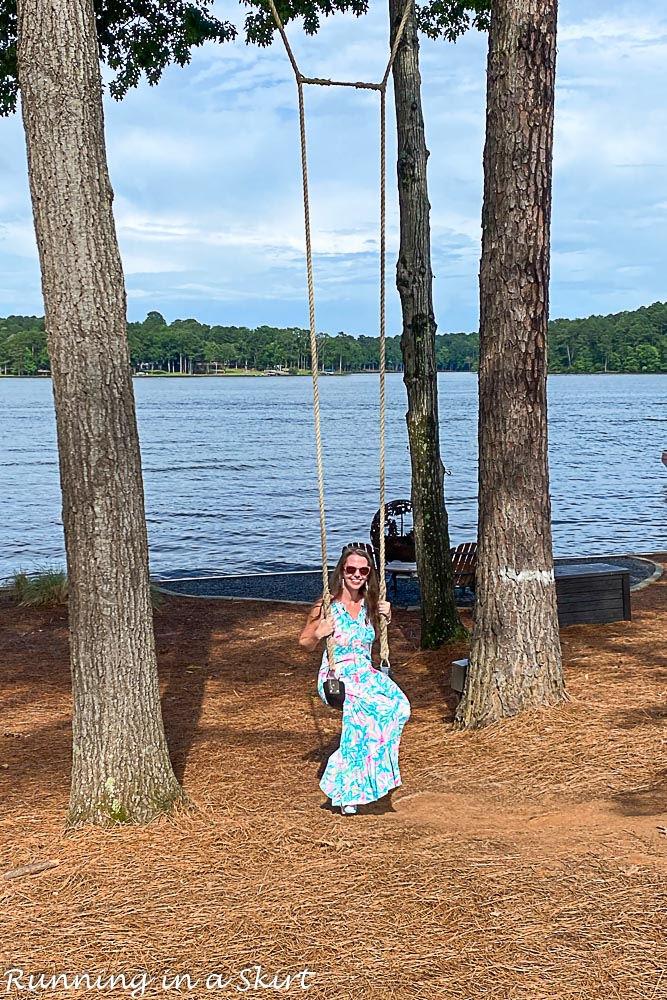 The property is so gorgeous and perfect for exploring and relaxing.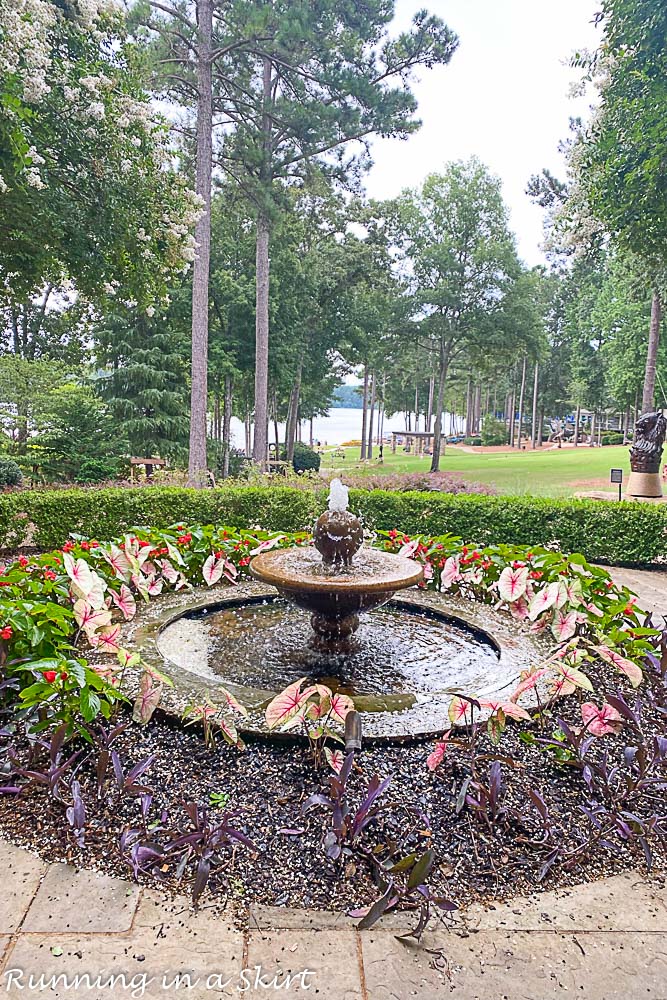 If you are looking to plan your own trip I wanted to share some of the things we did during our weekend stay and what we ate!
Things to Do
Kayaking & Paddle Boarding
There were lots of fun included activities with the resort fee including non-motorized boating like kayaking and paddleboarding. I love a good activity, so we did a kayak ride during our trip. It was really fun to see the lake up close and explore a few of the coves. Paddle Boarding was also very popular, although we didn't do it!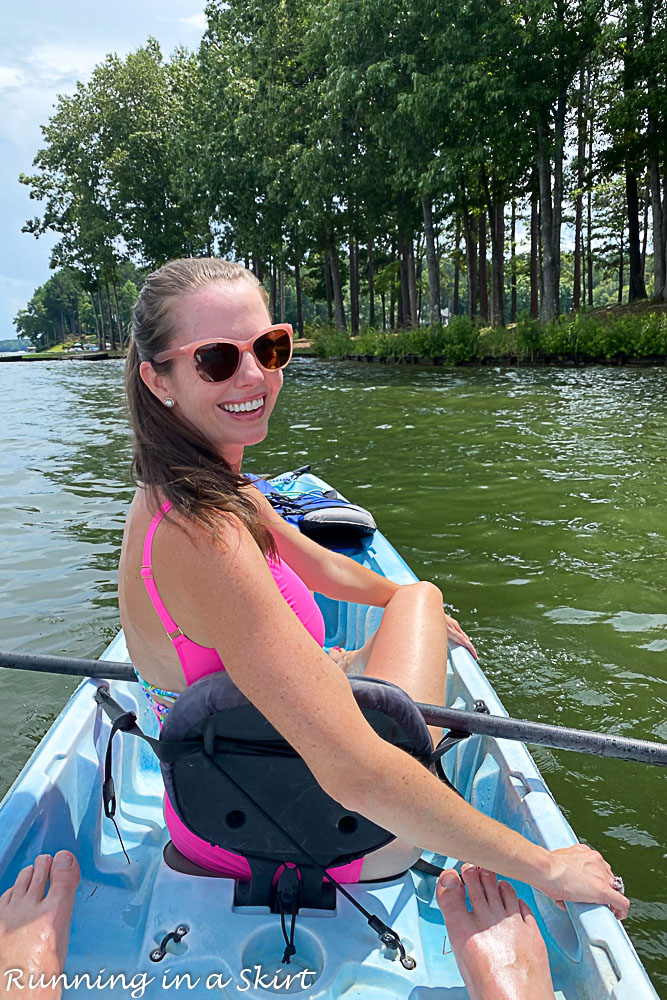 Boating & Jet Ski
The Ritz-Carlton Reynolds resort is lakefront so boating is one of the more popular activities. You could rent boats, but since it was just the two of us we decided to rent a jet-ski for an hour. We had a blast exploring more of the lake than we could reach on the kayak.
The lake is lined with huge gorgeous homes, so it was interesting to look at them.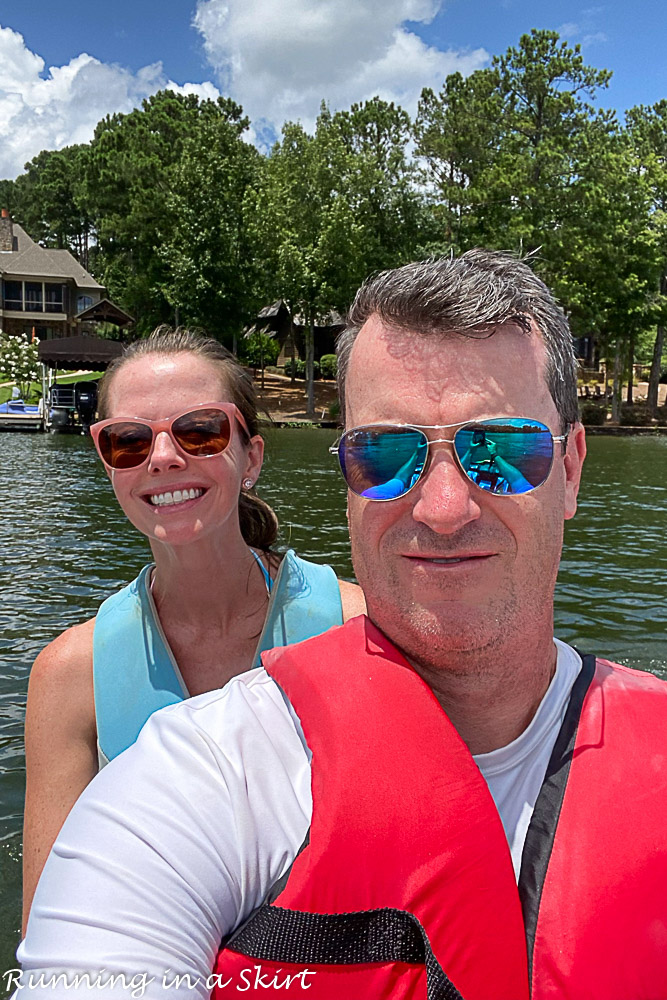 Enjoy the Lake
We also spent lots of time relaxing and just enjoying the lake. There was a man-made beach which was perfect for sitting and reading.
There was also a big slide and trampoline in the lake for kids.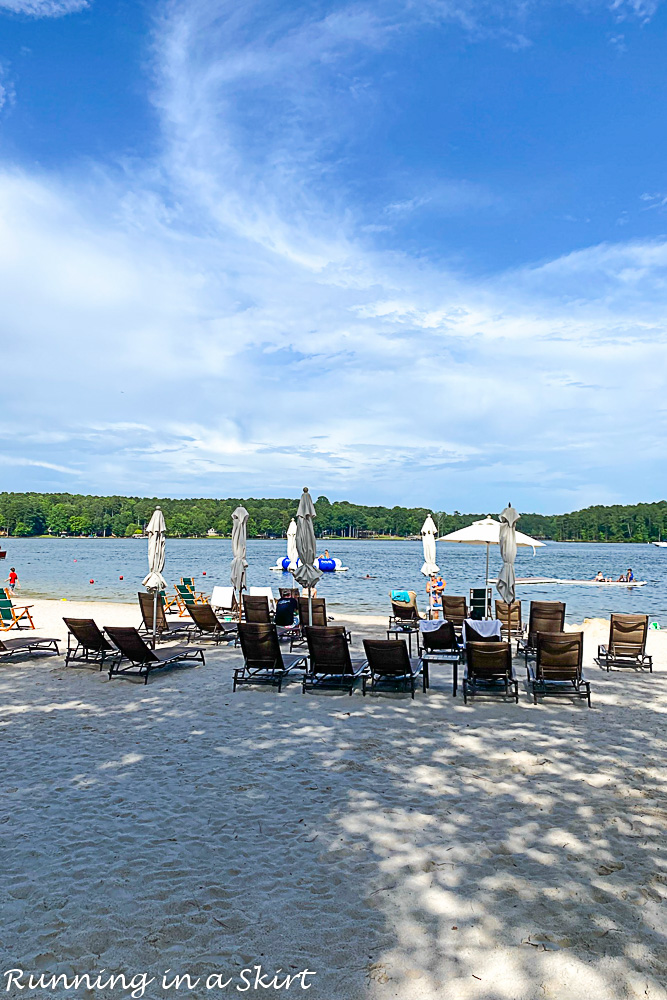 Fire Pits & Smores
The resort had several lake-side fire pits and one main one by the lobby. As part of the included activities they have smores available each evening. It was such a charming touch which really led to the feeling of being at a luxury resort-style camp.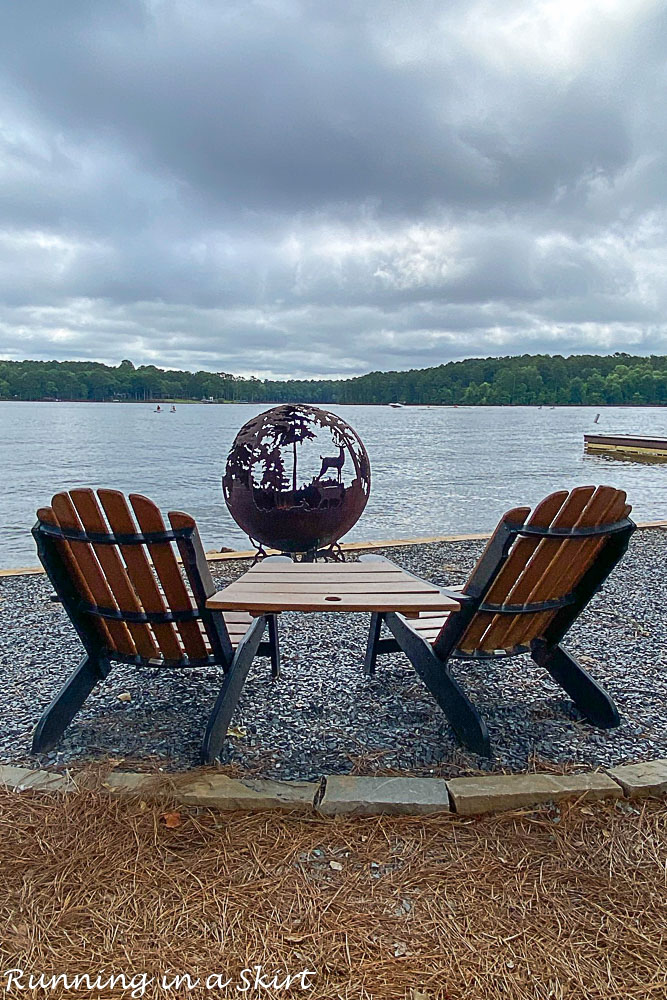 Pools
Most people spent their days at the pools. Here's the gorgeous infinity pool which at the right angle looks like it's falling right into the lake. They also now have a second pool that's perfect for kids.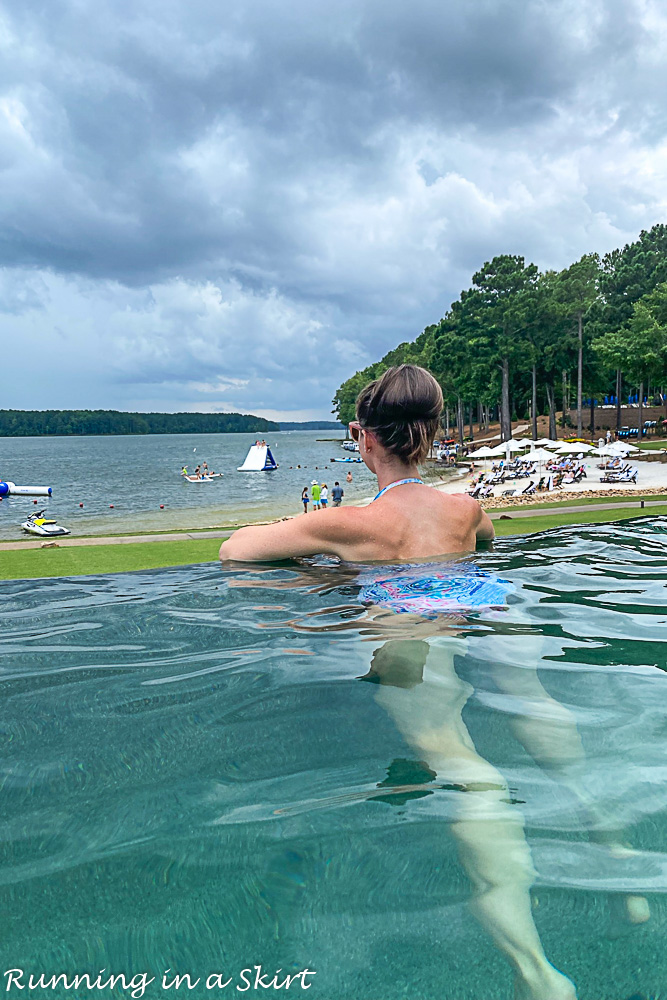 Biking
Another included activity is biking. We took bikes out and did a loop around the golf course and property. We enjoyed this, although it was a lot hillier than I anticipated. I'd definitely wear real shoes (not flip-flops) to go. 🙂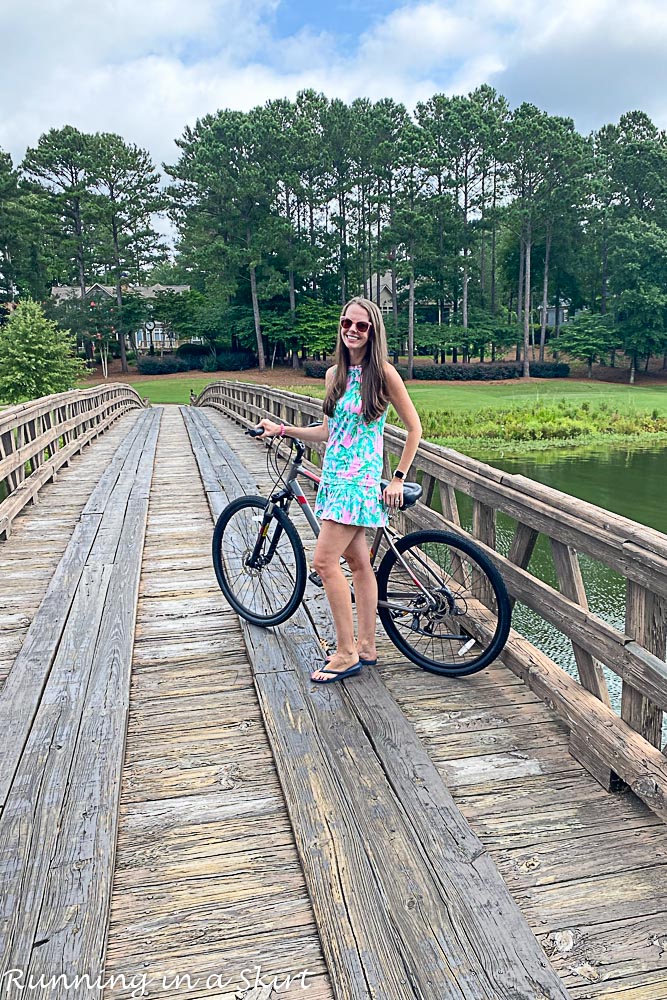 Walking the Grounds
One of my favorite things to do during our trip was actually walking the grounds. It was so impeccably landscaped and I enjoyed looking at all the plants and flowers. It's the perfect place for a nice morning or evening stroll.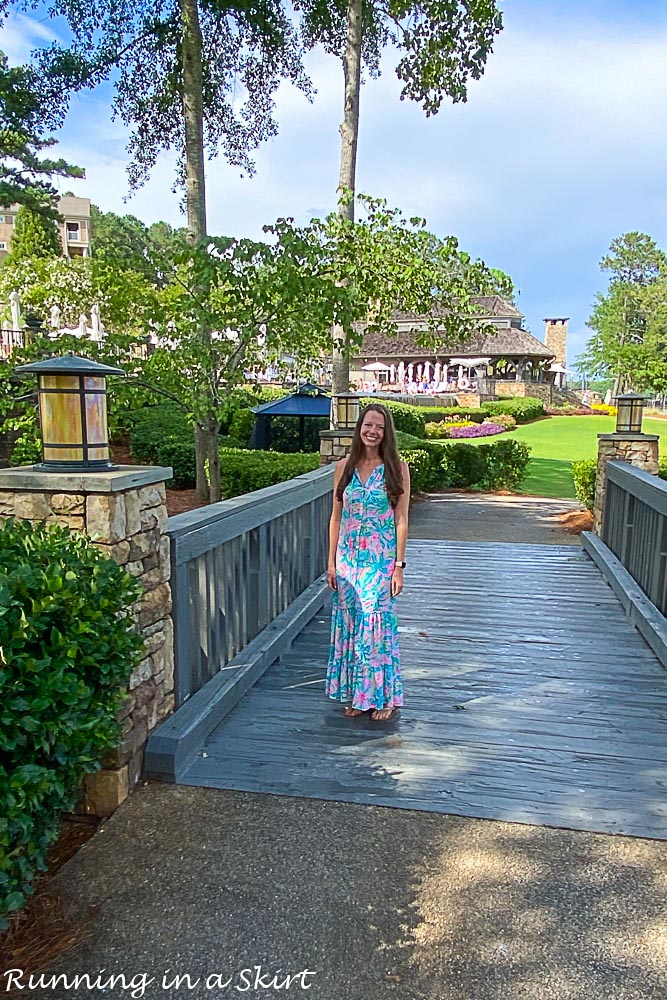 We were only there for a short weekend but were able to fit a lot of fun things into our short trip. There is also a spa, fitness center and a golf course to enjoy.
Ritz Carlton Reynolds Restaurants
Linger Longer Steakhouse
The Linger Longer Steakhouse is the more high-end restaurant on the property but still didn't feel fussy. It's a steakhouse but still had seafood options for me to enjoy.
We ate one dinner there and really enjoyed it. The Burrata with Peach and Tomato was super delicious.
We also really enjoyed the Octopus, which was tender and flavorful.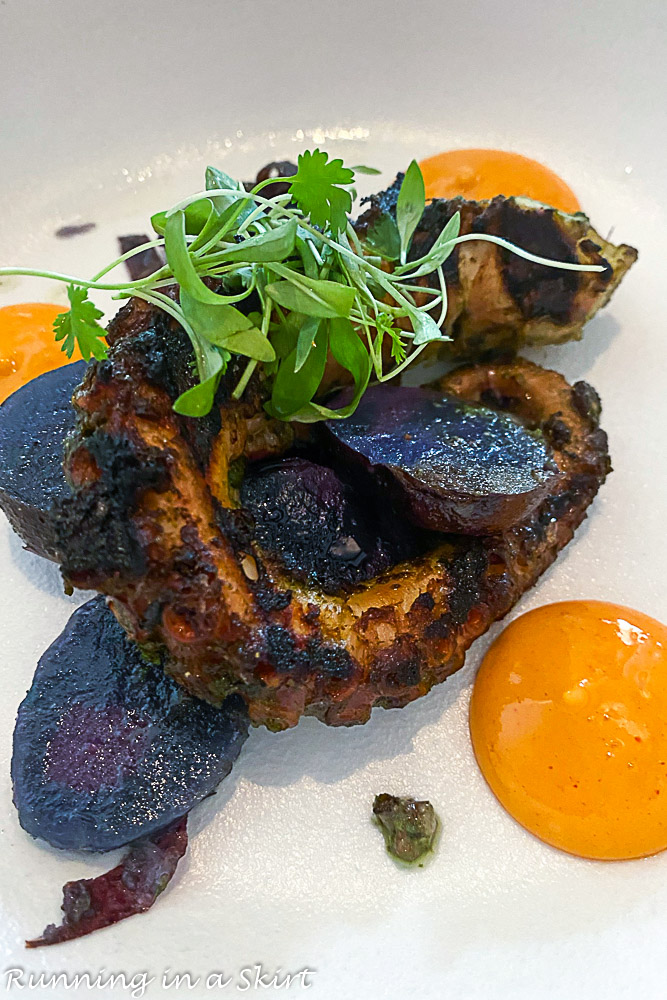 I ended up getting the Halibut for my main course and the Hub's got a steak. We both really enjoyed our dishes. The plating was stunning and it tasted even better.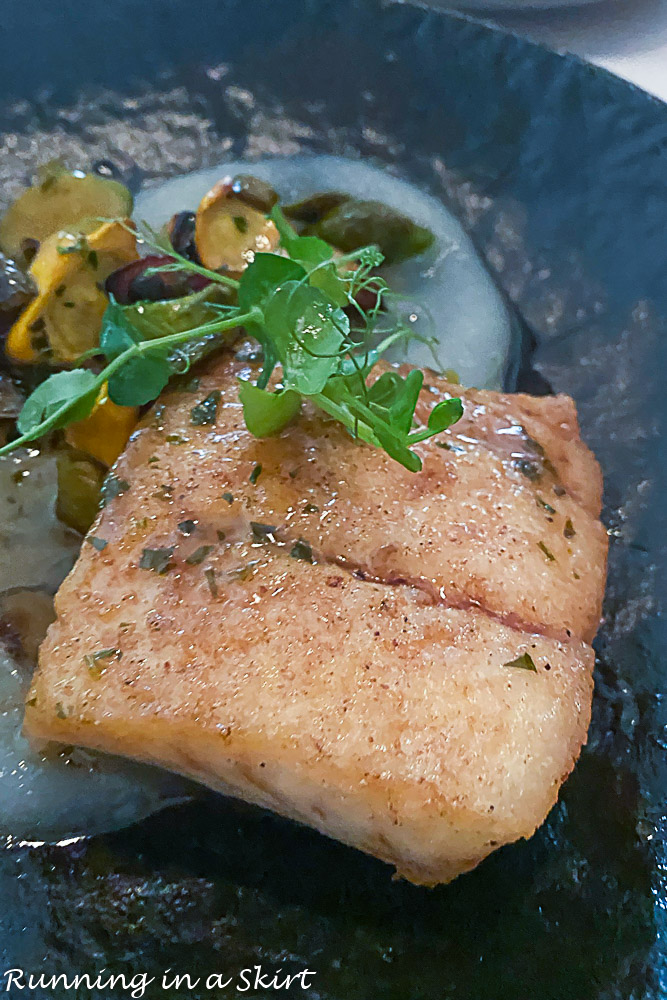 The fun surprise at the end was they brought out a stick of cotton candy for us to enjoy. It was a whimsical and fun surprise to end such a fancy meal!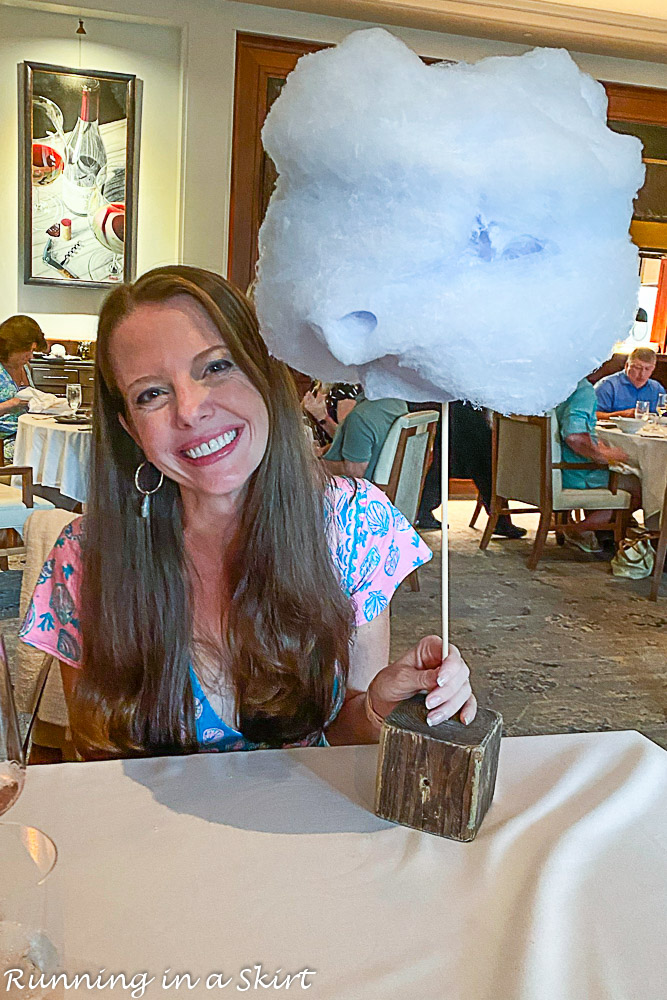 Gaby's By the Lake
Gaby's By the Lake is the main restaurant that sits right on the lake. It is oozing with Southern charm and the views can't be beaten.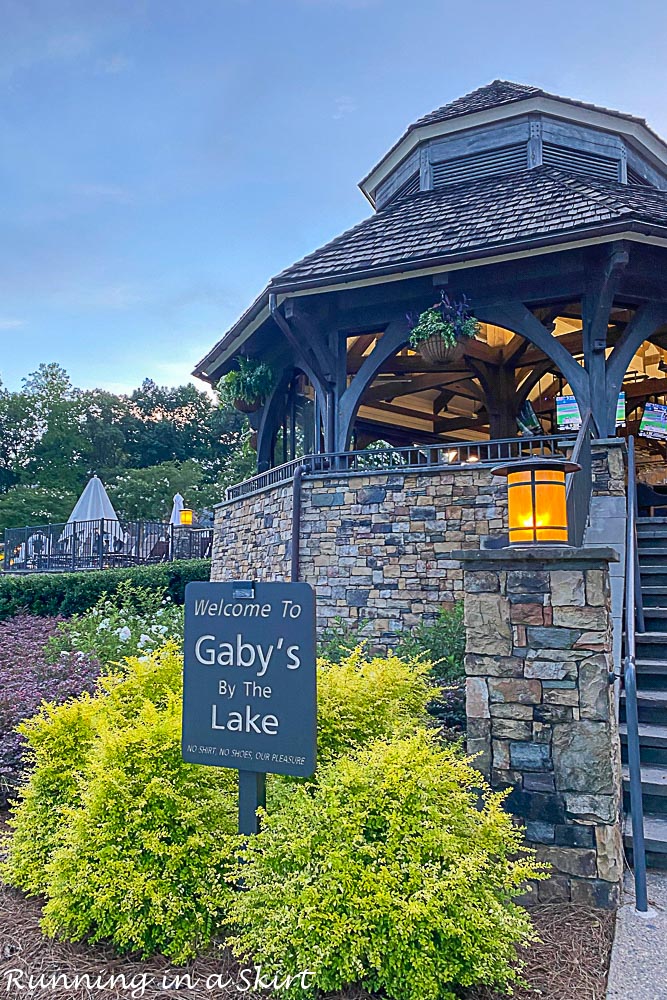 We actually enjoyed several meals there. Our favorite was the first lunch we had right when we arrived. The Shrimp Ceviche was gorgeous and tasted incredible. It was light and bursting with flavor.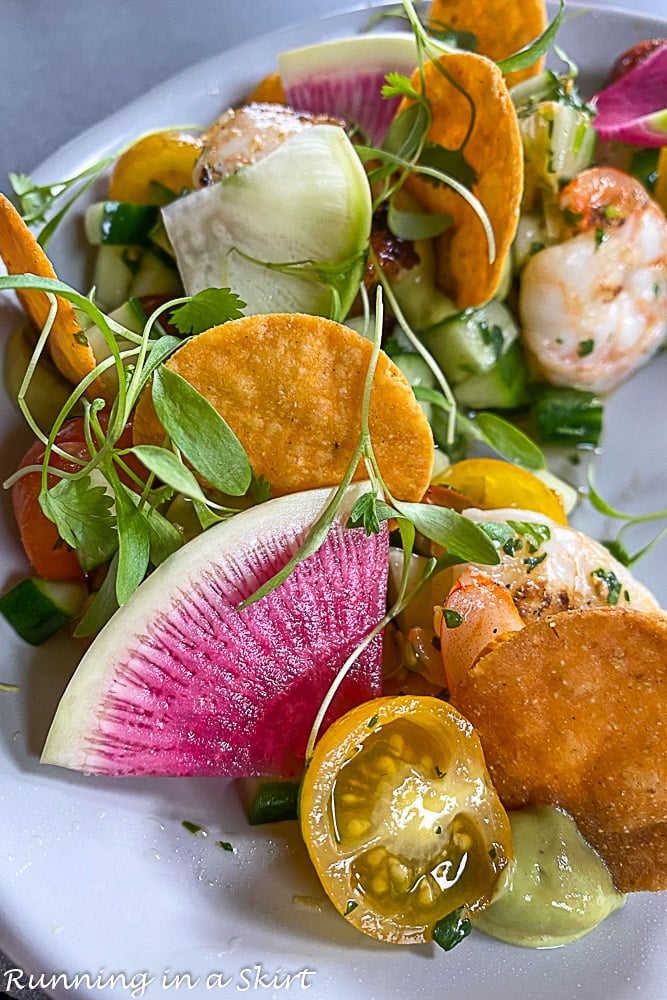 We also really enjoyed these Fish Tacos. I'm not normally a fan of fried food but these were just perfect and worth the splurge.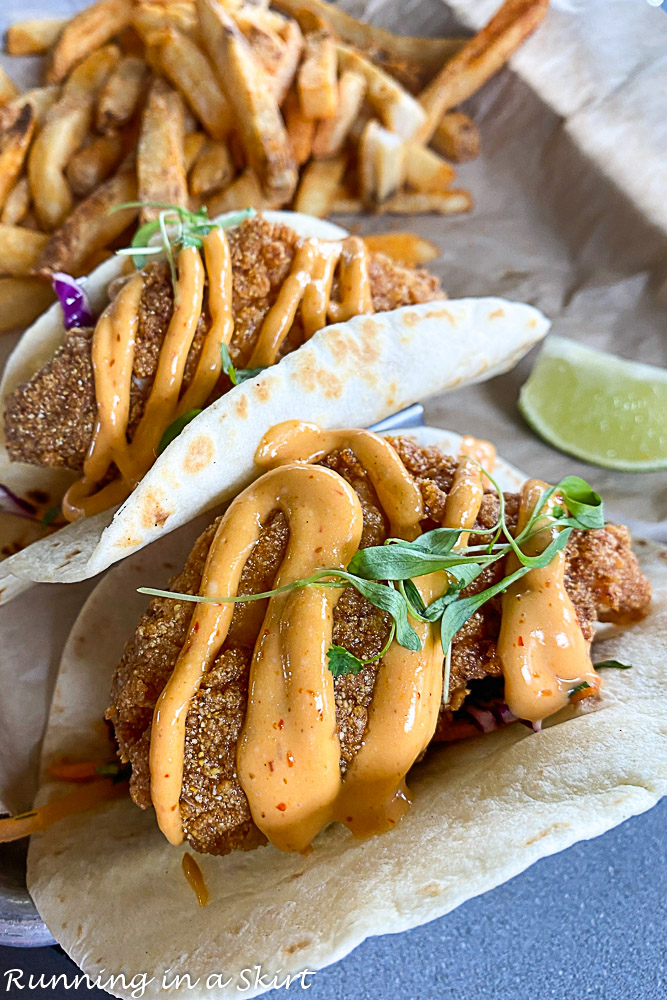 The other highlight of the meal with this Lobster Grilled Cheese. It was oozing with lobster goodness and was super memorable.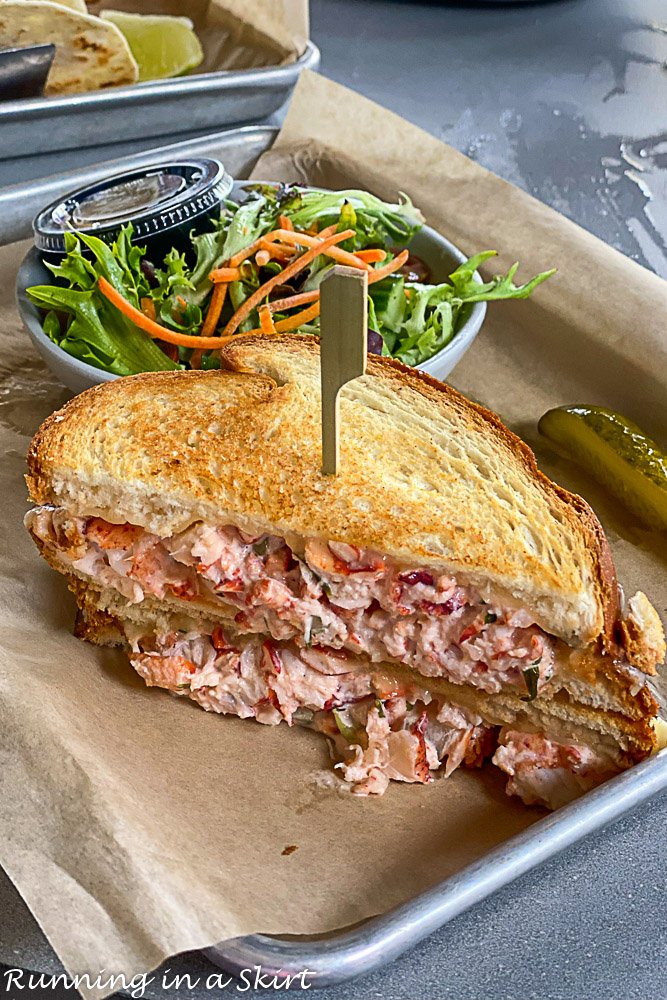 For our other lunch, we ordered food by the pool, which is also part of Gaby's. We got the Poke Bowl appetizer, which was more than enough for a meal. It was super flavorful and delicious.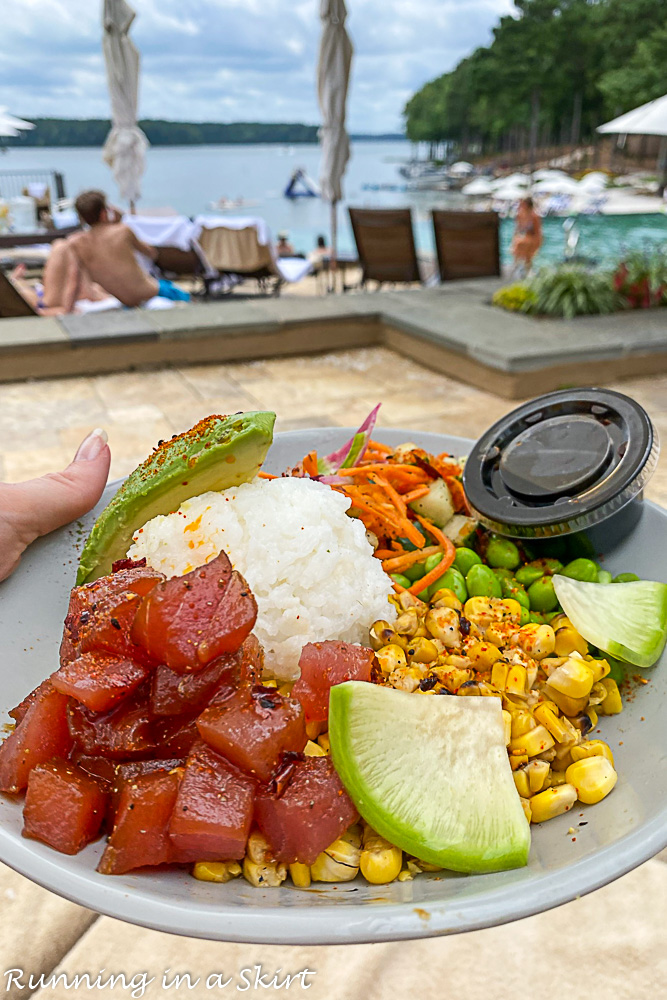 Our other dinner was also at Gaby's. I got the Redfish and it was cooked to perfection.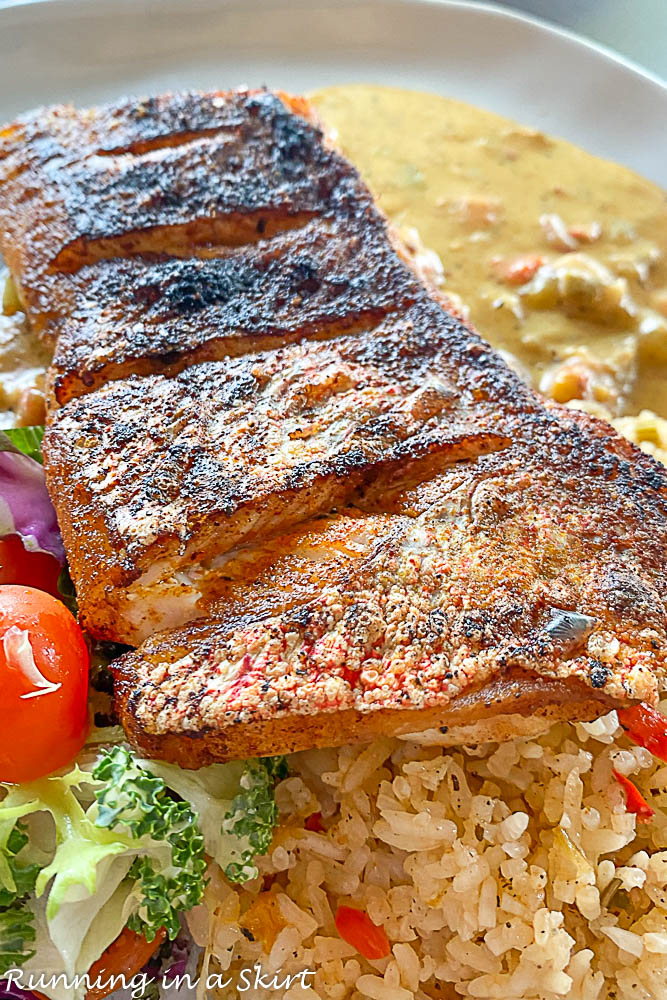 We also enjoyed the Seared Scallops which was so tasty.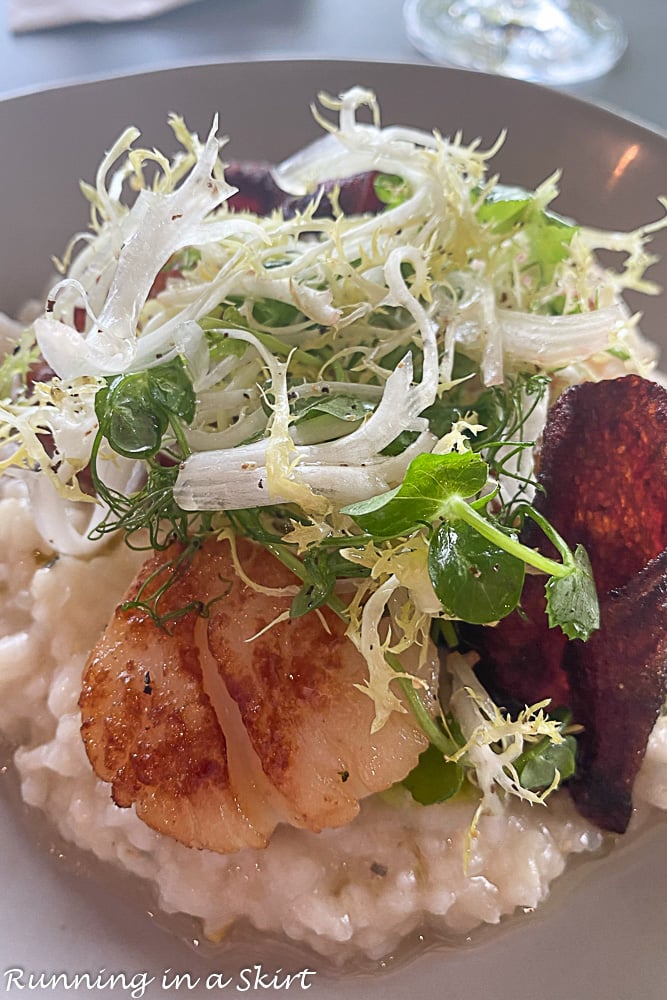 Gaby's also had some delicious cocktails which were perfect for vacation mode.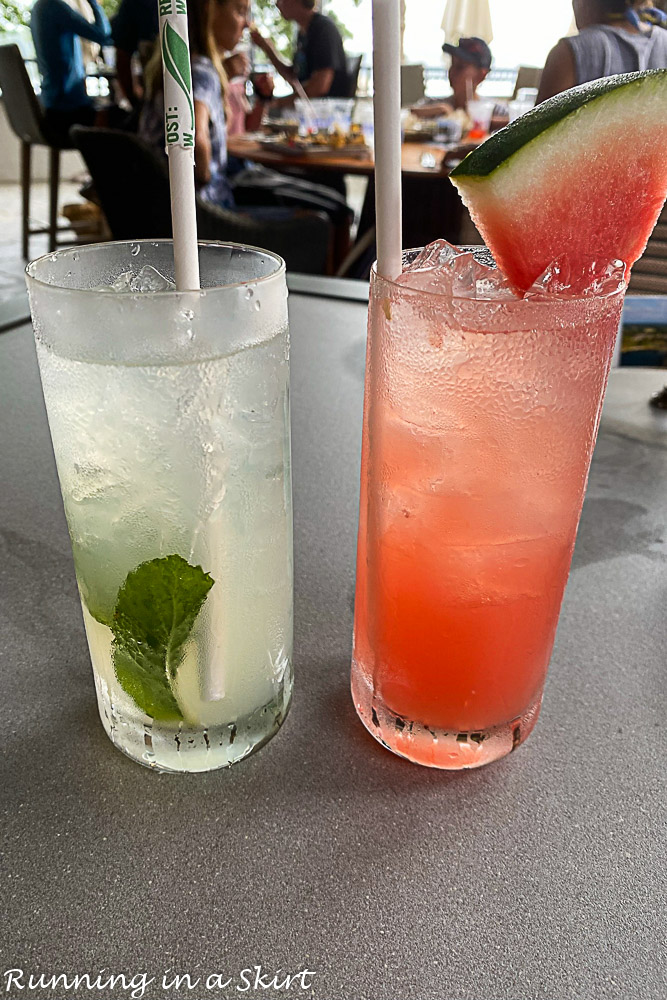 Barrel Room
The Barrel Room is a bar/restaurant in the lobby of the hotel. It was a super cute bourbon-themed decor. They have appetizers and light dinner items. For one of our evenings, we had a few appetizers there before heading to dinner.
The Southern Cheese Plate was really good and memorable. I loved the red pepper jelly in the pimento cheese. It really doesn't get more Southern than that.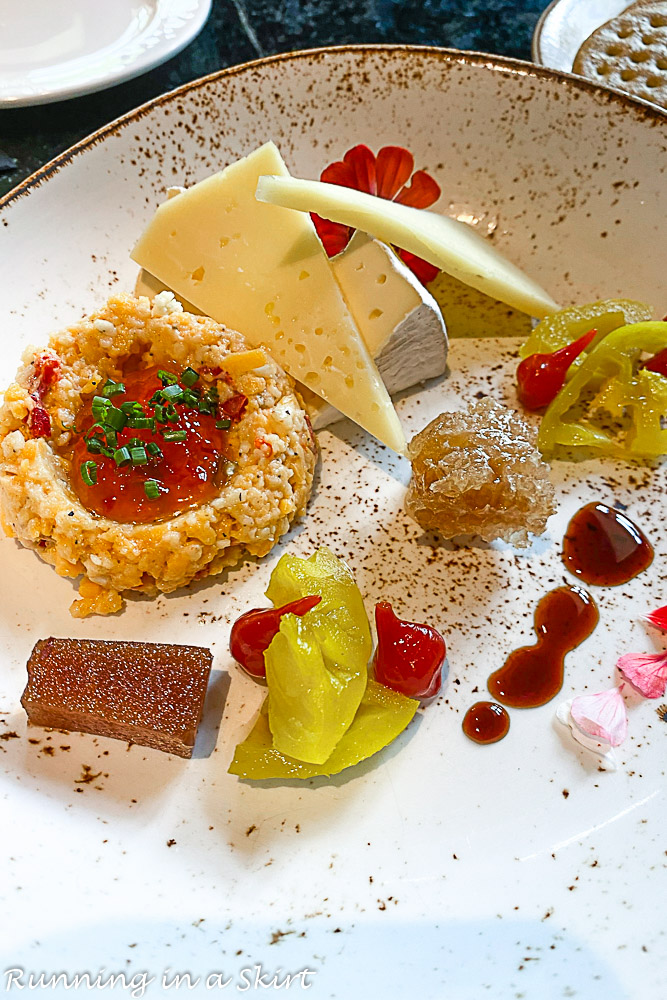 We also had the Crab Dip which was busting with fresh crab and seasoned perfectly.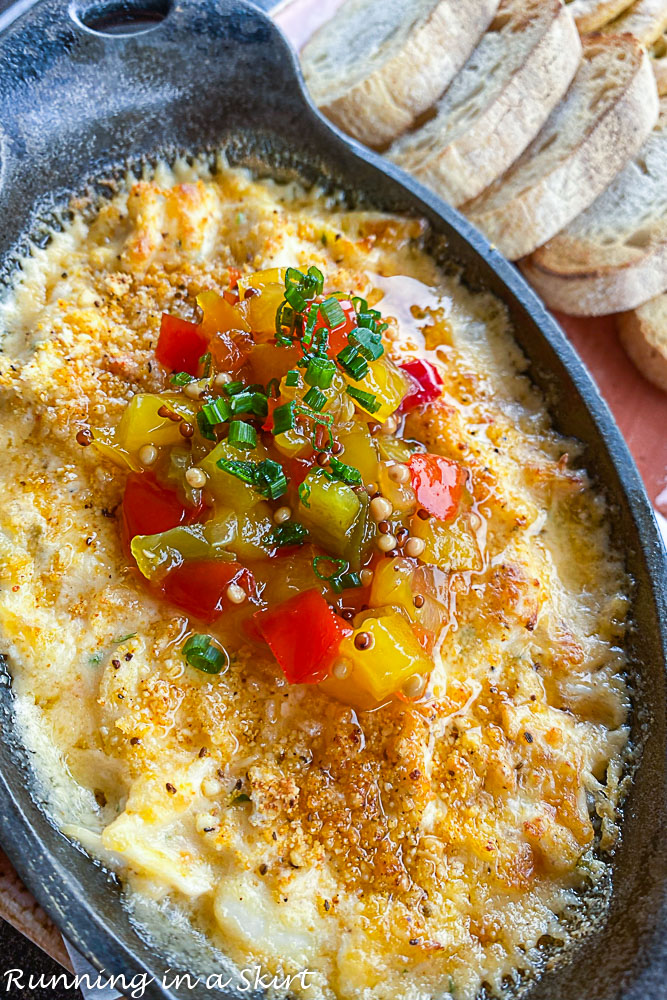 They also serve drinks and bourbon. Although my bourbon-loving husband was not impressed with their selections. Despite that, it's a cute place to enjoy drinks and a snack.
Georgia's
Georgia's is a Southern-style restaurant located on the patio of the hotel. It's not as close to the lake as Gaby's but it still has a lovely view. They are normally open for breakfast and dinner but were just open for breakfast during our stay.
They have a classic resort-style buffet, but we decided to order off the menu. We loved the Eggs Benedict.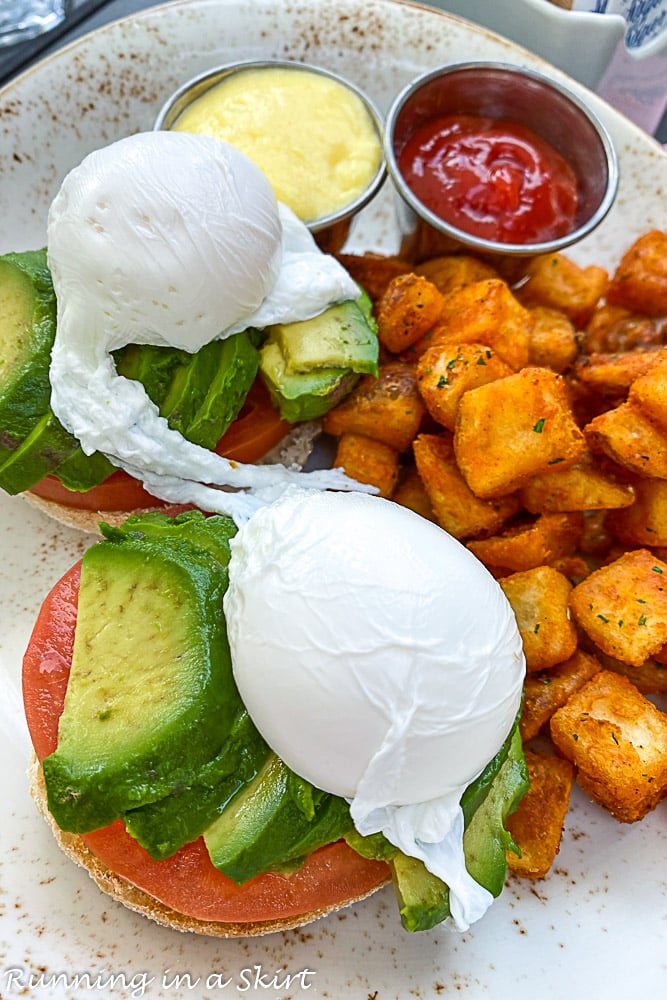 And for something sweet we enjoyed the French Toast.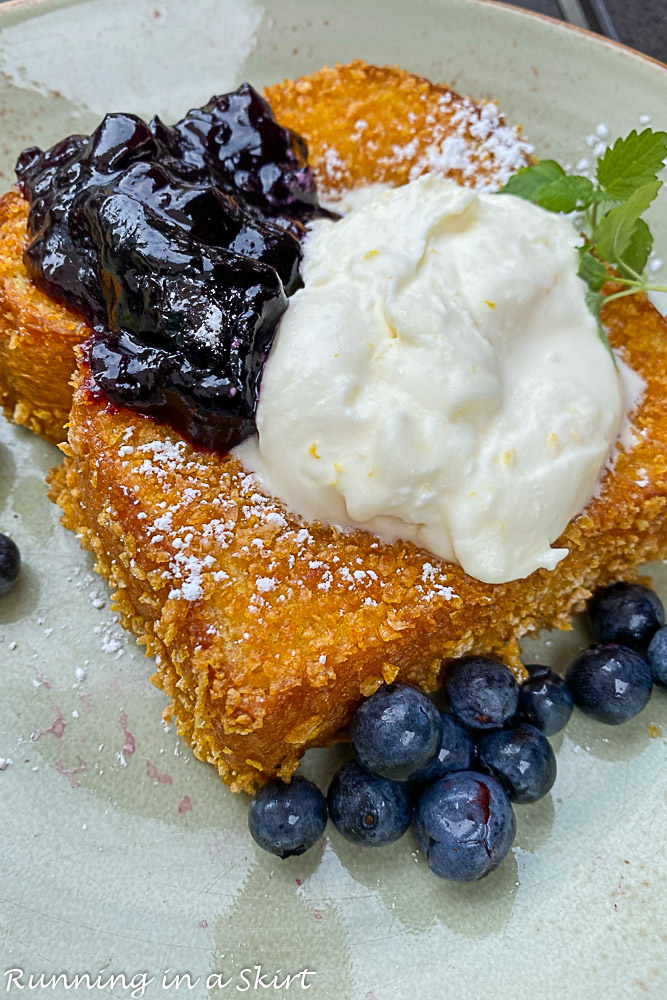 Breakfast was super tasty and we enjoyed the relaxed atmosphere and lake views.
Final Thoughts on Ritz-Carlton Reynolds
The Ritz-Carlton Reynolds is a charming and special place. It oozes Southern charm and class. It's also one of the more unique and memorable resorts I've stayed in. It is a bit pricy, but were we able to use points to go. We had a wonderful weekend filled with fun, relaxation, and some crazy delish meals.
We went for a couples trip and had a lovely time, but the resort is surprisingly kid-friendly. I'd honestly say this is a place you WANT to take your kids. They had everything set up for kids and adults to enjoy a vacation together from slides in the lake, beach toys for toddlers, and swings around the property. I spent a lot of the weekend thinking about how much fun the twins would have here, especially in a few years when it will be easier to share a hotel room.
Regardless if you are traveling as a couple or with kids, the Ritz-Carlton Lake Oconee is a delightful place for a short get-away. I'd highly recommend it to anyone!
Pin for later...