Thanks for stopping by Running in a Skirt! You can also follow me on Facebook, Twitter, Pinterest, Instagram or subscribe by entering your e-mail address to the right!
My original idea for the blog today was to share pictures and a story from a mountain hike I wanted to do, but mother nature had other plans. The skies opened up and the weekend was more or less a washout.
After some serious couch time Saturday, even the dogs were ready to try something different Sunday.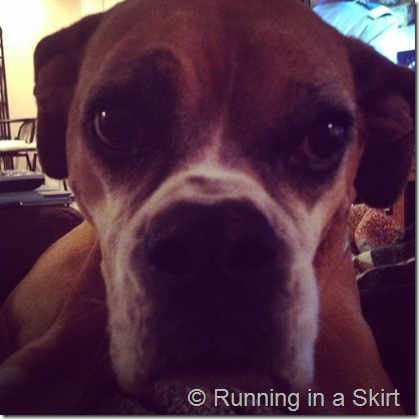 Reina knows how to milk that sad face.
So with the friendly "help" of Rhett, I came up with this super simple but super sweaty at home rainy day workout.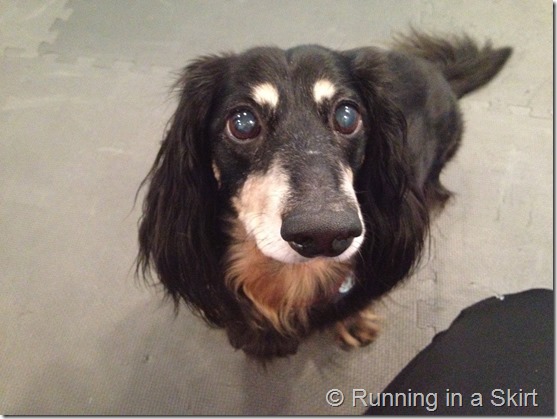 Just call him Coach Rhett-ster
It's perfect for when you don't want to leave the house because it requires no equipment. I organized it in an easy to remember 30-20-10 format. Do the routine once or repeat up to three times for a outstanding thirty minute workout. You can rest 15-30 seconds between rounds.
It gets challenging at times (you will hate those 20 burpees) but it hits all the major body parts and really gets the heart rate up and moving!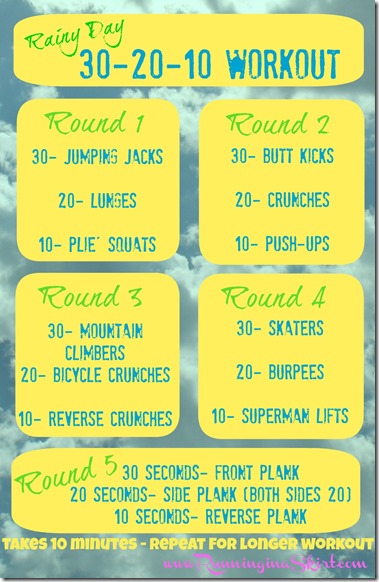 If you are unfamiliar with any of the exercises, here are some links to what they are and how to do them.
Your turn…
What did you do this weekend?
Do you have a way to get in exercise on a rainy day?