Wondering how to have a healthy summer vacation? These 6 tips will have you feeling great on your next trip to the beach.
I'd like to thank my friends at Renew Life® Digest Smart Enzymes for sponsoring this post! Thank you for supporting companies who support Running in a Skirt.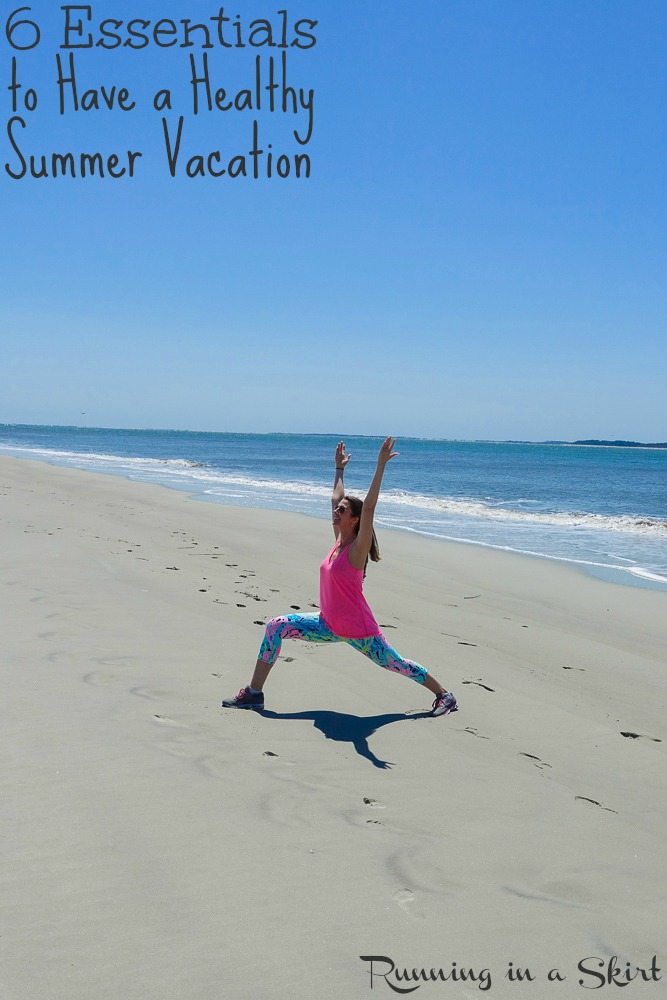 Hi guys!
Summer vacation time is practically here. Y'all know I love to travel and I have a few fun adventures up my sleeve for this summer. I love this time of year because the Hubs work is a bit slower and we generally have time to embrace more travel and flexibility in our schedules.
Of course going on trips always involve a lot of preparations and planning. Plus there is the significant investment of your time and resources. Because of that there is nothing worse than getting to your vacation only to get sick, feel sluggish or have health issues pop up! So today I thought I'd share my best tips on how to have a healthy summer vacation. Because no one wants to be sick at the beach!
How To Have A Healthy Summer Vacation
Stay Active
I'm all for taking rest days and enjoying a vacation, but I find I feel my best if I can still find even simple ways to stay active. Sometimes that means getting up early and running a beach path by myself, taking a sunrise yoga class or other times it means counting a walking tour as activity for the day. Often I'll hike on vacation.
Recently when the Hubs and I went to Hilton Head we were going to rent bikes and kayaks, but it was super, super windy so we settled for several long beach walks. It didn't feel like exercise at all, but I knew I was taking care of my body by staying active.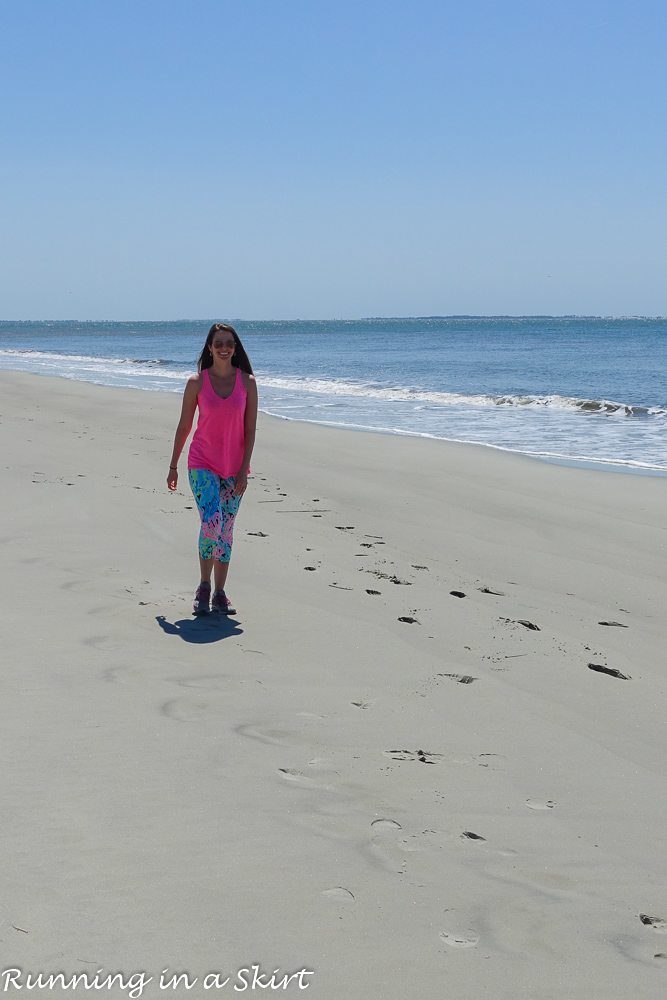 I'm not suggesting you have to get up and do the exact same workout you do at home every day (unless you want to!,) but try to mix it up with something that matches where you are.
Hydrate & Find Ways to Fit in Veggies
Getting enough water is even more important in the summer when the temperatures are HOT. Make sure to bring a water bottle with you and fill it up even more than at home. Staying hydrated can keep you healthy and feeling you best it can also be a key in how to have a healthy summer vacation.
Also resist the temptation to eat ALL of your meals as splurge meals. Sure, I'll all about eating my way through a vacation... but try to find one meal a day that has some greens, fruits or veggies in it! You will feel so much better.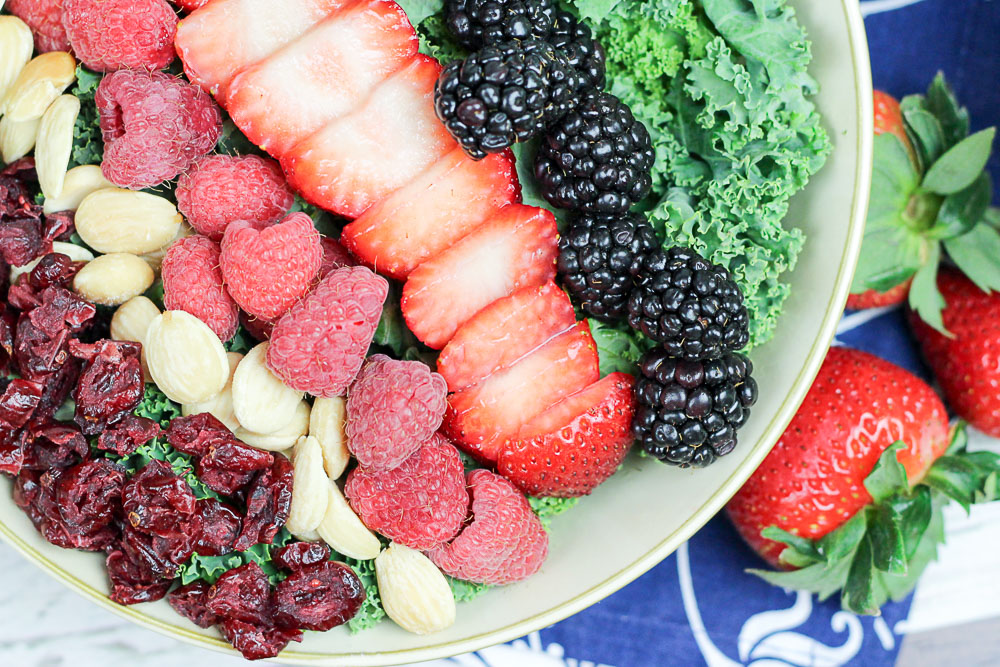 Vacations and travel for me is all about eating new foods and trying new things. Eating too much rich food, especially food rich in protein, can lead to me feeling off though... ruining my dining experience.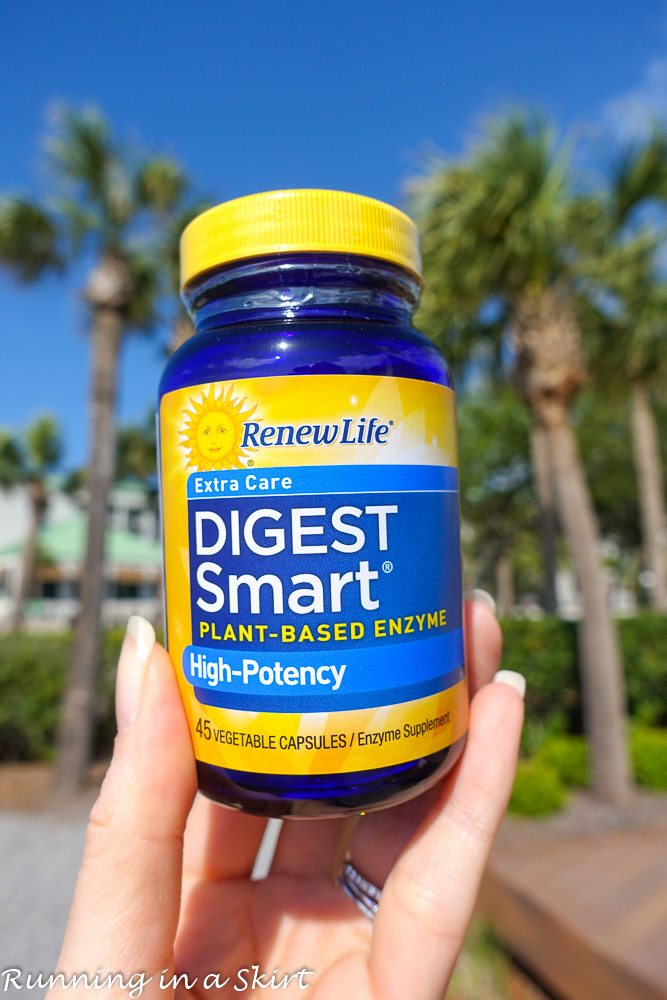 That's why I've been using Renew Life® Digest Smart Enzymes. It contains 25 plant-based, raw enzymes to provide powerful digestive support. It helps break down protein, carbohydrates, fats, and ­fiber and may help prevent occasional gas, bloating, and indigestion!*
Now... I know I'm not the only one who's felt those things after an indulgent couple of days on vacation. 🙂
Renew Life® Digest Smart Enzymes high-potency formulas are made with maximum Enzyme Activity Values so they can help you enjoy your favorite foods, even on vacation.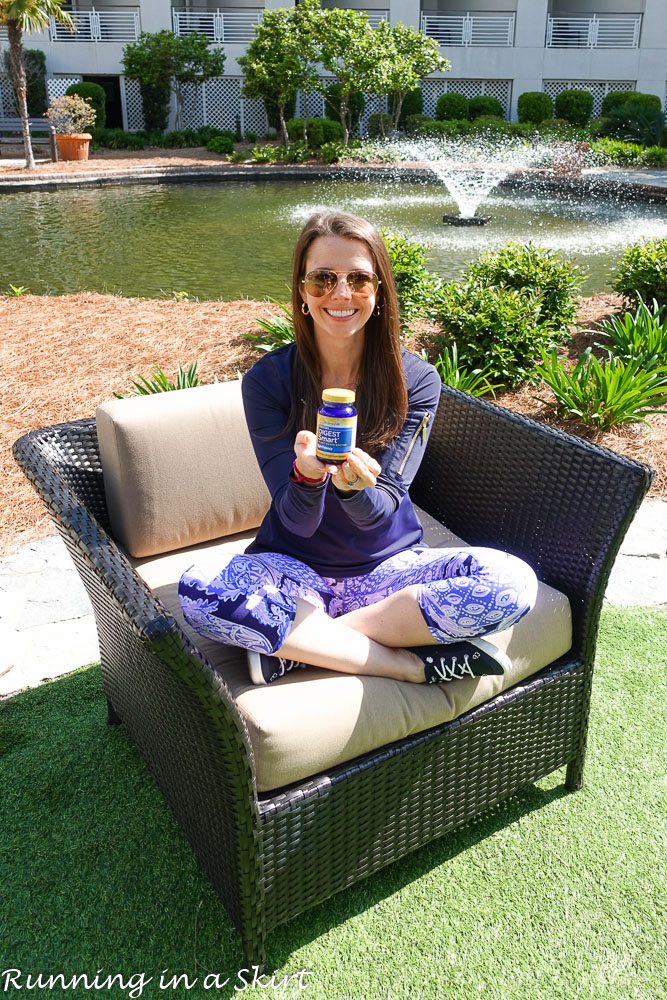 Gut health is so important for your overall health and can keep you feeling your best... so Renew Life® Digest Smart Enzymes are a vacation must have!
Wash Your Hands
Traveling can expose you to all sorts of germs. Your best defense whether you are flying or driving is to wash your hands well and often! I carry hand sanitizer with me too, but it's still not a substitute for good ole' hand washing.
Use Sunscreen & Wear Shades
As a beach lover, summer vacations are all about fun in the sun. Make sure to keep healthy from harmful rays by using lots of sunscreen and wearing shades. Your eyes need protection too.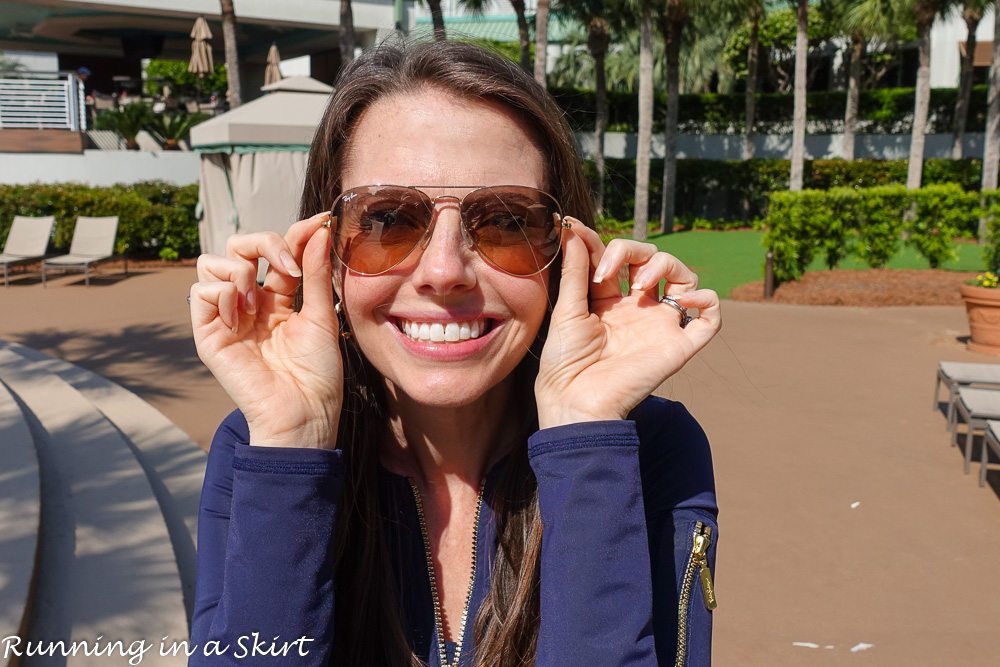 UnPlug
A healthy vacation is about a lot more than physical health... it's also about your mental health! Eating well and exercising is important but you also need to take time to relax and unplug. As someone who runs an online business from home, it is incredibly tempting for me to keep working from wherever I am, but I know I need to unplug and have downtime occasion.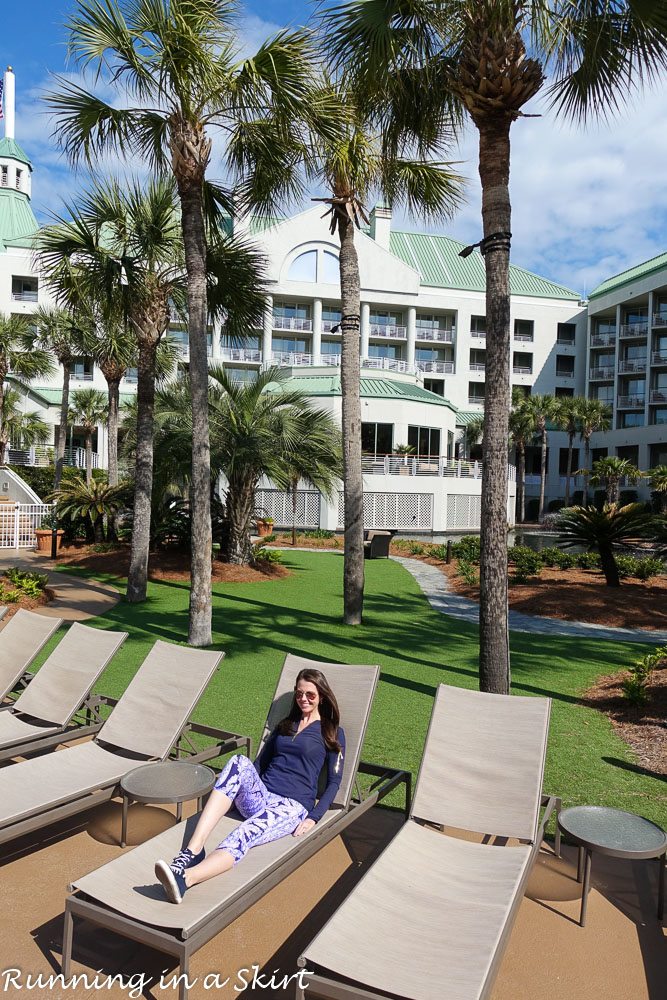 If you are really looking for how to have a healthy summer vacation this year, considering taking time off to really unplug... no phones or computers! Your mental health will thank you for it.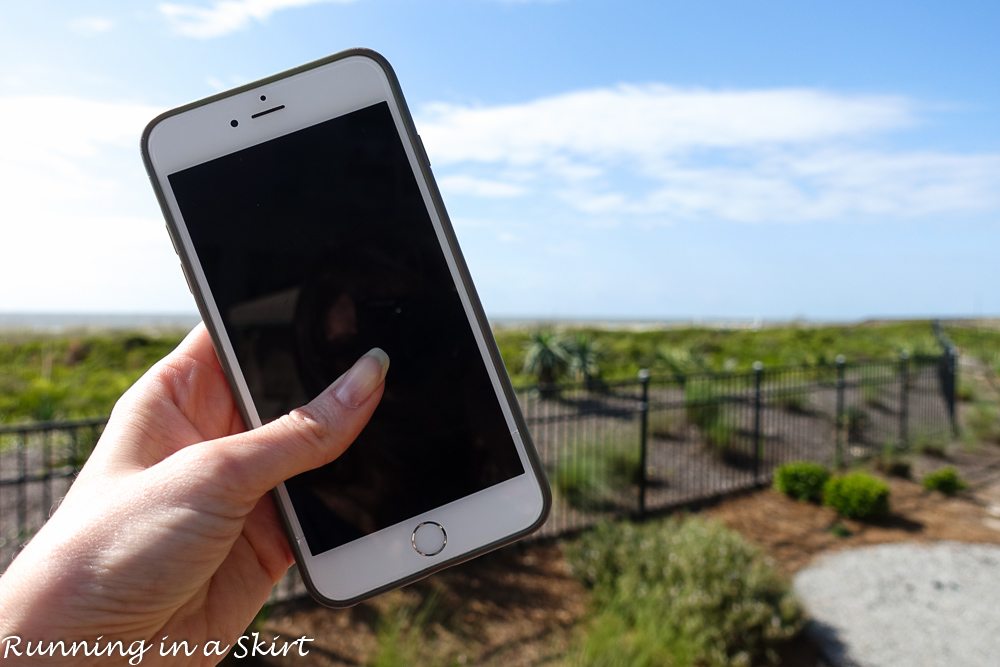 Renew Life® Digest Smart Enzymes
Renew Life® Digest Smart Enzymes are available at health food stores, grocery, drugstores, and other major retailers, including Target and Walmart. Renew Life® Digest Smart Enzymes are your go-to for powerful digestive support. I love them and think you will too.
To learn more and see the full line of Renew Life® supplements, visit www.RenewLife.com.
As always, ask a doctor if you have a specific condition, as food allergies and gut concerns should be addressed separately.
* These statements have not been evaluated by the Food and Drug Administration. This product is not intended to diagnose, treat, cure, or prevent any disease.
Like this post about How to Have a Healthy Summer Vacation? Pin this to your favorite Pinterest board!


Your turn!
How are you going to have a healthy summer vacation?
This is a sponsored post written by me on behalf of Renew Life® Digest Smart Enzymes.