Happy Fashion Friday!
This week has been so much better for me. I'm feeling much calmer and less stressed this week. Thank you guys for some many kind words over the past few weeks. I appreciate your support. Y'all are really the best.
Several of you have asked me about he nearby wildfires. We are close, but we should be safe. The smoke from them has been on and off pretty thick and scary. I've had to stay indoors most of the week due to terrible air quality and my asthma, but that is just a minor issue compared to what some people are dealing with. My heart is with the firefighters and those who have been evacuated.
Some of the highlights this week have been driving the new ride around town (woop!,) one of our friends giving us some fresh just caught wild tuna (we made Hawaii style Poke) AND finally getting in that first shopping run for Thanksgiving next week. The Hubs helped me and it went pretty smoothly. We're hoping to work a lot this weekend so we can play more next week when everyone is in town. Our first guest arrives Sunday and I can' wait :-)!
When life isn't going as planned, you just have to focus on the positive until you come out the other side. That's what I'm doing now.
And speaking of positive and fun, I've got a look that is perfect for a holiday party or winter date night on the town!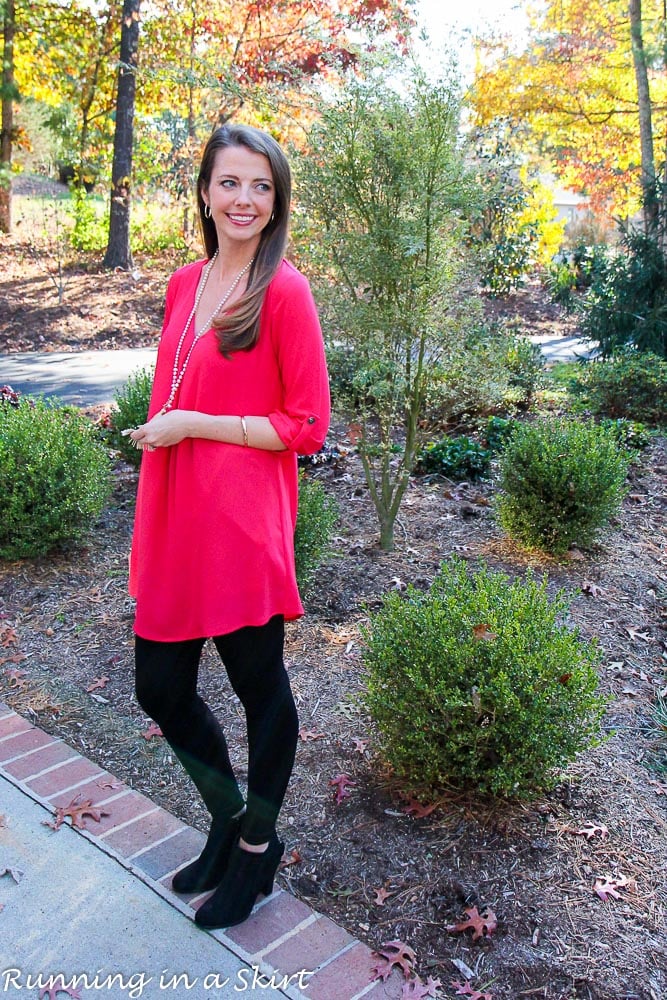 I paired this Lush tunic/dress from Nordstrom with solid leggings and suede ankle boots. I found this pink one at Nordstrom Rack, but this year's version is exactly the same and comes in black, orange, red, green and blue! It even comes in a fun pattern here. It's SUCH a versatile piece.
In winter you can pair it with leggings and it's long enough wear in spring you don't necessarily need them.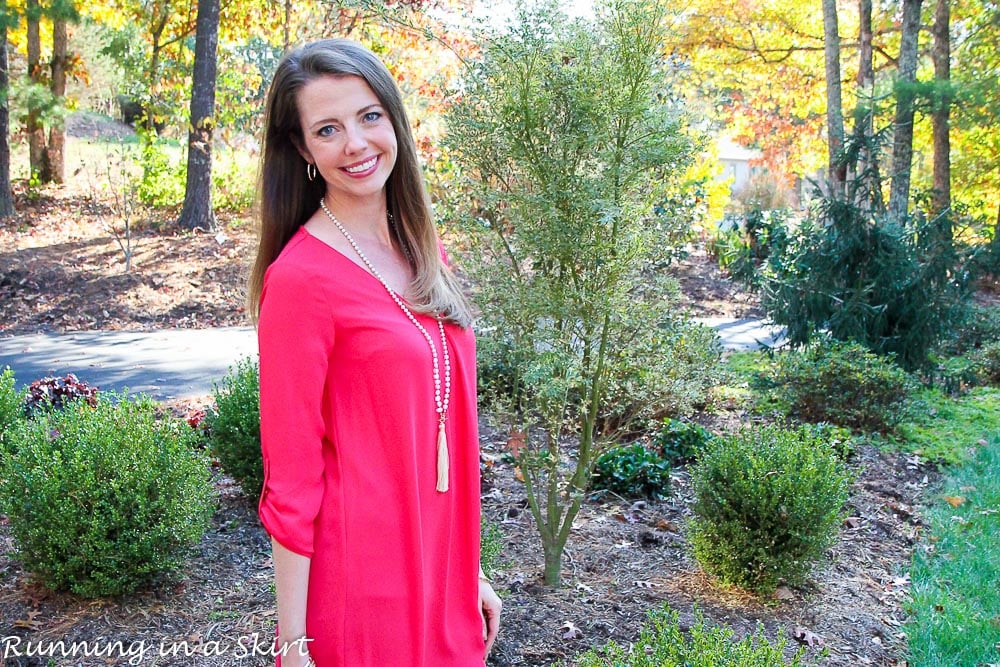 To dress is up a touch for the holidays I added a pearl tassel necklace. I'm border line obsessed with tassel necklaces right now... they are so much fun to wear. I might play with mine too much though! haha.
They can instantly update an older look to make it fresh for the season.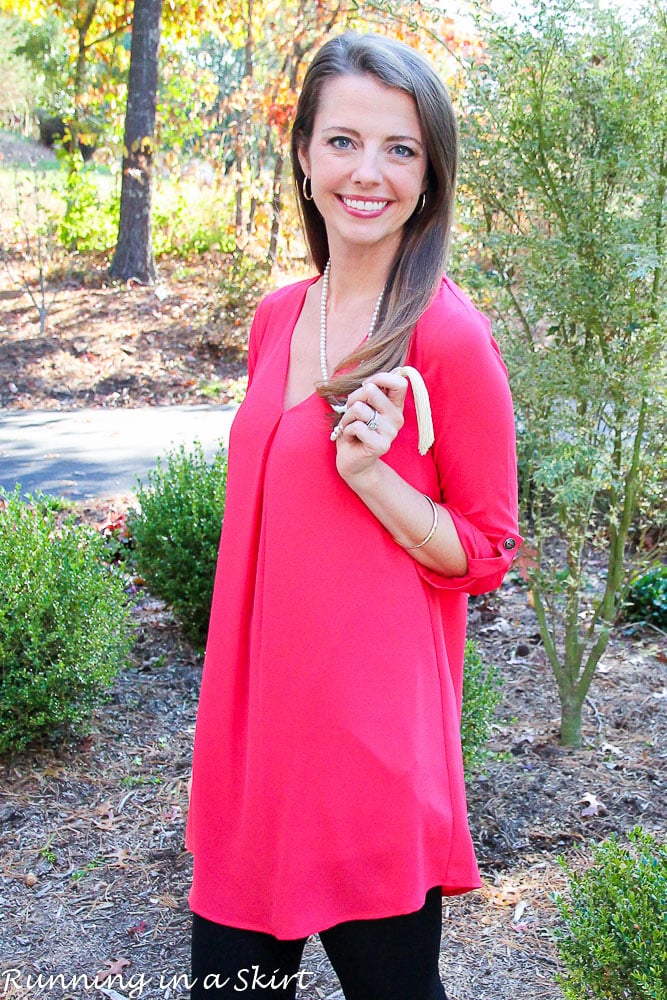 The shoes are my favorite black ankle boots. I've had these for several years and love the feminine detail on them, but I'll link to some current black suede booties that I like as well.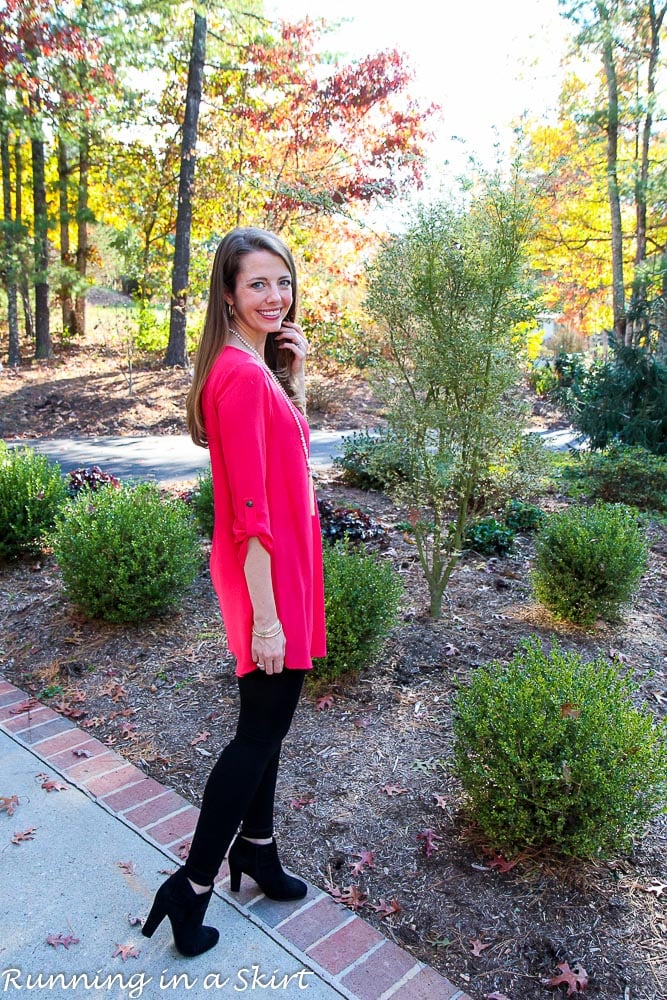 Hopefully this look gives you a little fashion inspiration going into the holidays. I'm planning on pulling this look out several times between now and Christmas.
[fusion_builder_container hundred_percent="yes" overflow="visible"][fusion_builder_row][fusion_builder_column type="1_1" background_position="left top" background_color="" border_size="" border_color="" border_style="solid" spacing="yes" background_image="" background_repeat="no-repeat" padding="" margin_top="0px" margin_bottom="0px" class="" id="" animation_type="" animation_speed="0.3" animation_direction="left" hide_on_mobile="no" center_content="no" min_height="none"]Love this holiday look from Running in a Skirt! Perfect pink tunic, suede boots and pearls! #ootd #fashionblogger Click To Tweet
Happy Shopping!
Shop the Look:
Dress/ Tunic - Lush for Nordstrom
Leggings - White House Black Market
Suede Boots - Old, I love these BCBG <--- on sale less than $60, these <-- Sam Edelman on sale with fringe! and these <--- very 2016 with peep toe! And here's a budget friendly option from Old Navy.
Pearl Tassel Necklace - Similar HERE


So nice to see you today. Have a great weekend and come back Monday for a weekend recap!
This post is not sponsored, but contains affiliate links. I do make a small commission for clicks and purchases. It cost you nothing. Thank you for supporting Running in a Skirt.
I'm linking up with: Nicole for the Fit and Fashionable, Jolynne Shane for Fashion Friday, Turning Heads Tuesday. Thank you so much for the lovely linkup ladies
Your turn!
What are you doing this weekend?[/fusion_builder_column][/fusion_builder_row][/fusion_builder_container]