Well, the bad news is I seem to have caught the February crud. I started feeling pretty bad Monday and pushed through the day, but I have been basically curled up in bed since then. The good news is I actually seem to be getting better instead of worse and it doesn't seem to have hit my vocal chords as badly as the last few times I have caught something.
As long as I continue to get better today, I'm planning on going back to work Thursday. I always seem to get sick at the worst time! This time it's a busy, important month at work AND I'm in the last few weeks of training for my 10K. Figures. I'm grateful to be getting better though. It could and has been a lot worse.
Rhett and Reina have been working hard to make me feel better… Check out these faces!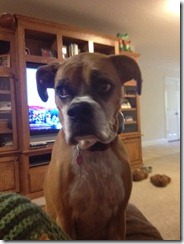 You don't really want to take another nap?
Play with me!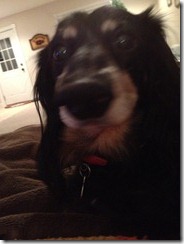 What, SMASH is back on the DVR?
Yes! I've been waiting to watch that!
On a side note I thought I'd share a few articles on running and training while or after you are sick. I am obviously taking a complete hiatus from running/working out until I kick this and get back to work though—Don't worry!
For your reading pleasure:
http://www.runnersworld.com/beginners/i-missed-workout-my-training-doomed
http://www.runnersworld.com/health/should-you-run-when-youre-sick?page=single
http://running.about.com/b/2011/10/31/can-i-run-when-im-sick.htm
Plus-- As soon as the hubby deems me germ free enough to make us dinner I have two more awesome Crock Pot recipes coming up! How about Black Bean Enchilada Bake and Vegetarian Baked Potato Soup?