Cash doesn't have to be an obstacle to working out. You can get fit for free with these ideas!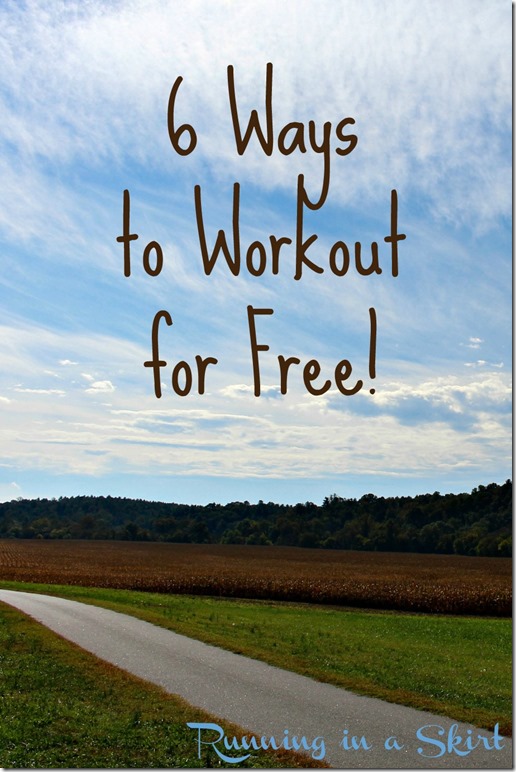 Happy Wednesday friends!
April 1st is the perfect time to re-dedicate yourself to a workout program. With the weather finally starting to come around and swimsuit season just around the corner, now is the time to make a plan. Even if you are short on cash there are lots of ways you can workout for free!
Check out my latest YouTube video for some fit and free tips---->
6 Ways to Workout for Free!
1. Run or Walk
Running is one of the simplest ways to get in a killer workout for free! In most cases it is a great way to workout if you are strapped for time because you can walk out your front door and get it done. Even if your neighborhood isn't great for running, most communities have free parks with clean and safe paved trails to run on. Don't want to run? Walking can also be great exercise. To actually get a workout out of it, walk really fast and carry something heavy!
Yes, you can spend a fortune on running when buying fancy new shoes, race registrations and electronics but you don't need all of that to get a good workout. You just need a good pair of shoes appropriate for your body and a trail. Running in it's simplest form is free and magical!
Just getting started running? Try these posts--->
How to Score a Deal on Running/Workout Clothes
2. Outdoor gyms
Local parks are now building outdoor gyms in addition to kiddie playgrounds, fields and trails. Most of the apparatus have signs on them showing you how to use them. If you live locally, Fletcher Park has one.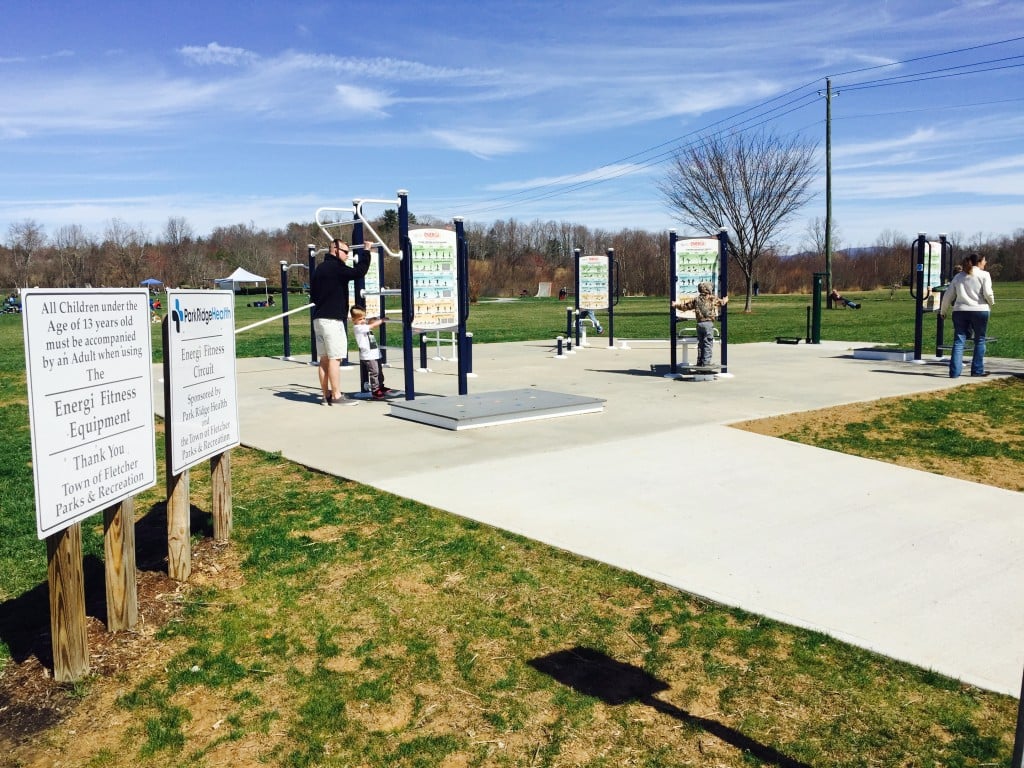 3. Pinterest/ Blog workouts
The amount of free workouts that require no equipment at all on Pinterest and Fitness Blogs are crazy! I try to publish a new workout at least once a month and many of my workouts require nothing but your own body weight. Find more workouts from Running in a Skirt HERE.
This Rainy Day Home Workout is one of my favorites and you don't need anything but a little bit of space to get it done!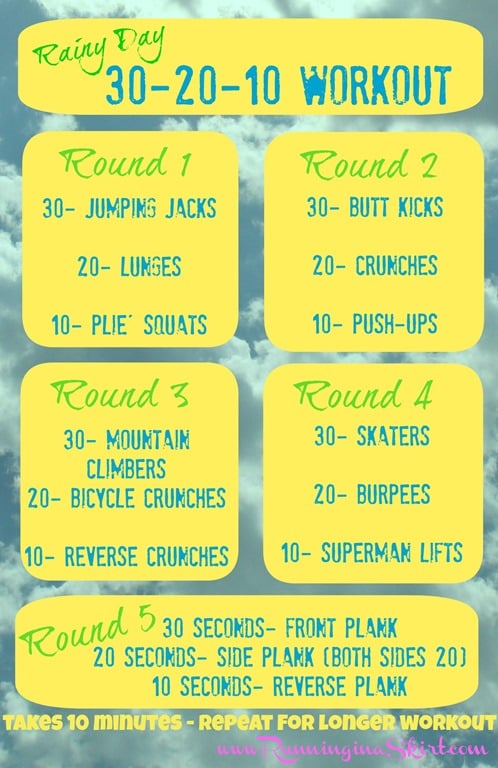 4. Workout videos on Youtube
In the same vein, there are hundreds of free workout videos on YouTube. I'm hoping to add my own someday, but in the meantime here are two really awesome ones! Totally free!
https://www.youtube.com/watch?v=ZJ8Zdj0OPMI
5. Walking Clubs/Groups
Almost every community has groups of people who get together to walk. You can find the groups through local running shoe stores, medical centers, health clubs or even try Meetup.com! Walking in a group can be a great and free way to start exercising.
6. Play a Sport- Recreation league
Go to the park and play a pickup basketball or volleyball game! On a sunny day in spring you can find them everywhere. If you like more structure, sign up to play on a recreation team. Playing a sport is a fun way to burn calories and stay fit.
So even if you don't have the money to join a gym or take expensive classes, there are lots of ways you can get in a good workout for free!
I hope to see you tomorrow! I'm sharing a fresh a new smoothie recipe that is ideal for a post workout treat.
Your turn!
Do you ever workout for free?
I run all the time for free and I am a big fan of blog/Pinterest workouts for fresh ideas!