Disclosure: I am a member of the Everywhere Society and Everywhere has provided me with compensation for this post. However, all thoughts and opinions expressed are my own.
Now that the Christmas mayhem is winding down, it's time to start thinking New Year's Resolutions. I am already starting to map out my goals for 2015 and am planning to include some fitness and running goals this year. I imagine many of you are doing the same thing. Starting a fitness routine or re-establishing a fitness routine is one of the most popular resolutions every year.
Taking that first step can be the hardest part of the entire project, so today I wanted to share a few ways to get you excited about getting fit in 2015!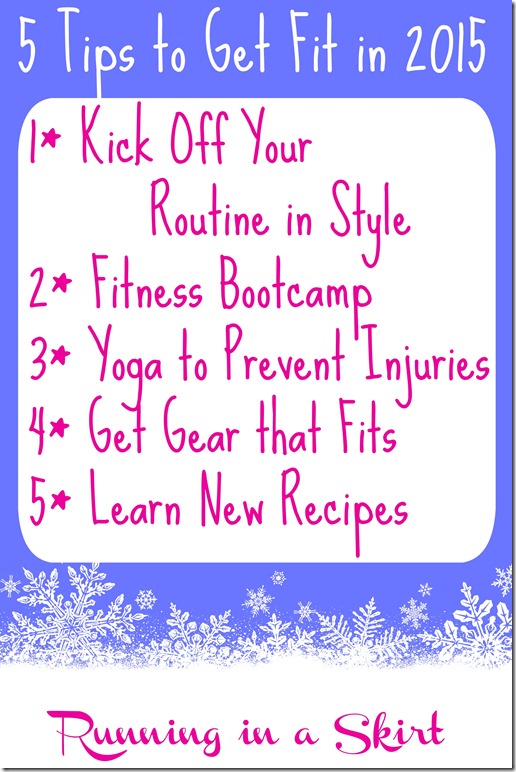 Tips to Get Fit in 2015
1- Kick Off Your Routine in Style
The best way to get started with a fitness routine is to find a way to get excited about it. Attend Belk's FitFest January 3, 2015 to get inspired by fitness and food experts.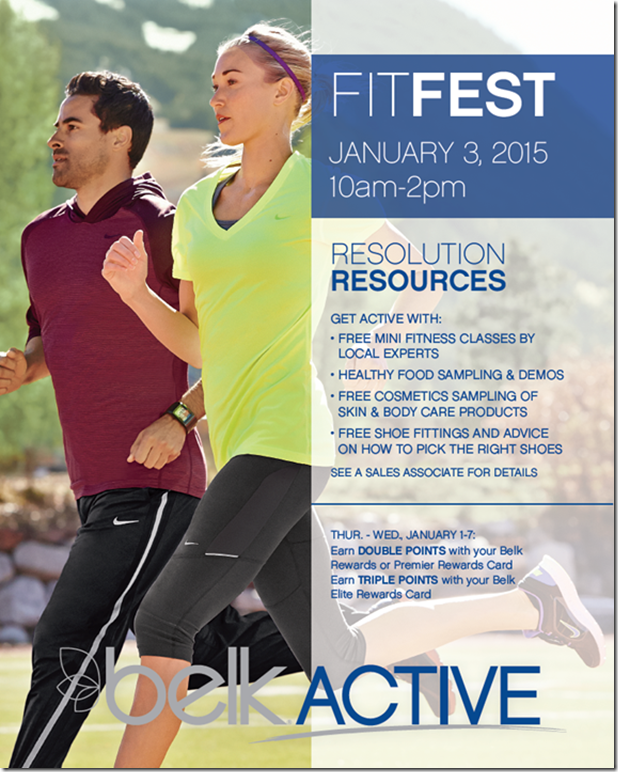 2- Fitness Boot Camp
A fitness boot camp is tough, but is the perfect way to kick start your fitness and it gives you great ideas for workouts you can do at home. Belk's FitFest features a special 15 minute fitness boot camp in the parking lot of the mall! You can workout and then pick up that amazing purse you did not get for Christmas. Score.
3- Yoga to Prevent Injuries
If you are diving back into fitness head on, there is a risk of doing too much too quickly and hurting yourself. Yoga is an ideal way to balance out the body and reduce the risk of injuries. Belk's FitFest also includes a yoga stretching class near the in-store fitness apparel.
4- Get Gear That Fits
Getting fitted by experts for running or workout shoes is the single best way to get the most out of your workout. You can get fitted for the correct shoes at Belk's FitFest!
5- Learn to Recipes
Food and fitness go hand and hand! Getting in tip top shape must include making good quality healthy food at home. Belk's FitFest will have healthy food samples like granola, fruit, smoothies, juice and protein bars. There will even be Cuisinart demonstrations sharing great new healthy recipes.
You probably see where I am going with this, but this event is really awesome and free! Belk's FitFest is a great way to kick off the new year with a fitness focus. FitFest is Saturday January 3rd at select Belk's locations. In addition to all the fun listed above there will also be in store promotions. From January 1-7 you can earn double points with your Belk Rewards or Premier Rewards Card. You can earn triple points with your Belk Elite Reward Card.
Here are the locations across North and South Carolina:
Charlotte, NC (Southpark)
Raleigh, NC (Crabtree)
Greensboro, NC (Shops at Friendly Center)
Winston Salem, NC (Hanes Mall)
Wilmington, NC
Greenville, SC
Columbia, SC (Columbiana)
I will be at the event at the Southpark Mall in Charlotte to kick my year off with some serious fitness motivation! I'm making a trip out of it to see my Brother, so I can't wait. I hope to see a few of you there!
Make sure to use the hashtags #FitFest to follow all the fun!
Your turn!
Are you planning on making fitness goals in 2015
Do you have any tips to add?