This post is sponsored by Unilever and the Dry Spray Antiperspirants from Dove & Degree. As always, all opinions are my own and I appreciate your support of Running in a Skirt.
Holiday season can get crazy. Stay on track with my 5 Ways to Fit in Fitness This Holiday Season.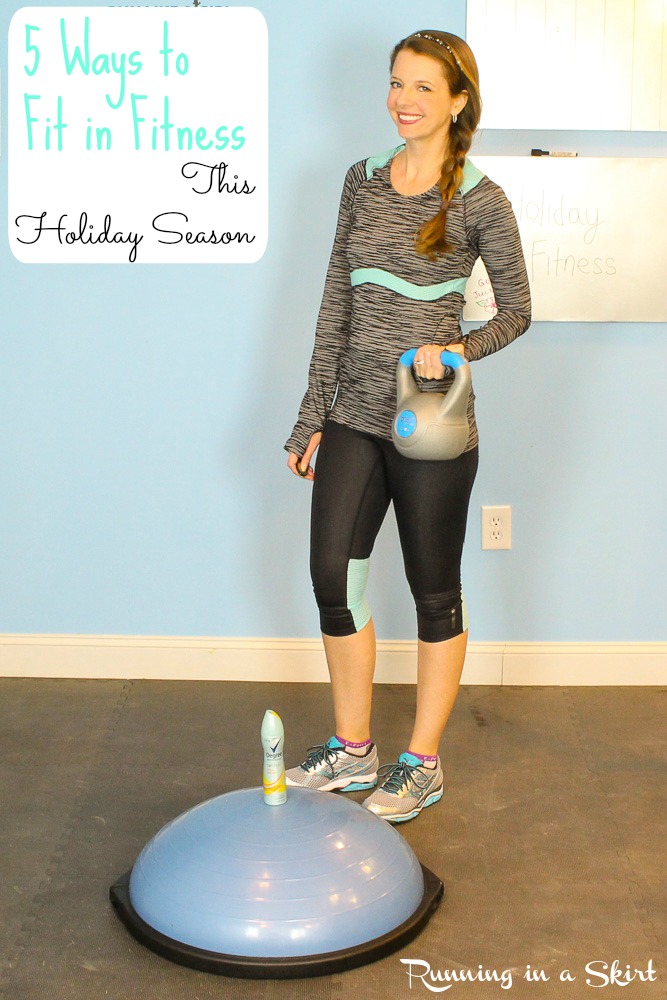 Hi friends!
I'm rolling right into Christmas celebrations after the hectic Thanksgiving weekend at my house. I adore hosting Thanksgiving, but it always takes me a few days to recover from the long weekend of festivities and family staying at my house.
On the plus side I did recruit the fam to help me put up my giant trees again! I can't imagine doing it without them at this point and they are such good sports about helping out.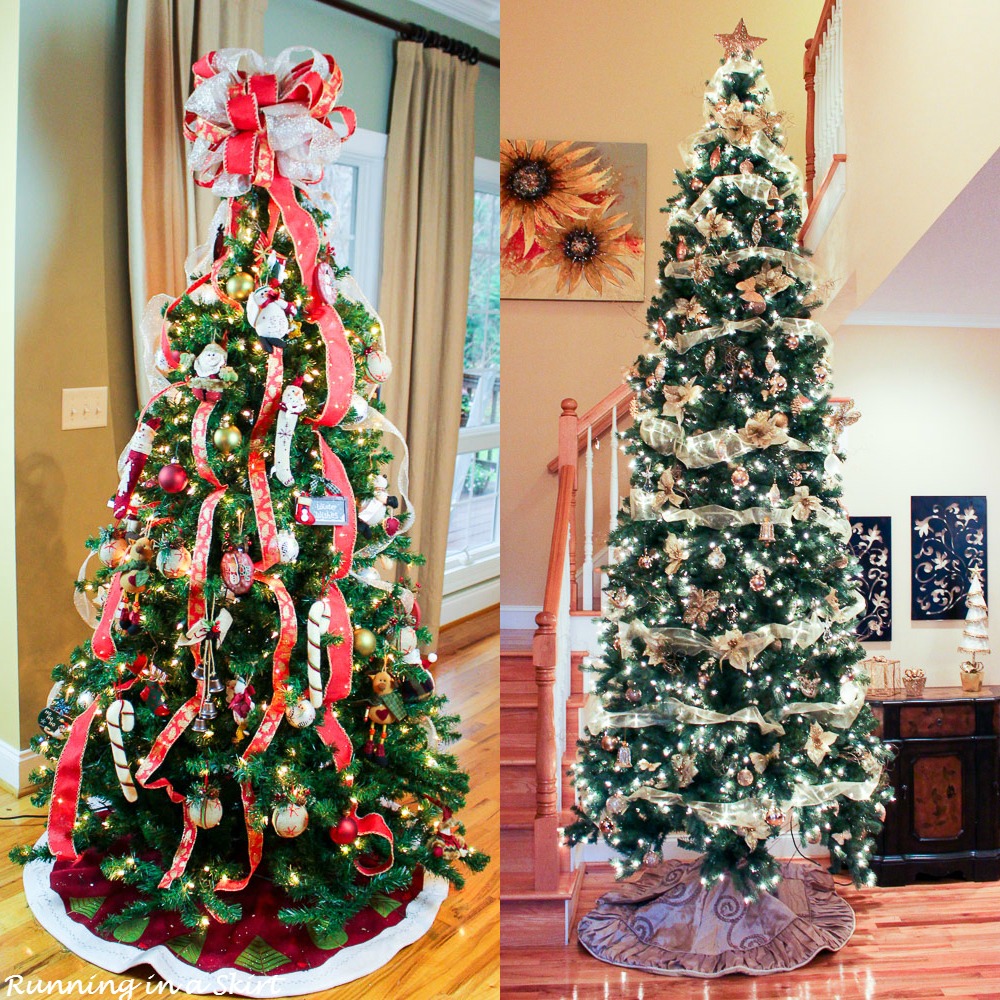 Fa... la.la... lala.! I'm officially ready for Christmas movies, hot cocoa and cookies! I'm still working on some finishing touches for my third tree with the snowman head :-). I have no self control when it comes to Christmas trees.
We all know one of the most hectic times of the year is here. It's easy to forget about fitness and fall completely off track between now and New Years. Today I'm sharing my 5 Ways to Fit in Fitness This Holiday Season!
5 Ways to Fit in Fitness the Holiday Season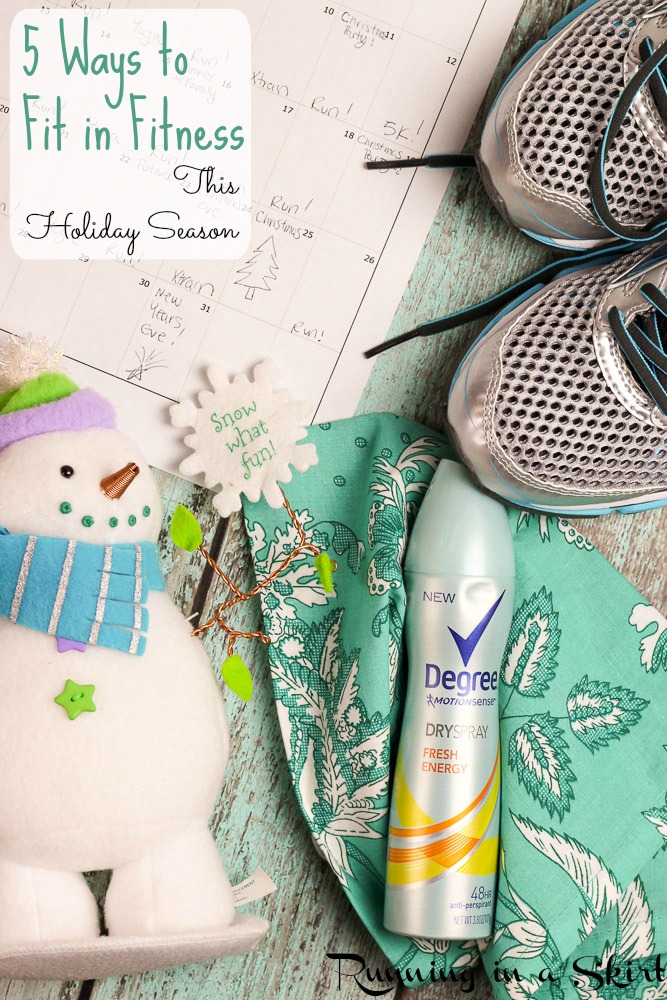 Schedule your workouts.
I find that if I don't schedule my workouts, they don't happen. At the beginning on the week I write in when I'm going to workout for the upcoming week and block off that time. I also give myself a general idea of what kind of workout I will do that day. It doesn't have to be complicated, but I like to know which days are run days versus yoga or cross train days. It only takes a few minutes to commit to a workout.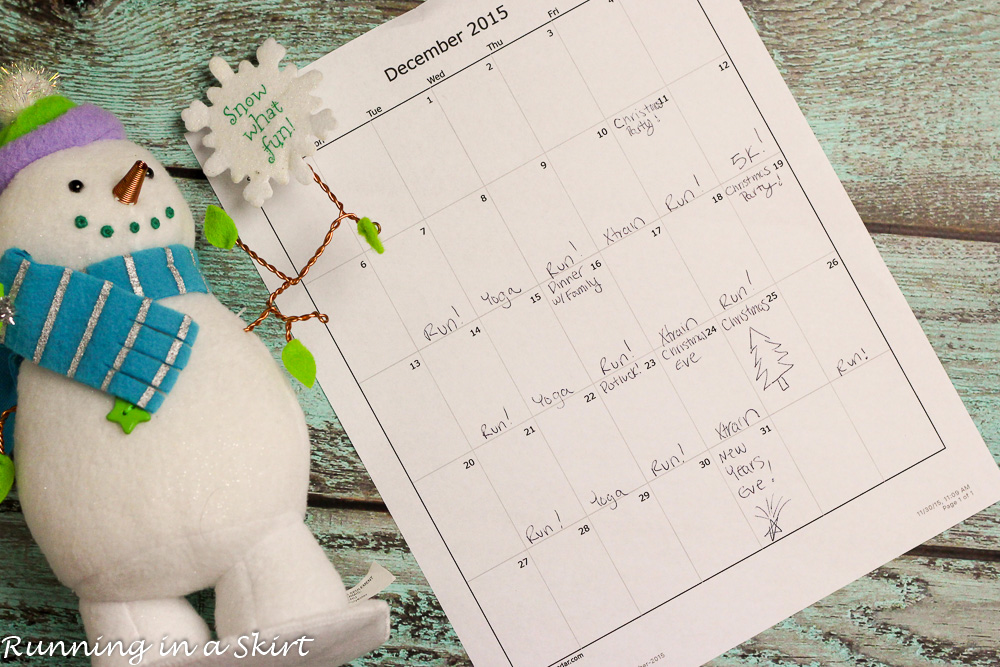 Stay active as a family.
There are only so many hours in the day. If you have to choose between family time and workout time, always choose family... BUT get your family to do something fitness related with you. My personal favorite is a simple walk, but you could play a yard game (weather permitting of course...) or even a Dance Off video game. Getting of the couch can be hard, but it is worth it!
Use a Dry Spray before and after workouts.
When I have a busy day shopping, working out and spending time with family... the last thing I want to worry about is my antiperspirant. Who has time for that?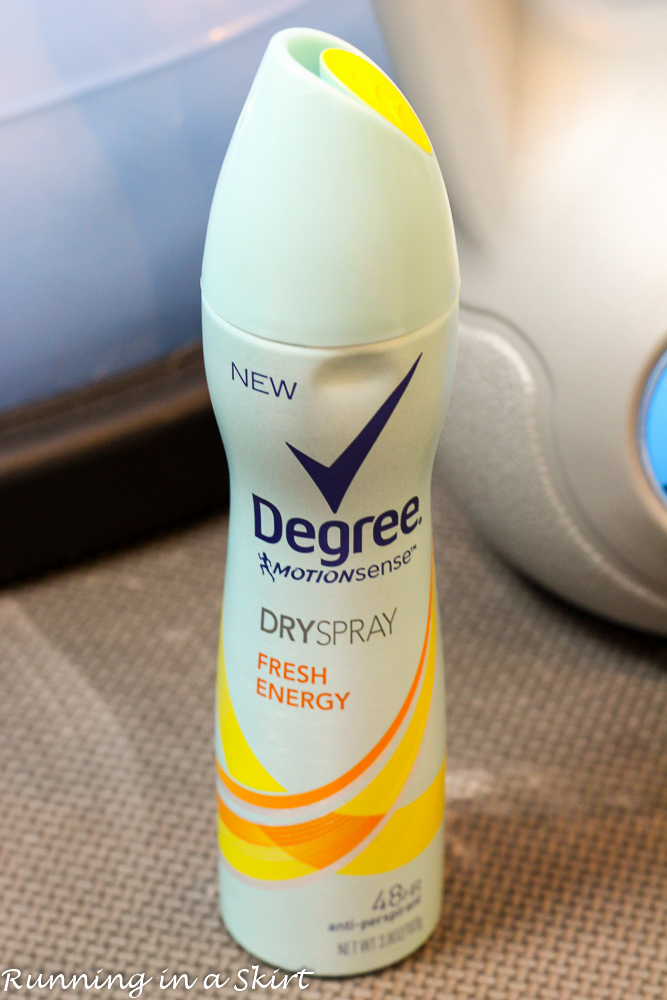 I've partnered with Degree and recently tried the new Dry Spray Antiperspirants and am so impressed. The Dry Sprays recently got a makeover from innovations by Unilever.
The Degree brand provides 48-hour odor and wetness protection, it goes on dry and leaves your skin soft, smooth and residue free. It is formulated with MOTIONSENSE® Technology which responds directly to your body movement to release extra protection the more you move.
They are very easy to use and feel fresh and cool.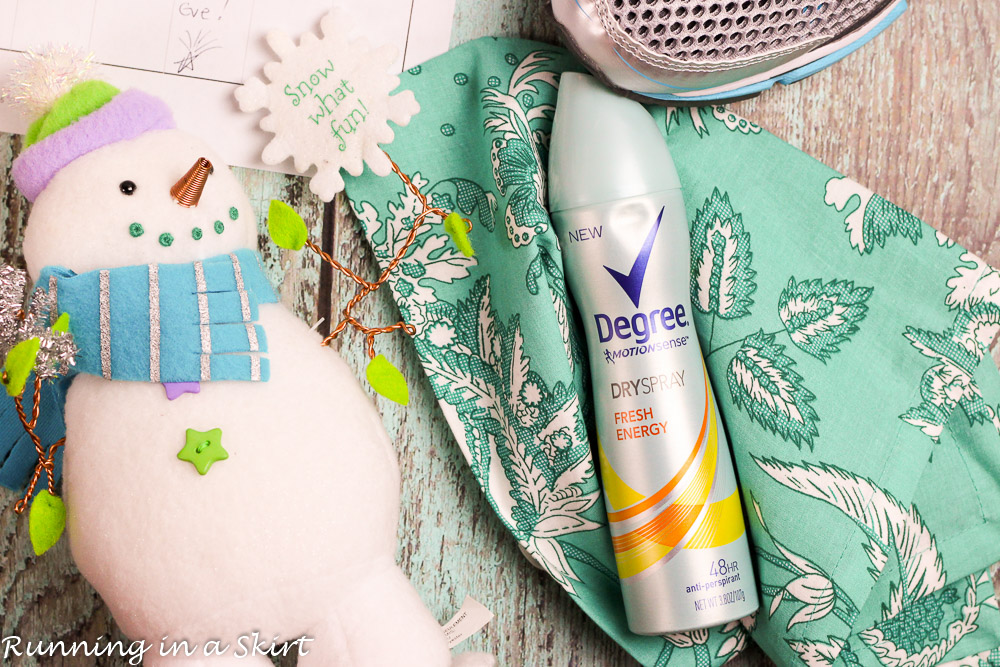 I tested my Degree Dry Spray Antiperspirants (#TryDry) on a LONG day of cooking, playing and running and it worked like a charm. I'm officially a fan.
The spray bottles are quick, convenient and long lasting, making it even easier to get sweaty and fit in fitness this time of year.
Ask for class passes as gifts!
If someone asks what they can get you for a gift, ask for a class pass to your favorite fitness boutique. Whether it's a barre, boxing or a yoga class, doing something different can bring inspiration to your workouts. That inspiration may be just what you need to push through this busy time of year.
Something is better than nothing.
Despite your best effort sometimes other obligations trump your fitness plans. Be flexible and if you just can't do your whole workout, don't just give up. Do what you have time for.
If it's only 10 minutes, do a quick circuit workout or calming yoga sequence. I enjoy using my kettle balls and BOSU for a quick workout.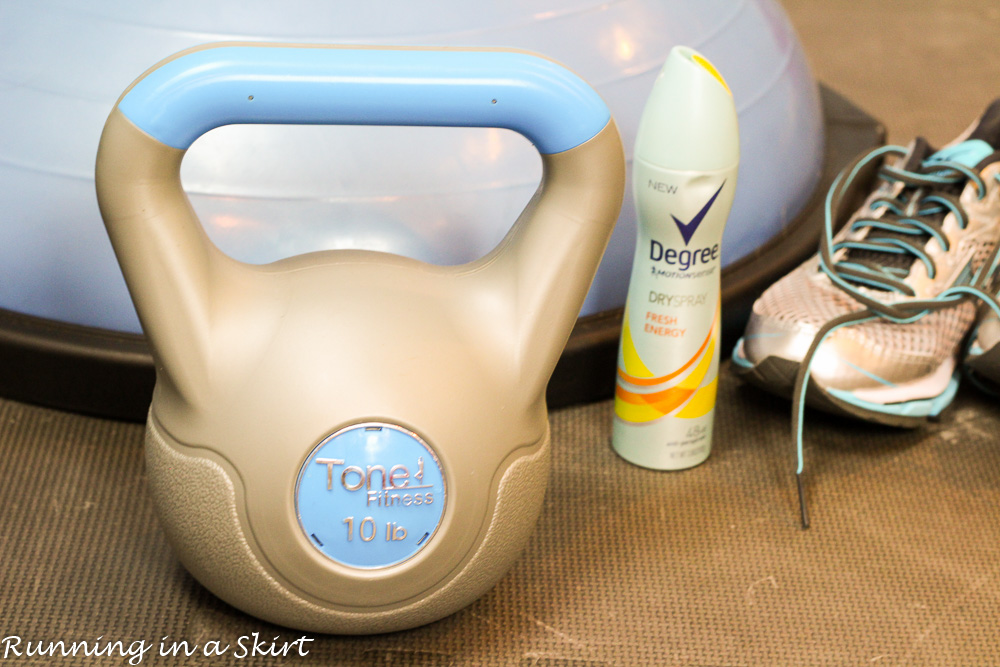 Use your Dry Spray and move on. Something is always better than nothing.
Don't forget to try the new Dry Spray Antiperspirants next time you are at the store. They are available at mass, food and drugstores nationwide. You can find it in Degree and Dove brand for women.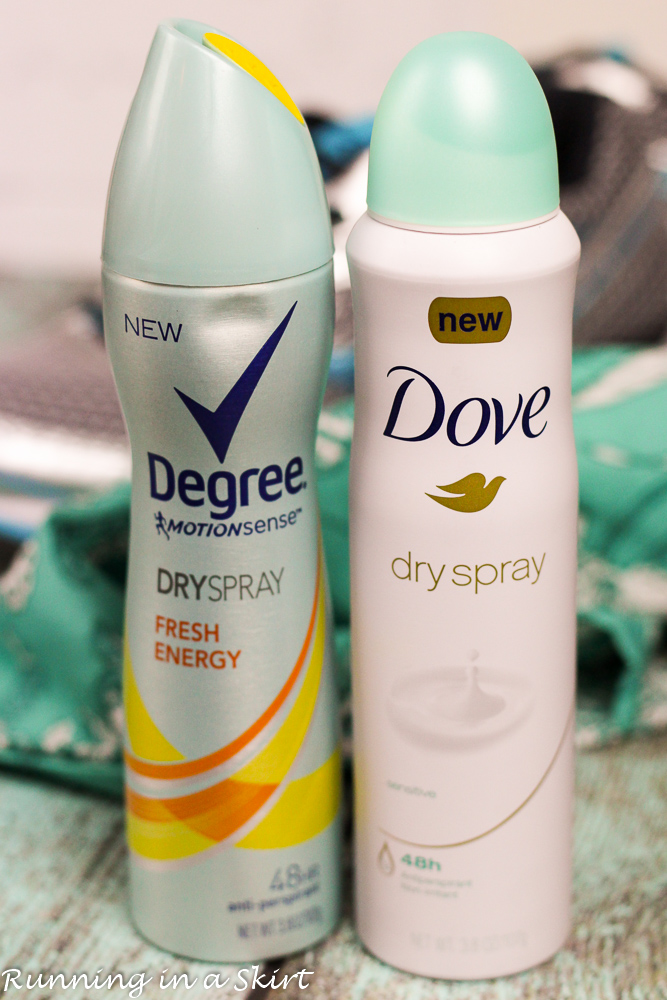 And Dove Men+Care brand , AXE and Degree for men!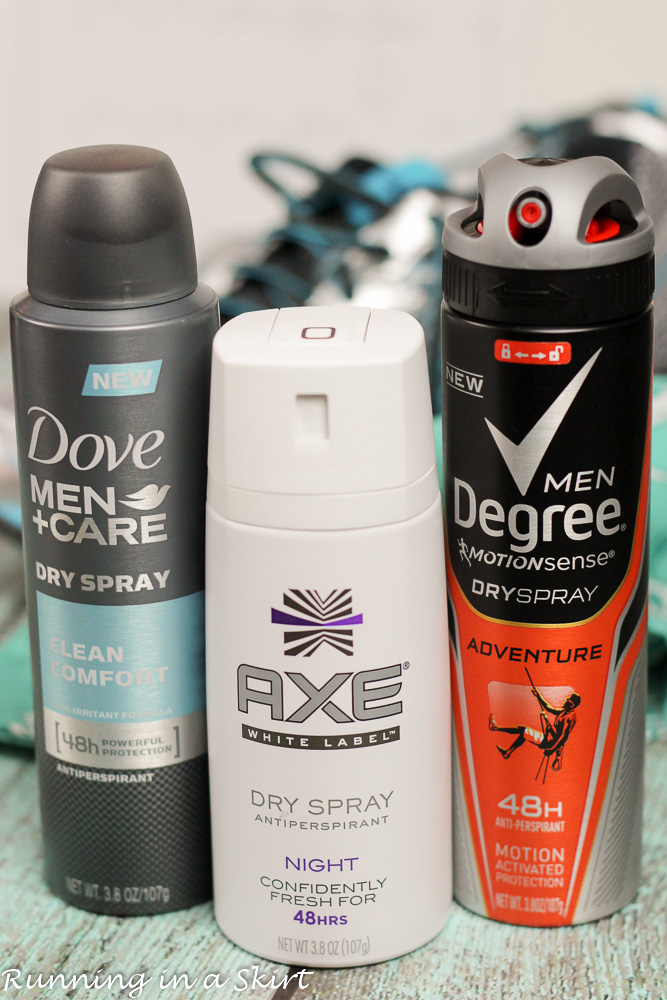 Use the hashtag #TryDry when you do!
Thanks for stopping by today! Tomorrow I'm busting out the peppermint with a healthy no-bake sweet!
I'm linking this post with Jill Conyers for Fitness Friday and Annmarie for Wild Workout Wednesday.
Your turn!
How do you plan to keep on track fitness wise this holiday season?
Have you tried Dry Sprays yet? #TryDry