Merry Christmas everyone! I hope your day has been filled with family, health, happiness and love. Our clan wishes you all the very best today and through the holiday season.
We had a delightful morning of presents and fun. Now we are off to the kitchen to make crab legs, green beans and roasted potatoes for dinner. It may not be traditional holiday fare, but it's one of our favorite.
I hope you enjoy some pics and commentary from our rowdy pair of pups, Rhett & Reina! They got some awesome new toys for Christmas and wanted to share their morning adventures.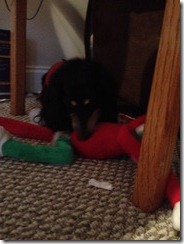 Did Santa get me a new toy?!?!?!
A new stuffed monkey? That's my fav!!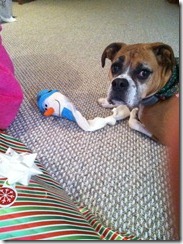 Santa? I KNOW HIM!!!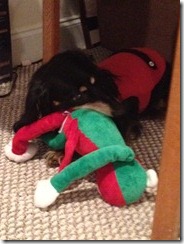 Give me five minutes and I'll have the stuffing out of this one!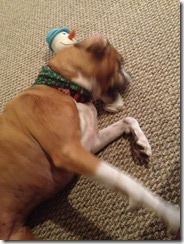 Did you guys know there is a TENNIS BALL in this funny looking sock!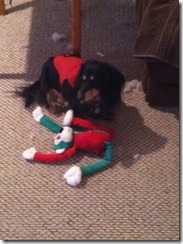 See… new record. Stuffing out 4 ½ minutes.
Stuffed monkeys don't stand a chance against me.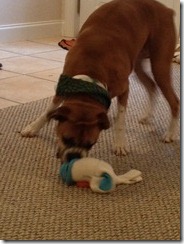 TENNIS BALL! TENNIS BALL! TENNIS BALL!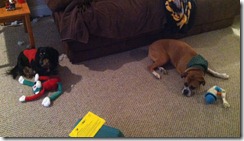 We hope you all had as good of a Christmas as we did!
Now it's time for a little puppy nap!