I'm feeling a little frosty lately. I've gotten two e-mails in the past week that look something like this...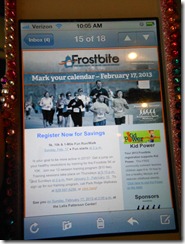 I mentioned to my Dad and Hubby that I was considering signing up for this race. They both gave me a funny look and a twenty second pause before they replied "That doesn't sound like you..."
You see, I hate the cold. I don't want to run in the snow. Ever. They couldn't imagine that I would sign up for a race with the word "Frostbite" in the title on purpose. I'm having a tough time believing it myself.
But I need a goal race right now and I do want to push myself out of my comfort level. The timing for this one is perfect and there aren't a ton of 10K's in our area. It's not always "frosty" when this race is run.
So I did it. I signed up. I will face the weather; whether it's 30 degrees or 50 degrees. I will run like the wind. But hopefully not in blizzard winds.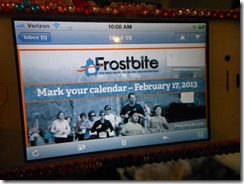 Can we just rename the race the Sunny & Mild 10K? That would make me even more excited. Regardless, it feels pretty awesome to have a race on the schedule! Hopefully I can cross the finish line in under an hour.
Have you made any plans for 2013 yet?
Runners-- Have you signed up for a winter race yet?[/fusion_builder_column][/fusion_builder_row][/fusion_builder_container]